Players can now redeem the Genshin Impact 3.2 livestream codes as the special program on Twitch has been concluded. The official YouTube channel of the game has also dropped the trailer of upcoming patch, showcasing Nahida in her never-seen before form along with Scaramouche giving goosebumps.
The livestream codes with their rewards are mentioned below:
6SP942Z3XVWH – 100 Primogems and 10 Mystic
KS6QL3YJFCWM – 100 Primogems and 5 Hero's Wit
GS6RLKGKWUER – 100 Primogems and 50, 000 Mora
The update named 'Akasha Pulses The Kalpa Flame Rises' remains two weeks away from now. Players will be able to summon Nahida and Layla in the Traveler's party if they have the required amount of primogems. Genshin Impact has already provided more than 10 free wishes in the ongoing patch to commemorate the game's second anniversary.
Also Read : Genshin Impact Scaramouche leaks provide a detailed version of his kit
How to redeem the Genshin Impact 3.2 livestream codes?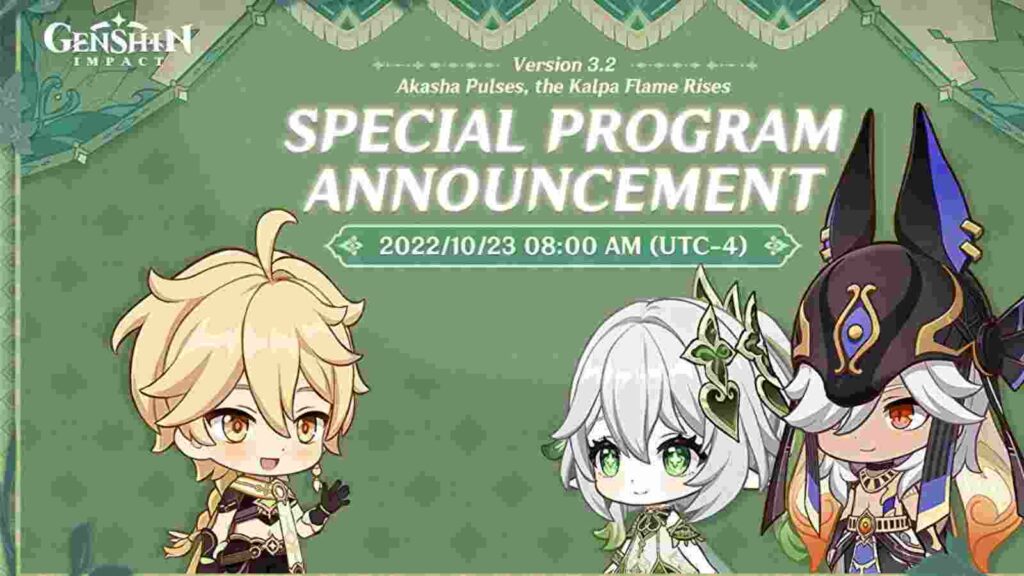 Genshin Impact provides the option of redeeming the codes either through the in-game option or by visiting the official redemption website. Players can click here to be taken there directly. In order to redeem the rewards, Travelers have to log-in through their HoYoverse account at first.
If this has been done already, selecting the server and copy-pasting the Genshin Impact 3.2 livestream codes will help the players to claim the rewards. It is important to note that these codes are valid for a while only and need to be redeemed as soon as possible. Furthermore, the free 300 primogems can be claimed through the in-game mail within 30 days.
Also Read: Genshin Impact announces the date for 3.2 update's special program
The 3.2 update will be available on November 2, 2022. Before that, players can expect the drip marketing for the characters to become playable in the 3.3 update. As of now, Scaramouche and Faruzan are rumored to be the new units but there are possibilities that another character might be introduced.
For the upcoming patch, players will be able to see the return of Yoimiya, Childe, and Yae Miko where Yoimiya will be present on the first banner schedule followed by Childe and Yae Miko in the second phase. The new 4-star character Layla will also be available on the banners of Yae Miko and Childe, so Travelers should make sure to redeem their free rewards positively.
Also Read: Genshin Impact 3.2 livestream date revealed, official artwork surfaces