Zhongli is a 5 star Geo polearm user in Genshin Impact who can either be built as a DPS unit or a Sub DPS cum support unit. Either way, his abilities are unparalleled when compared to other characters. This article discusses Best Zhongli build in Genshin Impact.
Zhongli is getting a rerun in the 2.4 update and MiHoYo has revealed the the banner will be released today along with Ganyu, another 5 star character who uses the Cryo element. Zhongli is an important character in the game, who, as per the recent leaks might become more crucial once the developers make the Chasm region available. Many players might be thinking about pulling for him to use his insane abilities while defeating the enemies. If players wish to bring out the most from the character's power, they should check out the Best Zhongli build in Genshin Impact.
Read More: Genshin Impact 2.6 leaks: Dainsleif's return, New artifact sets, and more
Best Zhongli build in Genshin Impact
Zhongli became a popular Geo character in the game ever since he appeared in the Archon Quests Chapter I: Act II- Farewell, The Archaic Lord. He is also used widely by the players in Spiral Abyss, one of the toughest aspect of the game. Many players might be aware that he is the current vessel of Geo Archon, Morax, therefore, it is imaginable how crucial he will prove to be. Talking about his powers, Zhongli's elemental burst summons a meteroid on earth which gives a large AoE DMG. He also scales well with constellations.
Weapons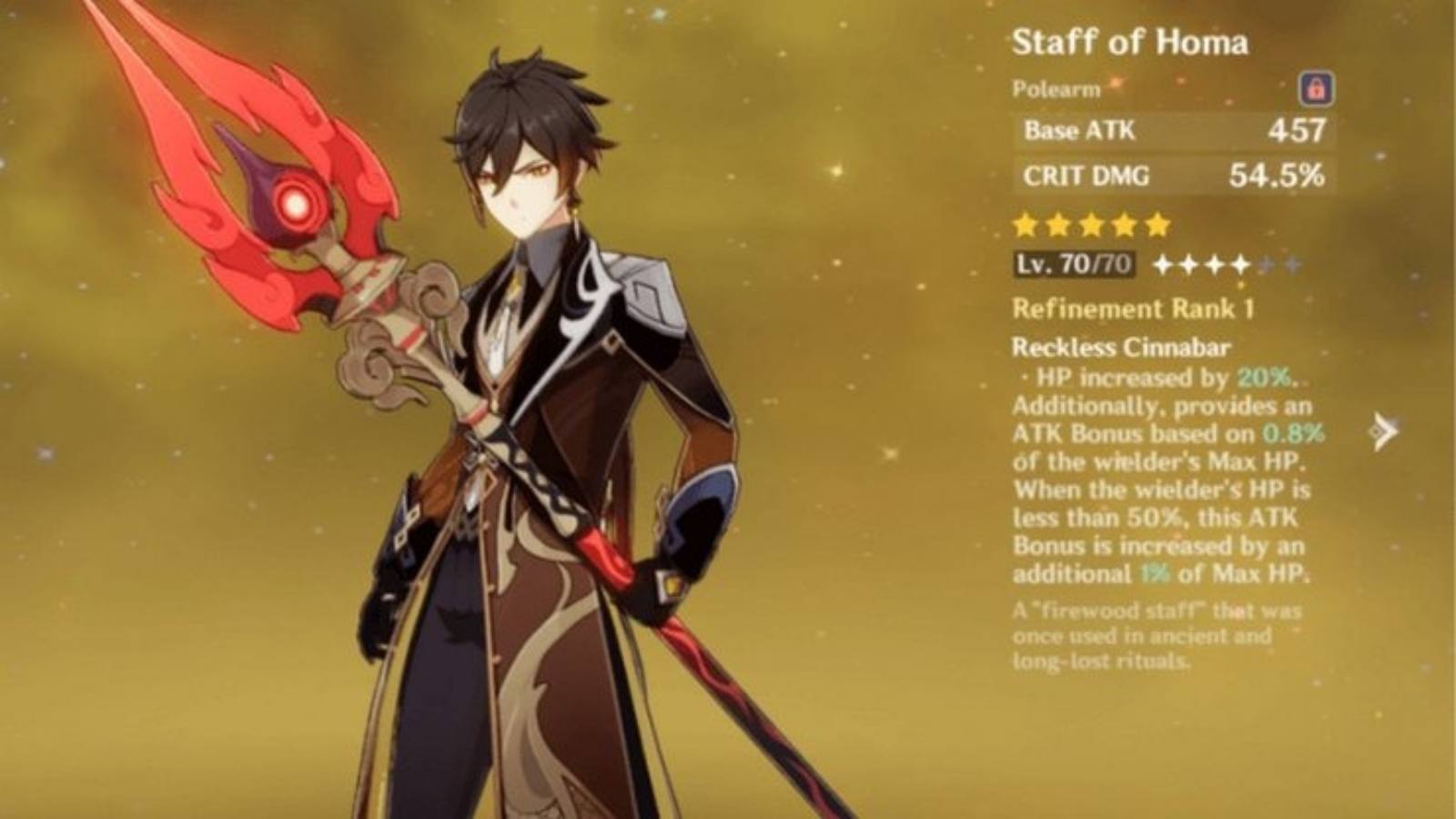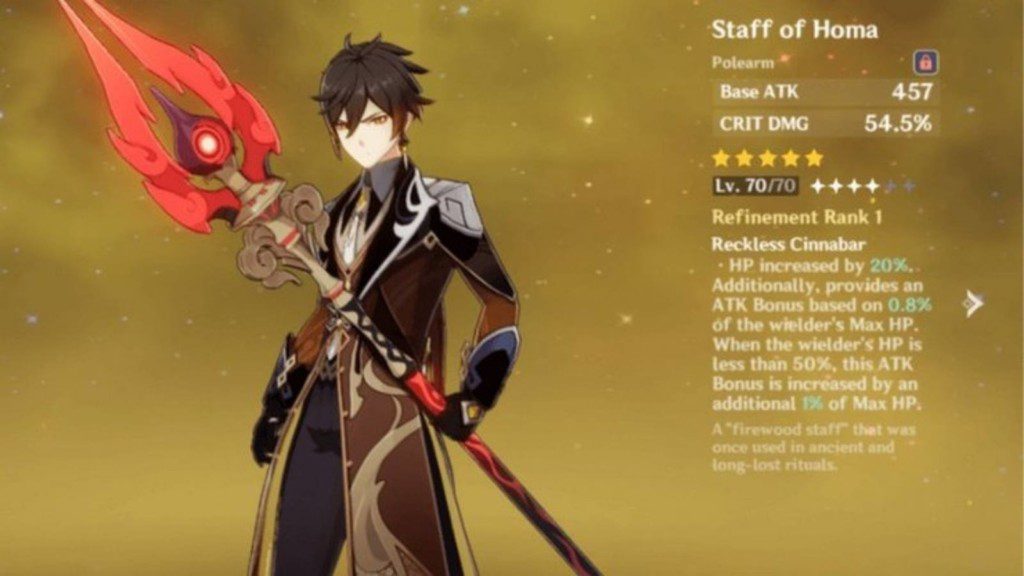 Staff of Homa- For building Zhongli as a DPS unit, players should go for the 4 star polearm, Staff of Homa. Based on his max HP, the strikes given by the weapon will have an increased CrIT DMG as well as ATK bonus which can scale upto 0.8%. If his HP is less than 50%, Staff of Homa will give an additional HP along with the ATK bonus.
Crescent Pike- Crescent Pike is a 4 star polearm that can be created by forging. This weapon works best with Zhongli. When the wielder picks up an Elemental Orb/Particle, his/her Normal and Charged Attacks will deal an additional 20% ATK DMG for 5 seconds.
Apart from these weapons, players can also use the Primordial Jade Winged Spear which is the signature weapon of Xiao. This 5 star polearm provides a lot of CRIT DMG to the enemies.
---
Artifacts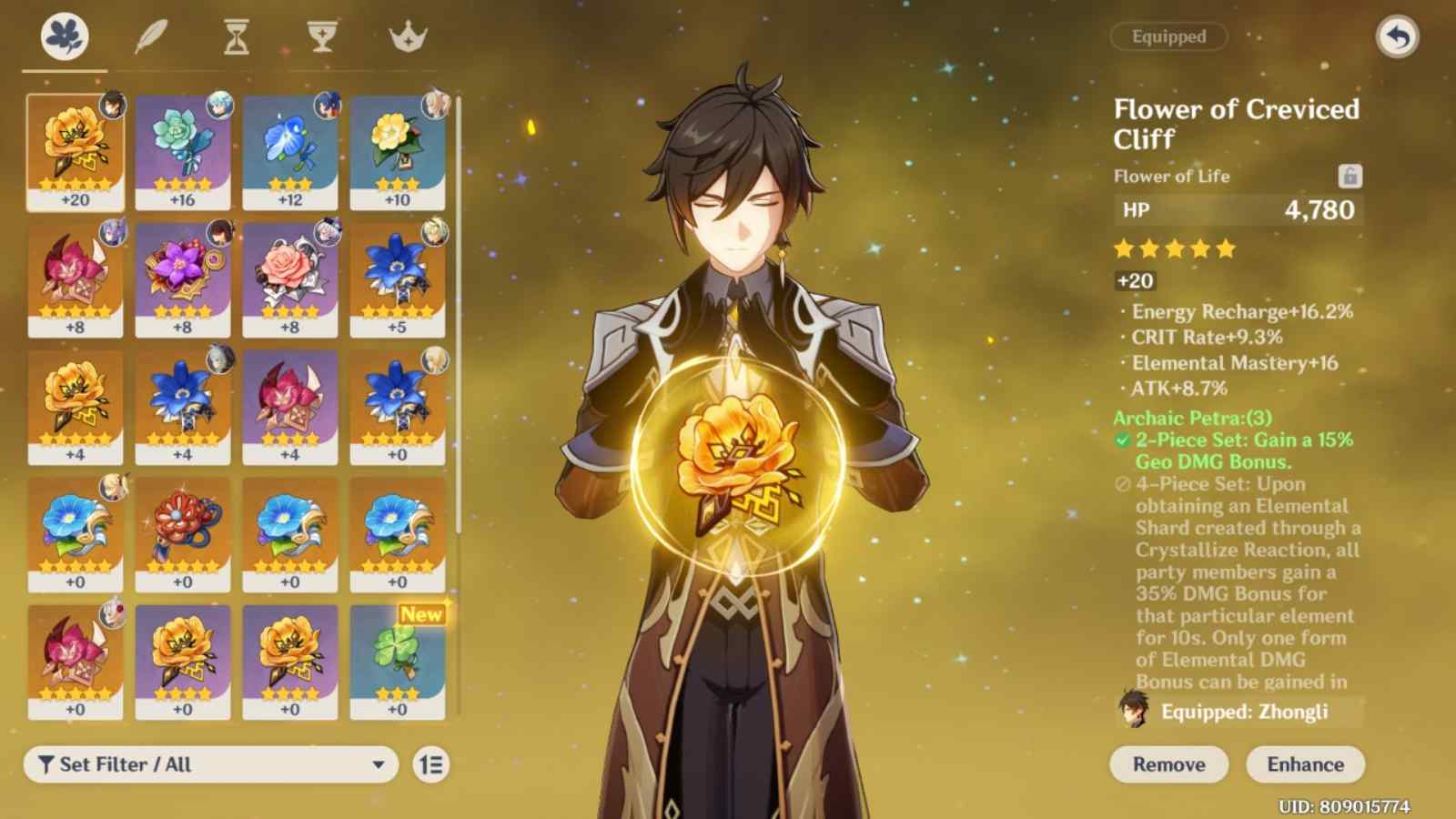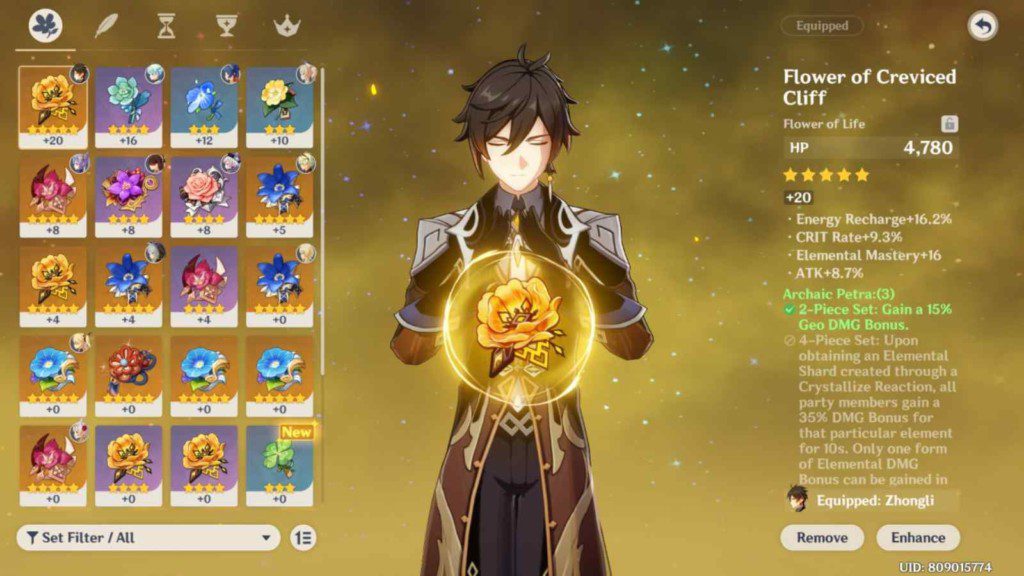 Archaic Petra- For making the Best Zhongli build in Genshin Impact, players can use the Archaic Petra artifact which is only dropped in the Domain of Guyun in Liyue's Sea of Cloud area. With just two pieces of the artifact, Zhongli's Geo DMG can increase up to 15%.
Tenacity of the Milelith- If players are focusing on building him as DPS, then Tenacity of Milelith will be worth farming for. The artifact can boost the HP of the character by 20% if two pieces are used. On the other hand, using 4 pieces of this artifact will buff the Geo DMG given by Zhongli.
---
Team Composition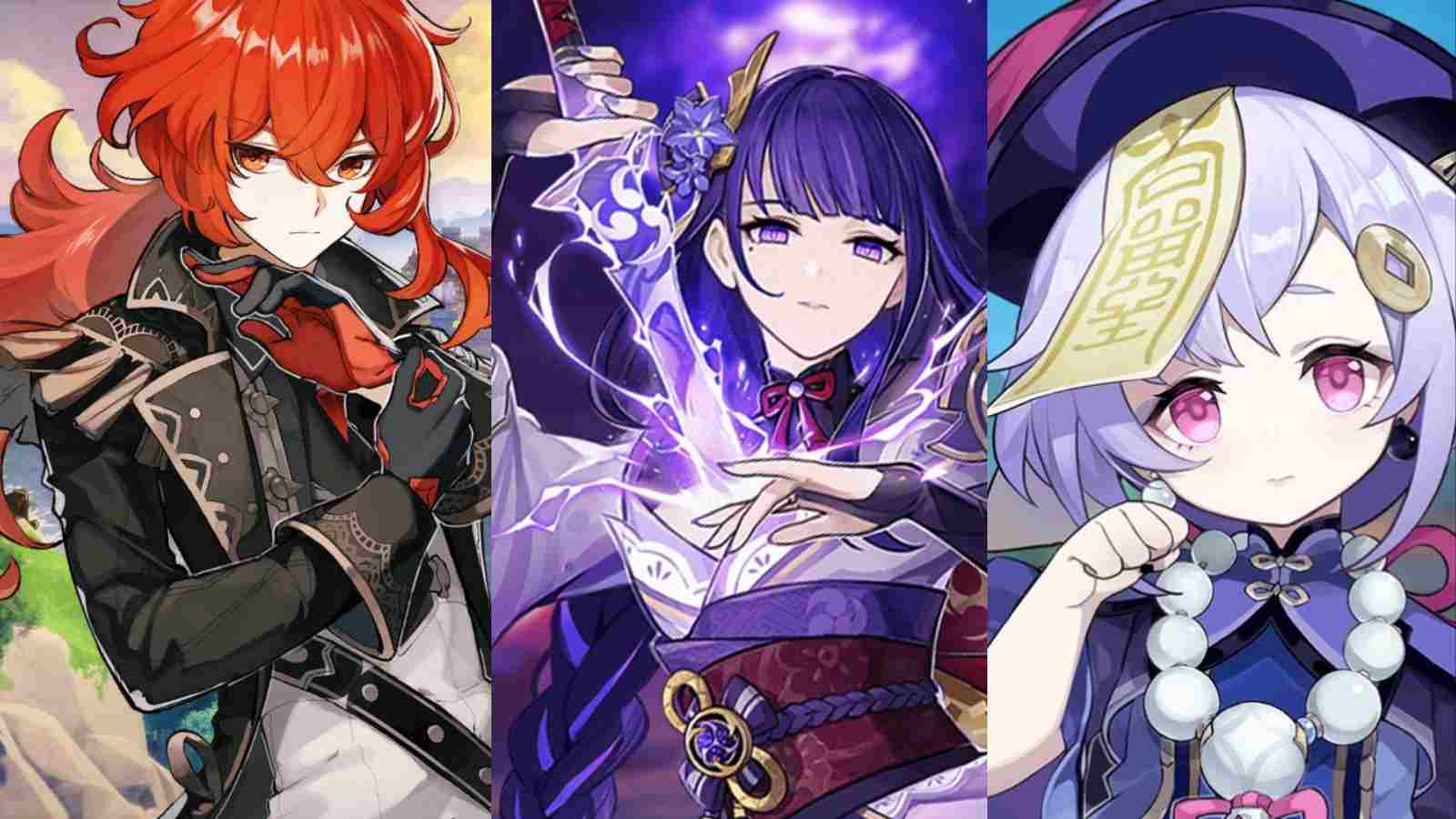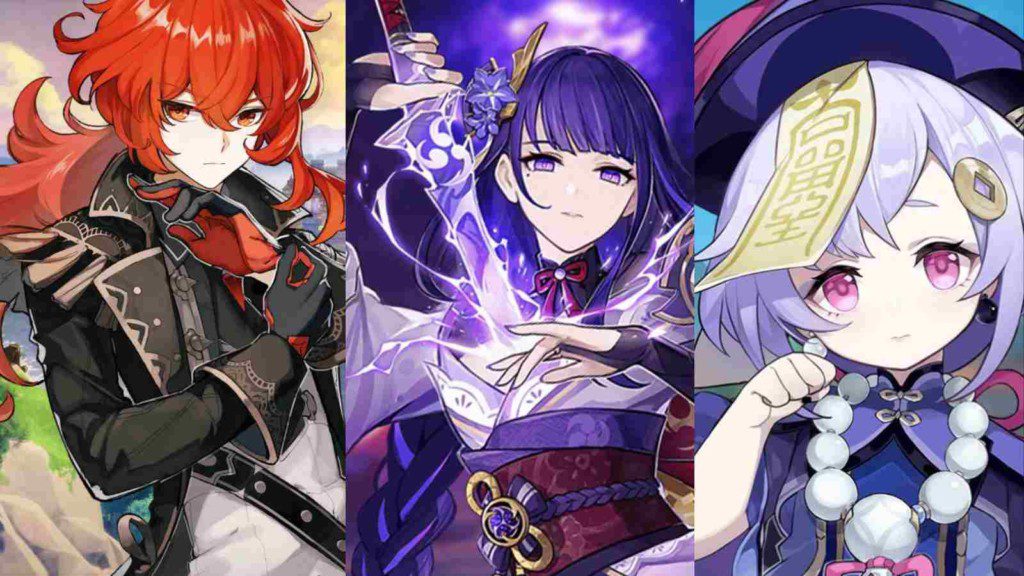 Even though, the developers are trying to buff Zhongli with each update, it will be safe to use Zhongli as a Support character. As a result, players should focus on offensive damage dealers such as Raiden Shougun. This Electro character can provide energy recharge when Zhongli uses Planet Befall. Using Diluc with him will also be a good option as players will be able to use the Crystallize reaction when Pyro and Geo are paired up together.
---
It is also important to keep healers with Zhongli and Qiqi would be recommended for Best Zhongli build in Genshin Impact. Qiqi's Cryo support can crystallize the Geo shield created by Zhongli, giving an additional defense as well as constant healing.
Also Read: Zhongli and Ganyu banner rerun in Genshin Impact: Start time revealed by MiHoYo