Every gamer from all around the globe has at least one thing command in between them. That is, having played any game from the GTA series. And more specifically, GTA Vice City. GTA Vice City is a game that even most non-gamers casual people have played at least once in their lifetime. Also, everyone has visited the Malibu Club in Vice City at least once or even more than once if completing missions. The place in itself is really iconic & aesthetically vibrant, and it's coming to GTA 6.
There have been many innumerable amounts of potential rumors surrounding GTA 6 for a while now. However, trustworthy leaks indicate that the game will be set in Vice City, although it has not yet been confirmed. Gamers have rejoiced upon this news. The acclaimed city has been the most fan-favorite map since the release of the GTA series. So, the return of this city, with all its locations, is a piece of delightful news.
Recent leaks showcase a list of certain World Events that would take place in the game. However, Rockstar Games is yet to confirm any of these leaks. And through these said events, gamers have hinted at the inclusion of one of the iconic GTA Vice City locations. And that's the Malibu Club.
Related: "Seek nothing short of perfection, and we'll get there" Take-Two Interactive CEO Strauss Zelnick talks about GTA 6
Malibu Club in GTA 6
Malibu Club is a really famous location in GTA Vice City. Tommy Vercetti, the character we play, could purchase it as one of his first properties. Through this club, we generated passive income, which was essential in building up our criminal empire. Secondly, "The Job" heist took place at the Malibu Club, which was the site of several significant missions.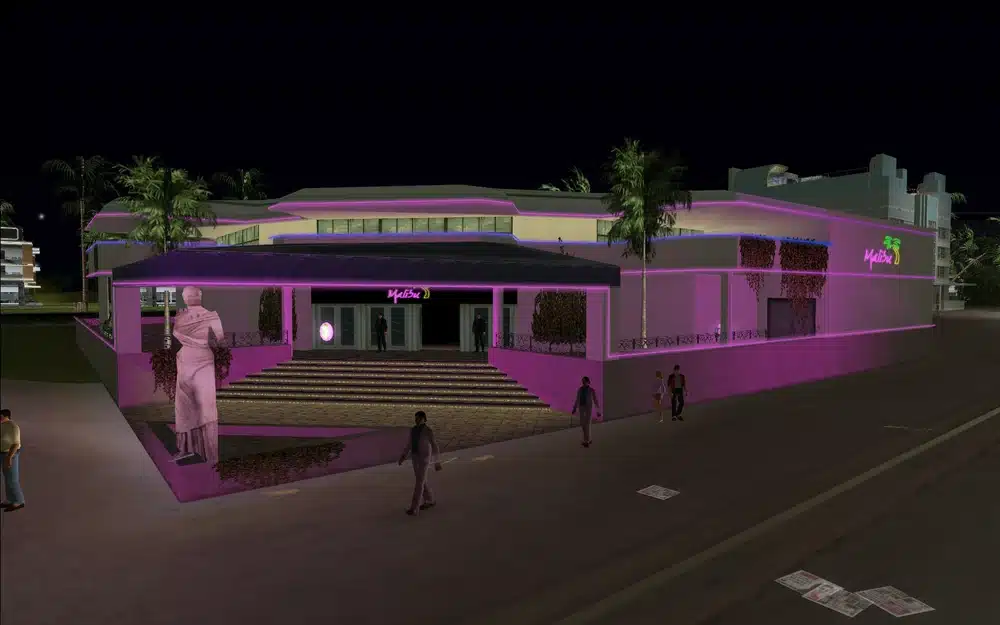 This skyrockets the importance of this club. Gamers think that the club will function in similar ways in GTA 6. In 2022, a leak occurred at Take-Two Interactive, the parent company of Rockstar Games, where a letter to a business in Miami, Florida, was leaked. The company requested permission to advertise their upcoming AAA game on the building for 12 months starting in the summer of 2023. Many people believe that the game developers will set GTA 6 in Vice City.
Other rumors and speculation about GTA 6 have surfaced in addition to the leaked letter. Also, through this letter, players have found out certain easter eggs, important events, and event side missions and activities players can do in-game.
Fans have especially been in awe with the return of Malibu Club in GTA 6. However, since the news has not been officially confirmed yet, players can only speculate. But if this iconic location does return to GTA 6, the game would further receive more love and hype. This is one of the few video game locations gamers would never forget. But all we can do right is wait for the official confirmation or even a game trailer.
In case you missed it: