HisWattson took to his Twitter to call out the top-Ranked Apex Legends player who goes by EHH_ERR. HisWattson claims that the current No. 1 has got boosted by a hacker who is repeatedly banned from the game. As HisWattson was aiming for the top spot, he might not be able to do so since EHH_ERR will be keeping his position.
This form of cheating is hard to detect as they join the same match and then farm kills by reviving their teammates. The only way you can catch them is when you catch them doing this in-game. And as so many players have started to do this in-game it has become really tough to get on the leaderboard.
As Apex gets very competitive in Preds and gets to the rank one is a dream to many and when some cheaters take that place with little to no effort it gets really frustrating for some players. As of now, HisWattson is behind by 7000RP and as the season is about to end on 1 November it seems like an impossible task to get to that #1 for HisWattson this season.
READ MORE: Apex Legends to allow sending gifts to friends in Season 15
His Wattson Implies that the Rank 1 Apex Legends Predator is boosted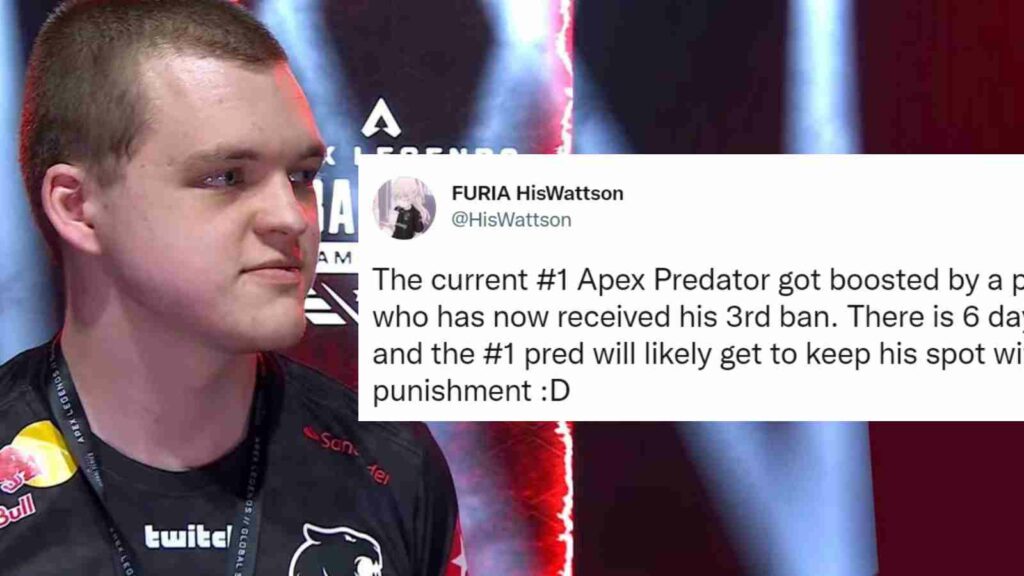 HisWattson shared a video of a hacker getting banned who was playing with EHH_ERR the No 1 Predator. The video clearly shows that the person playing along size EHH_ERR got banned mid-game. HisWattson even got the attention of the Rank 1 player and forced him to explain himself.
Tasmah who goes by EHH_ERR responded to HisWattson's tweet saying that he has better stats than him and can not be boosted, also saying that a player like him can not defend themselves since they don't have contacts with the developers. But to our surprise, we found something odd with his profile stats.
also read : Apex Legends' latest Eclipse launch trailer reveals Catalyst's Abilities
EEH_ERR has 2K lifetime wins from 14k Lifetime matches. Excluding the current season in which he has 703 wins from 1k matches, we come down to 13k matches with 1.3k wins and that is like a 33 percent win rate. His current win rate is 70% and this definitely marks for suspicion as you can not expect a player to become the best in the world in just one mere season. He is constantly trying to find points to prove his innocence but nothing seems to be working for him.
To Find Out More : Apex Legends Pro Vows To Purchase Gaming Gear For Aspiring Gamers By Running Twitch Ads