As you progress further in the School of Witchcraft and Wizardry in Hogwarts Legacy, you will learn many new things such as casting spells, riding a broom, harvesting plants, and brewing potions. All of these skills help you to progress in the game. Along with spells, potions are very important in the life of a Wizard. To brew different potions, you need to collect different ingredients.
If you have followed the Harry Potter movies, you must know in addition to the Polyjuice potion, the Invisibility potion is a very helpful and fun potion in the Wizarding World. When you drink this potion, as the name suggests, you will become invisible and can deal with your enemies easily. It's not as powerful as Harry Potter's invisibility cloak, but it will suffice. You need to get the recipe for this potion from Pippin's Potions. To brew this potion, you need a Knotgrass sprig or seeds in particular.
Knotgrass sprigs or seeds are not the hardest things to find but it can be hard to locate if you don't know where to start. To help you, here's how you can obtain the Knotgrass sprigs or seeds in Hogwarts Legacy.
Related: Hogwarts Legacy: How to acquire Fluxweed Stem
How to get Knotgrass Sprig in Hogwarts Legacy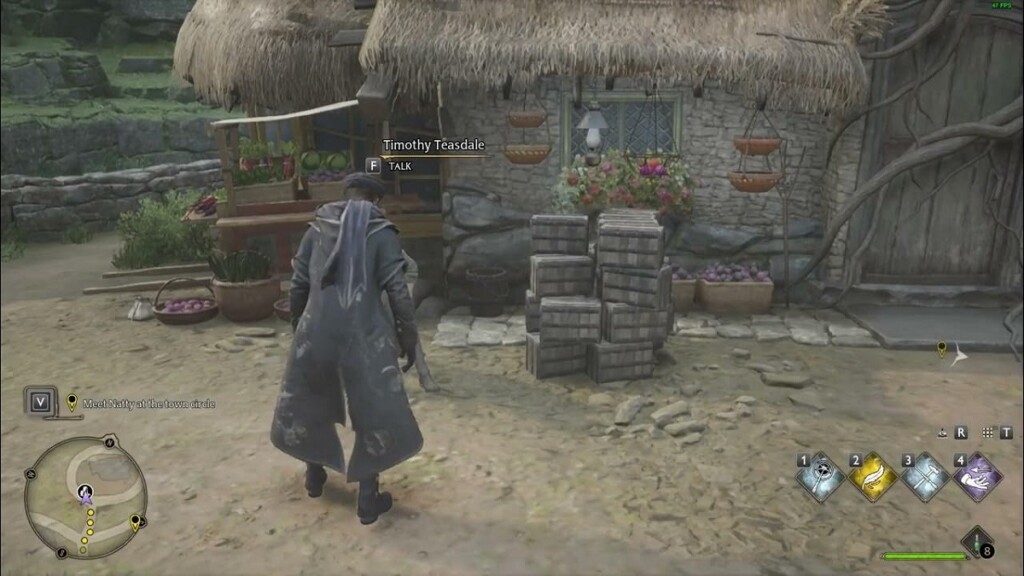 To get the Knotgrass sprig, you need to head to Hogsmeade. Hogsmeade is a very important place in Hogwarts Legacy and Harry Potter media. It is home to several significant stores where you can find the products you frequently require, many of which are necessary for game progression. There, you will also find The Magic Neep store. It is located in the northwest corner, across the river. You'll meet Timothy Teasdale, a middle-aged man with a long beard. He's the owner of The Magic Neep Store. After interacting with him, a window displaying all of his products will appear.
Here, you can choose Knotgrass sprigs for 150 Galleons. However, you can also buy the Knotgrass seeds to grow the Knotgrass sprig in the Room of Requirement in Hogwarts Legacy. Seeds will cost you 350 Galleons. You need a small size pot. You also have to buy fertilizer. Fertilizers will increase the yield of this herb. It will take approximately 10 minutes to grow the Knotgrass sprig.
Now, you just need a Troll Bogey and a Leaping Toadstool Caps to brew the invisibility potion. It will help you while fighting multiple enemies during the main quest or side quest.
In case you missed it: