Garena introduces new costume bundles and gun skins to Free Fire through various new events and luck royales like Faded Wheel and Moco Store. Here in this article, we will take a look at how to get the latest Fierce Demilord Thompson gun skin in Free Fire Faded wheel.
In the latest iteration of the faded wheel, Garena introduced a new gun skin of the Demilord theme with over the top animations and attributes. The new faded wheel is available for players where they can spin the wheel and get the gun skins and other rewards as well. Let us take a look at how to get Fierce Demilord Thompson skin in Free Fire faded wheel.
Fierce Demilord Thompon Skin In Free Fire Faded Wheel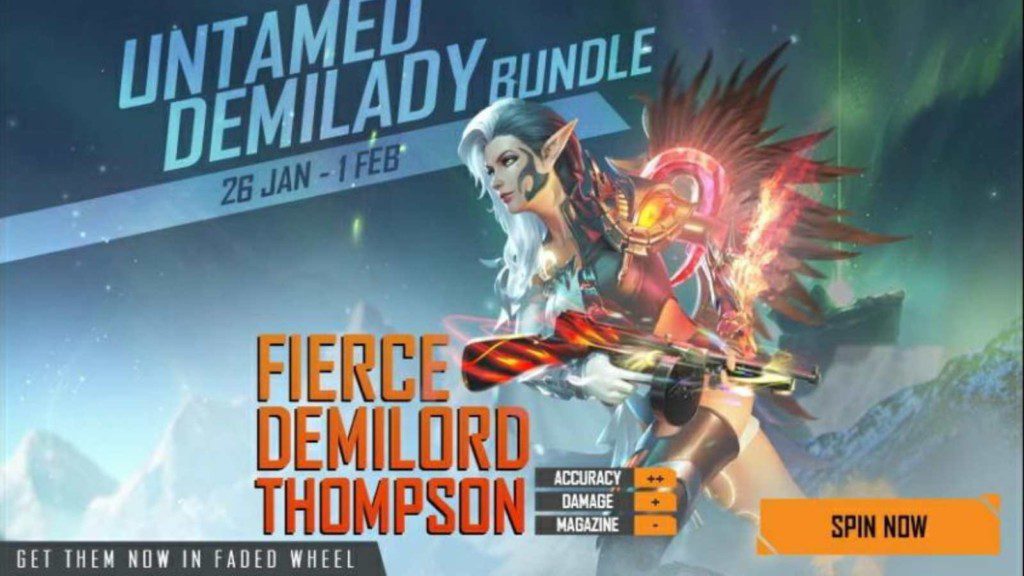 The latest edition of the Free Fire Faded wheel is live now and players can spin the wheel to claim the rewards with the grand prize being the Fierce Demilord Thompson skin till 1st February. There are other prizes also available in the added wheel as well the list is as follows:
Thompson – Fierece Demilord
Untamed Demilady Bundle
Sky parachute
Shirt (White)
Weapon Royale Voucher (28 February 2022)
Burning Flap Skyboard
Box of Balance
Shorts (Black)
1x Cube Fragment
Artificial Intelligence Weapon Loot Crate
Related – Jonty Gaming Free Fire ID, Stats, K/D Ratio, YouTube Channel, Monthly Income And More For January 2022
Get Fierce Demilord Thompson Skin In Free Fire Faded Wheel
Players can spin the Faded Wheel present at the Luck Royale section for the first spin for as low as 9 diamonds and stand a chance to win the Fierce Demilord Thompson skin. Players can follow these steps to spin the wheel at Luck Royale:
Step 1: Players have to open Free Fire and then tap on the Luck Royale option from the lobby.
Step 2: Then navigate to the "Faded Wheel" tab.
Step 3: There you have to choose any two items from the prize pool that players do not want.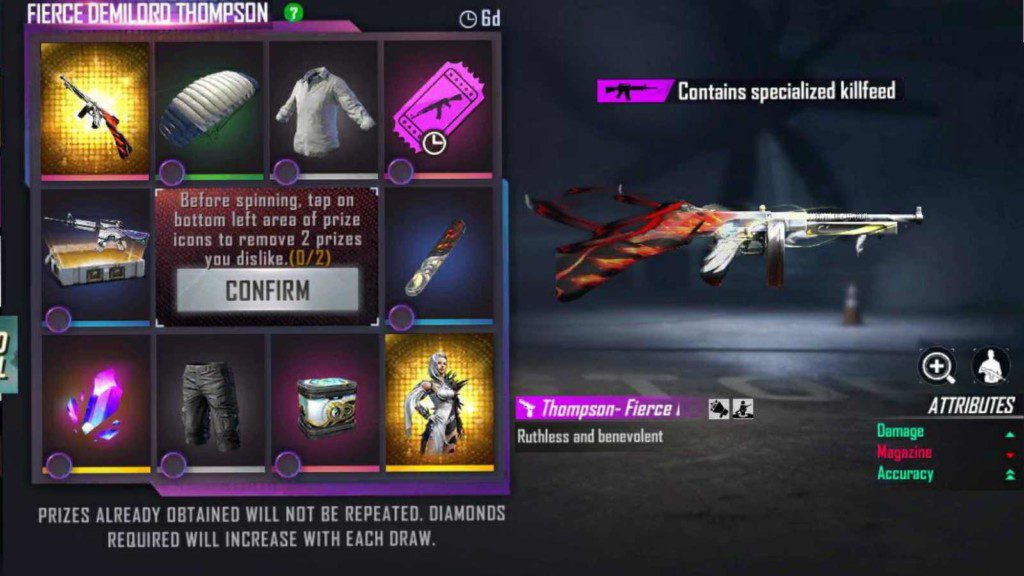 Step 4: Once the rewards are removed players will now get the option to spin.
The cost of the spins is given below:
First spin: 9 diamonds
Second spin: 19 diamonds
Third spin: 39 diamonds
Fourth spin: 69 diamonds
Fifth spin: 99 diamonds
Sixth spin: 149 diamonds
Seventh spin: 199 diamonds
Eighth spin: 499 diamonds
Follow our Instagram handle to participate in the huge DJ Aloks Giveaway and to stay updated with the latest news on the gaming and eSports scene.
Also, Read – Dimitri vs K (Captain Booyah): Who Is The Best Character In Free Fire Clash Squad Mode After OB32 Update?