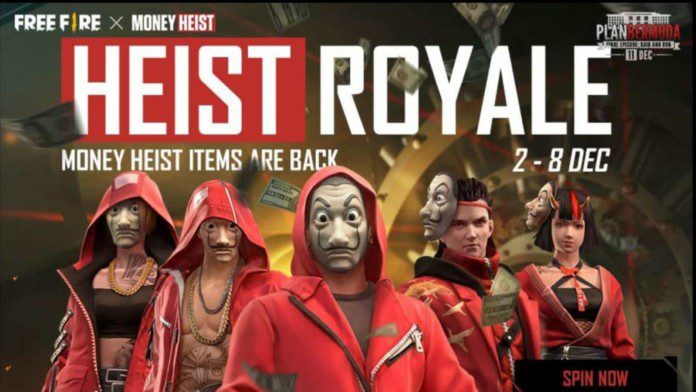 The Free Fire x Money Heist collaboration has come in the game with full force and many new events have also arrived. Here is how to get the Plan Bermuda Bundle in Free Fire Heist Royale lucky spin!
The latest Lucky Spin in the game is the Heist Royale and contains many Free Fire X Money Heist themed cosmetic items and loot crates. It features 5 separate cosmetic bundles and some great emotes as well. The event will stay in the game from 2nd December till 8th December, 2021.
Here is how to get the Plan Bermuda Bundle in Free Fire easily!
Free Fire Heist Royale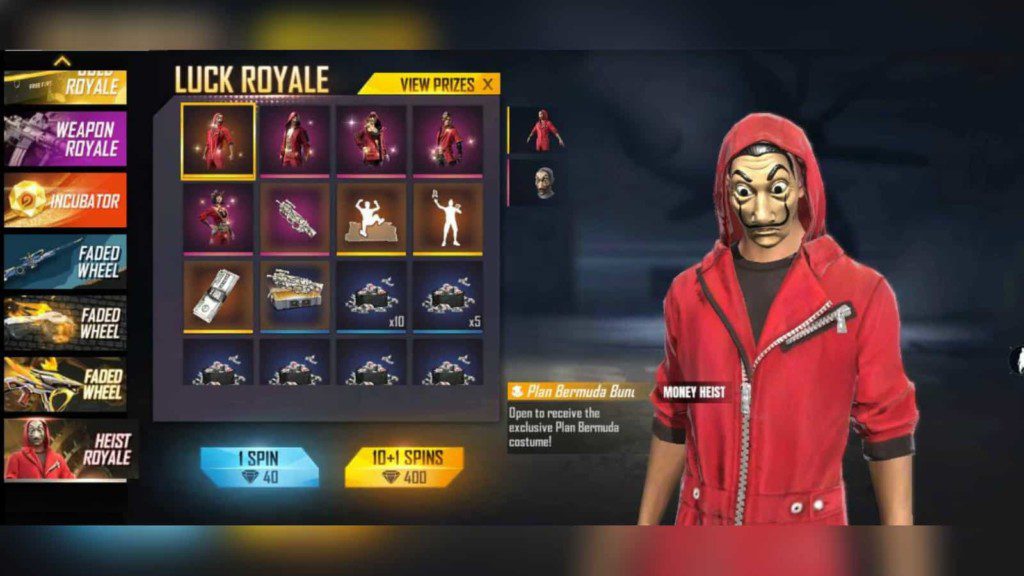 The Heist Royale is one new addition to the Luck Royale section of the game and coincides with the Free Fire x Money Heist event.
Related: How to get the Magma Hexlight Bundle in Free Fire Geometric Shock Incubator?
The Money Heist section has a normal spin where the prize pool contains all the grand prizes that the players can get. Players can spin the wheel 1 time for 40 diamonds and 10+1 spin for 400 diamonds.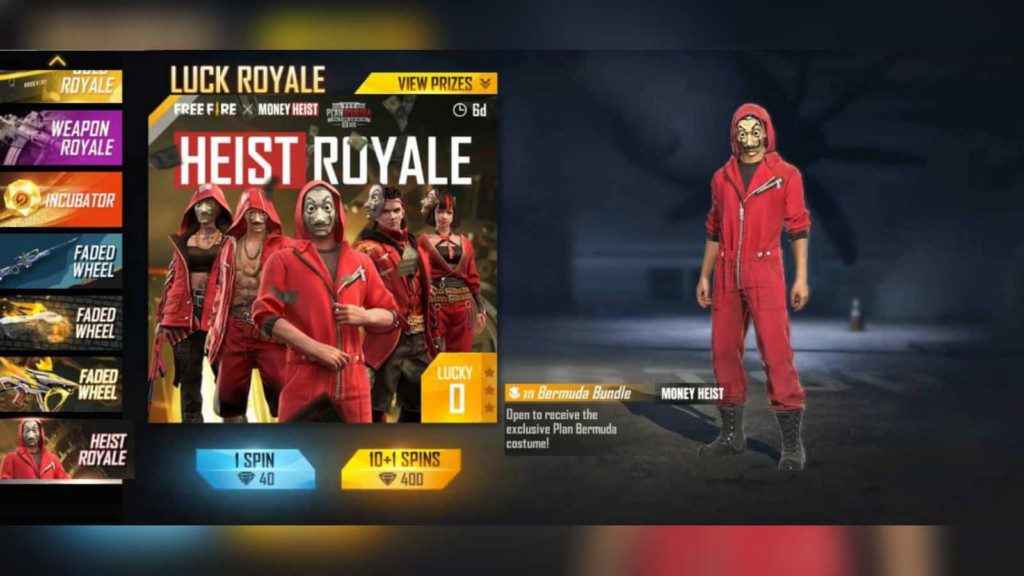 The prize pool for the spin is:
Plan Bermuda Bundle
Plan Bermuda Street (Male)
Plan Bermuda Street (Female)
Plan Bermuda Shinobi Bundle (male)
Plan Bermuda Kunoichi Bundle (female)
P90 – Make it Rain
I'm Rich Emote
Make it Rain Emote
Raining Cash drop effect
Plan Bermuda Weapon Loot Crate
Cash Bag (10x, 5x, 4x, 3x, 2x, 1x) (event tokens)
Time Travellers Weapon Loot Crate
The Executioner Weapon Loot Crate
AN94-Cataclysm Weapon Loot Crate
Midnight Mafia Weapon Loot Crate
How to find the Plan Bermuda Bundle in Free Fire?
Open the Free Fire app on your mobile devices.
After this, open the Luck Royal on the left side of the screen.
Click on the "Heist Royale" section on the left.
Spin the wheel in order to get the cosmetics in the game.
Follow our Instagram page for more updates on gaming and esports!
Also read: Free Fire Max redeem codes for 3rd November, 2021: Get the AUG Cyber Bounty Hunter!