Adin Ross revealed in his recent Kick stream that the streaming company had offered Kai Cenat and Ishowspeed $40 million to join them. Ross was talking to his chat about how streamers are finally being recognized and paid similarly to some of the top-paying jobs in other fields. He seemed pretty pumped up about the prospect of streamers getting what they deserve.
The former Twitch streamer jumped ship and switched to Kick in order to earn more, as according to him, the platform took the lion's share of the profit that the streamers should be getting (70/30; 30 being the streamer's earnings). Afterward, Twitch changed the policy and made it 50/50, but that did not stop Ross from packing up his stuff and moving to Kick.
Ross didn't move to kick himself; he took away a large chunk of the audience and views he generates per stream.
Related: "Put him in f**king jail!" Kick streamer Adin Ross reacts to recent Ja Morant controversy
Adin Ross feels that the streamers are getting what they deserve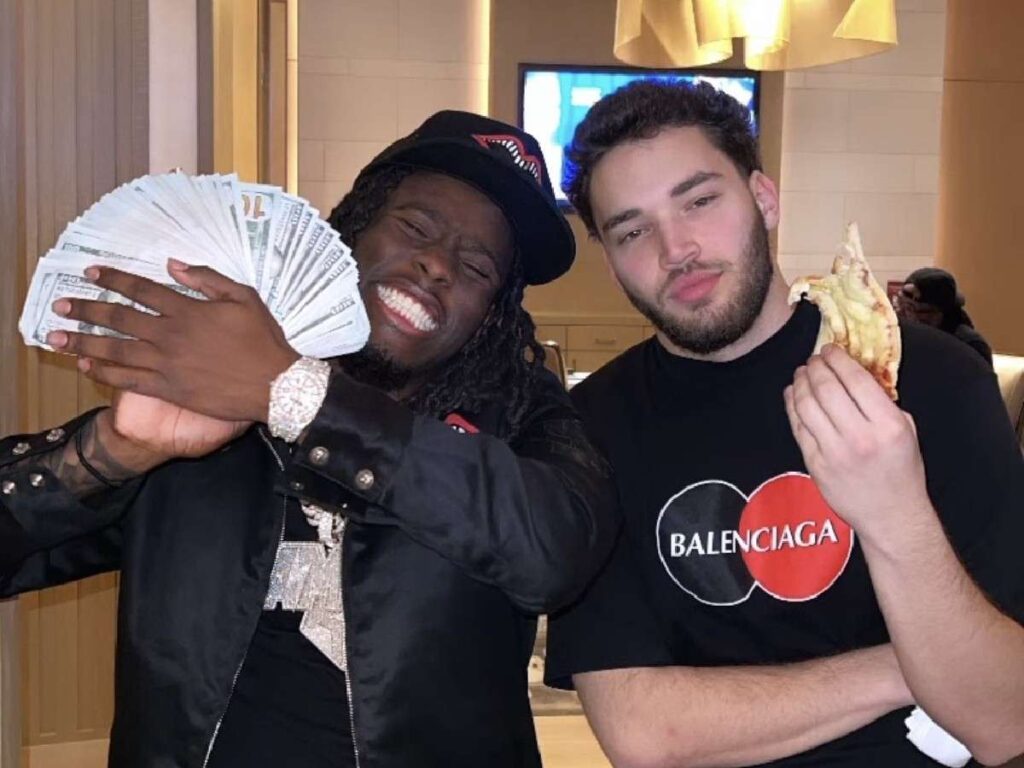 Source AdinUpdate/Twitter
Ross, who joined Kick after the streaming platform offered him around $150 million for a 2-year deal, talked about it in another recent live stream while interviewing Los Angeles Lakers star Dennis Schroder. After Ross joined Kick, he tried the best he could to persuade other big-name streamers to switch over. While few showed interest, like Kai, who even threatened to join Kick after his recent ban. So far, there has been no update on that part.
This statement from Adin came after the livestreaming show was revealed by IShowSpeed and Kai Cenat. Both of these streamers have grown in popularity in recent months. This show will be exclusive to the streaming platform Rumble.
During his most recent stream, Ross revealed that he wanted Kai Cenat and iShowspeed to come to Kick. He said,

"I'm hurt. I wanted Kai and Speed on Kick. I'm going, to be honest. We originally offered, I think, Kai and Speed $40 million. I think Kai was $40 million and Speed was $40 million. They said no."
Moreover, Adin also claimed that Rumble might have poured more money than Kick to sign Speed and Kai. Ross goes on to say that he congratulated Kai Cenat and iShowspeed. He said
"I don't know what Rumble offered. But… I don't know maybe it's more than that. So, that just goes to show you, bro, motherf**kers are… f**king… it's NBA money, bro! NBA f**king money! Do you know what I'm saying? So… this s**t is crazy, bro! This s**t's crazy as f**k!"
The streamers seemed particularly pleased that everyone is getting paid now," that's fu*ing awesome! people getting paid for their work and sh*t."
How the netizens reacted to Adin Ross revealing Kai Cenat and iShowspeed turned down Kick's offer
It seems the social media community, especially on Reddit, is quick to hammer Adin Ross and his comments. Apparently, they believe Ross is using a backhand technic to showcase that Kick offered him more compared to both Kai Cenat and iShowspeed.
One Reddit user said:
One user said that Ross is probably hiding how much Kick is actually paying him
Reddit user @cgc86 shared the same viewpoint
Whether or not Adin's statement is true or not we don't know as there hasn't been any confirmation from Kick about how much they offered Kai Cenat and iShowspeed.
In case you missed it: