Streamers are now getting a lot of love and attention. Fans have gone absolutely wild in expressing their love and support for them. At the recent Streamy Awards 2023, a ton of well-known streamers received several prizes. Furthermore, IShowSpeed even won the Best Variety Streamer award. But despite all his great content, fans also know the streamer for his mishaps! Moreover, recently, IShowSpeed leaked the phone number of Irish footballer Stephan Negru and apologized on stream.
Speed has received a lot of popularity in his years of streaming career. Boasting a strong 20 Million+ subscriber base, the streamer's basking in fame and popularity. And with fame comes a fair share of drama and controversies. Moreover, Speed is no stranger to dramas. His fights with KSI, Adin Ross, and others are really popular amongst fans. Nevertheless, that's not all for the streamer.
Speed is quite infamous for leaking phone numbers, too. Additionally, the streamer has leaked the numbers of many popular content creators and internet personalities in the past, with KSI being the frequent victim. And it seems like Speed's done it again. Furthermore, this time, it's the Irish footballer Stephan Negru's phone number.
Related: "Big Juicy damn sh*t," IShowSpeed IMPLODES in rage after Nick Eh 30 brutally defeats him 1v1 in Fortnite on livestream
IShowSpeed apologies for leaking Irish Footballer Stephan Negru's phone number
Speed is infamous for many things. The recent IShowMeat incident, where the streamer accidentally flashed his genitals on a livestream, was blown out of proportion. Moreover, the streamer has a past history of leaking phone numbers. However, most of them are intentional. But this time, the phone number leak was definitely not intentional.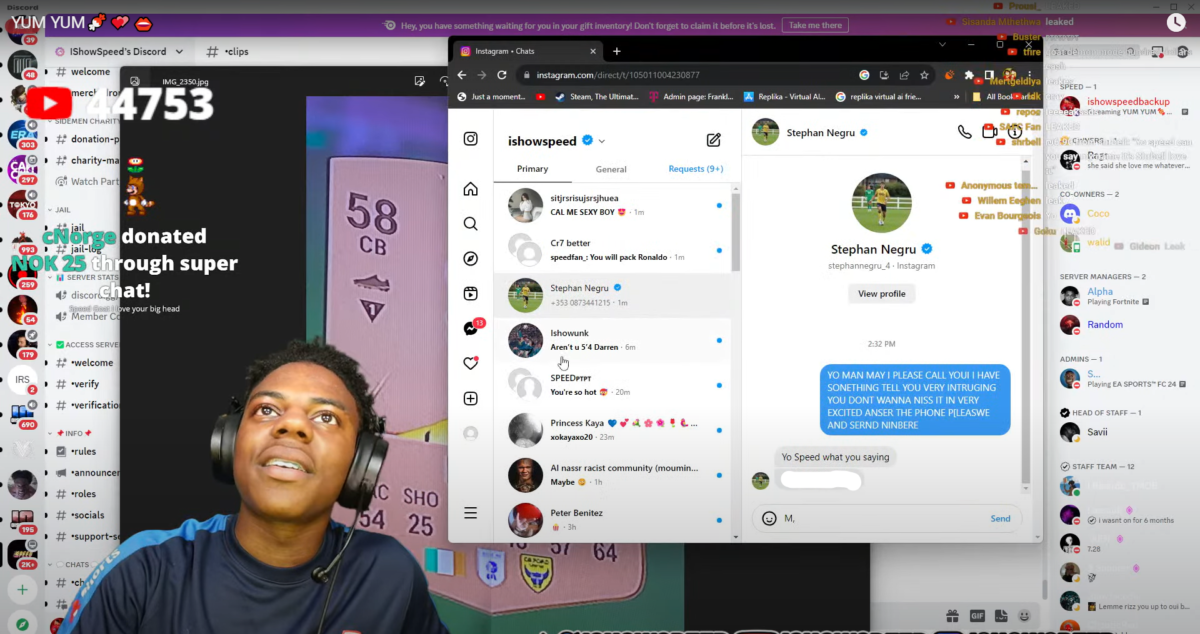 During a YouTube livestream, the streamer opened his chat with Stephan Negru. In the chat, the footballer's phone number was out and thus got leaked on stream. Fans quickly spammed the chat with "leaked."
The streamer was really stressed when he found out how he'd unknowingly leaked Stephan's phone number. IShowSpeed even apologized for the leak. He said,
"Oh no! Oh my— Oh my f*cking god! I leaked the f*cking guy's— Oh my f*cking G! Are you f*cking serious! Yo Bro Negru, I'm sorry! If you're on the stream, bro, on my life, bro, I did not mean to leak your sh*t, okay! I know you probably watching this sh*t right now, bro! I did not mean to leak your number, bro! I'm so sorry, bro!
Well, this isn't the first time Speed's doing this. However, due to this leak, the footballer would probably need to change his number, considering all the calls and messaged that he would be receiving by now!
In case you missed it: