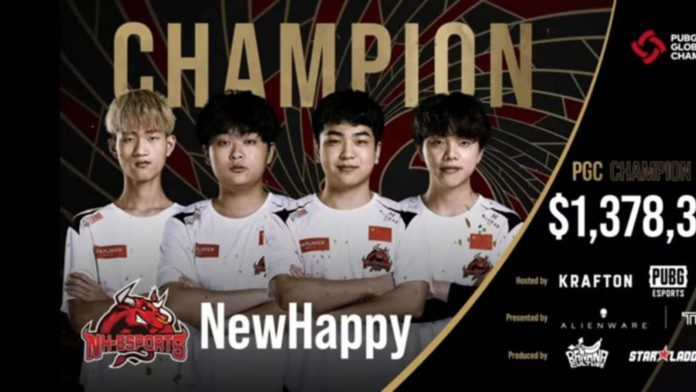 The culminating tournament of PUBG Battlegrounds, PUBG Global Championship 2021 has finally concluded. The officials had returned to the previous points rule at this tournament where a total of thirty two teams were seen in action.
With a whopping prize pool of $2,000,000 USD, PUBG Global Championship 2021,the month long tournament was played in three stages i.e. Rank Decision Matches, Weekly Survival Matches and Grand Finals. A total of sixteen teams were able to qualify for the grand finals after surviving in the weekly survival matches. NewHappy who were declared as the winners walked away with a massive cash prize of $1,378,264. The second and third place was claimed by Heroic and Virtus.Pro who won $666,209 and $344,591 cash prize respectively.
PUBG Global Championship 2021 Grand Finals Day 3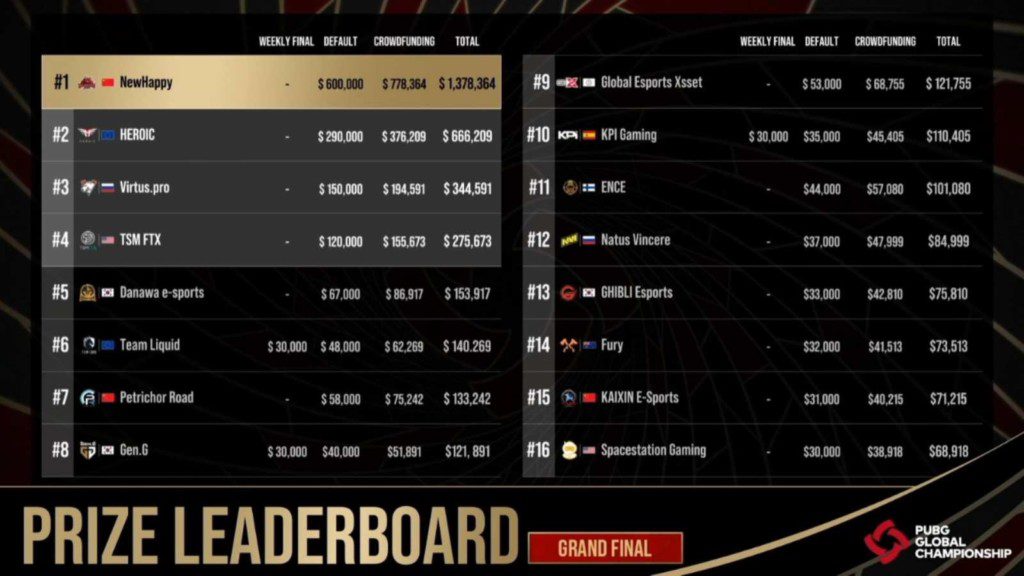 The first match of the final day of grand finals was won by TSM with 11 finishes. Heroics who were eliminated at the second position took 17 finishes, the highest in the match. Ghibli Esports claimed the third position after accumulating 9 points.
Read More: PUBG Mobile Global Championship 2021 East: The Infinity tops Super Weekend 3, 16 teams qualify for League finals
Match 12th of PUBG Global Championship 2021 Grand Finals was won by the champions, New Happy after taking an astonishing 18 finishes. This match became the game changer for the team as it helped them to claim the victory at the end. Danawa Esports finished the match with 6 kills.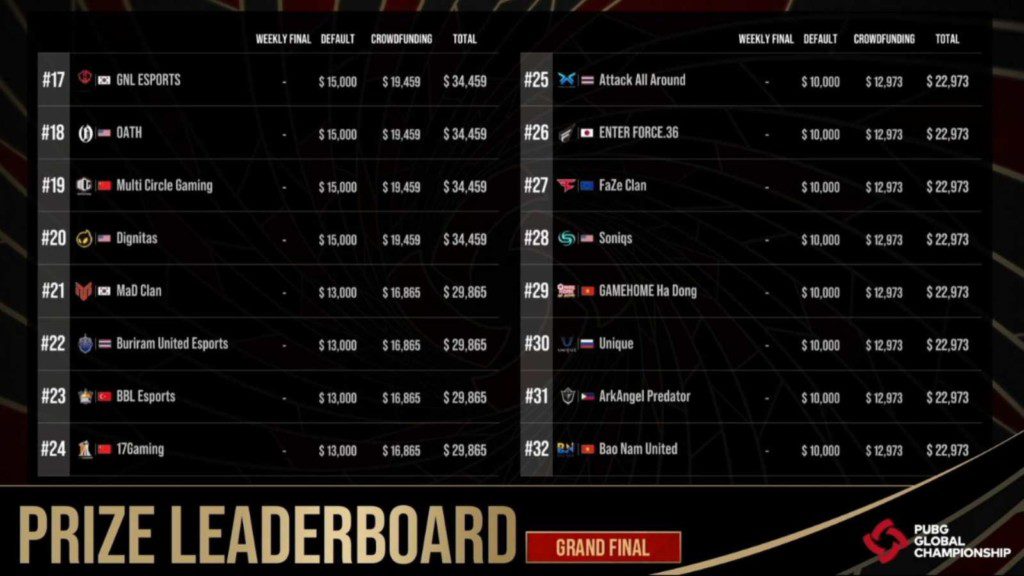 The 13th and 14th Match of the last day was won by Virtus Pro and KaiXin Gaming. The teams took 13 and 14 finishes respectively to secure their impressive chicken dinners. NewHappy also played well in the 13th match to increae their rank points as they were having a tough competition with Heroics.
The chicken dinner at the last match of PUBG Global Championship 2021 was won by ENCE although the team was only able to secure 6 finishes.
Other Awards
Most Impressive Team – Team Liquid
Most Kills – Pag3 (Heroic)
All PGC – Jeemz (Team Liquid), TeaBone (Heroic), Inonix (Gen.G Esports), MMing (NewHappy)
Also Read: PUBG Mobile Global Championship 2021 West: Rise Esports emerges top after Super Weekend 3 ends, 16 teams qualify for league finals