The final super weekend of PUBG Mobile Global Championship 2021 East League stage has kicked off today. Sixteen teams had qualified from the week day that concluded on 14th December. These teams are now battling for a position at the finals of the league stage.
All eyes were set on Thai team, The Infinity who were the only team to score above 300 points at the super weekends until now, although they retained their dominative performance today, it was Genesis Dogma who stole the show today. The Infinity and Genesis are now the lead scorers with 384 and 315 points respectively. Stalwart Esports also didn't deter to show their aggressive game play and are now placed at the third position with 304 points. Following them closely is the tam of 4Rivals with 302 points and 142 eliminations.
PUBG Mobile Global Championship 2021 East Super Weekend 3 Day 1 Overview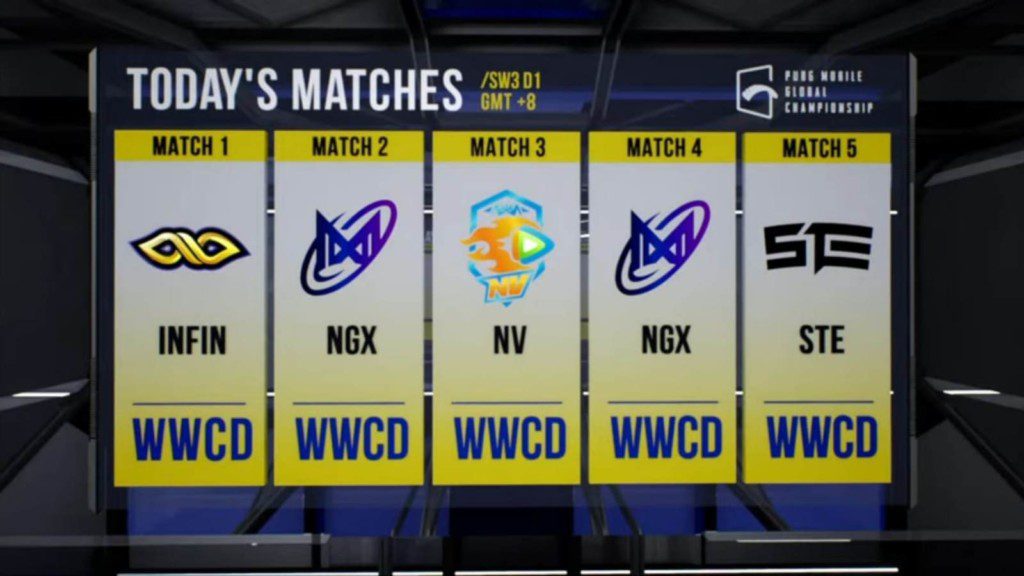 The table toppers, The Infinity started the first day of final super weekend with a chicken dinner with 18 eliminations, one of the highest so far in PUBG Mobile Global Championship 2021 East. MS Chonburi were the second team to get eliminated after securing 5 finishes. 4Rivals and Nigma also played well to take 6 and 7 frags respectively.
Read More: PUBG Mobile x Squid Game collaboration to bring React Survival Mode, check release date
Nigma Galaxy, the Arabian PUBG Mobile team took the chicken dinner at the second match after defeating 4Rivals. Although the latter team was playing quite well as they defeated top players such as Paraboy from Nova Esports. Nigma Galaxy's LORD alone took 8 eliminations for his team from a total of 15 eliminations. 4Rivals were able to take only 4 finishes.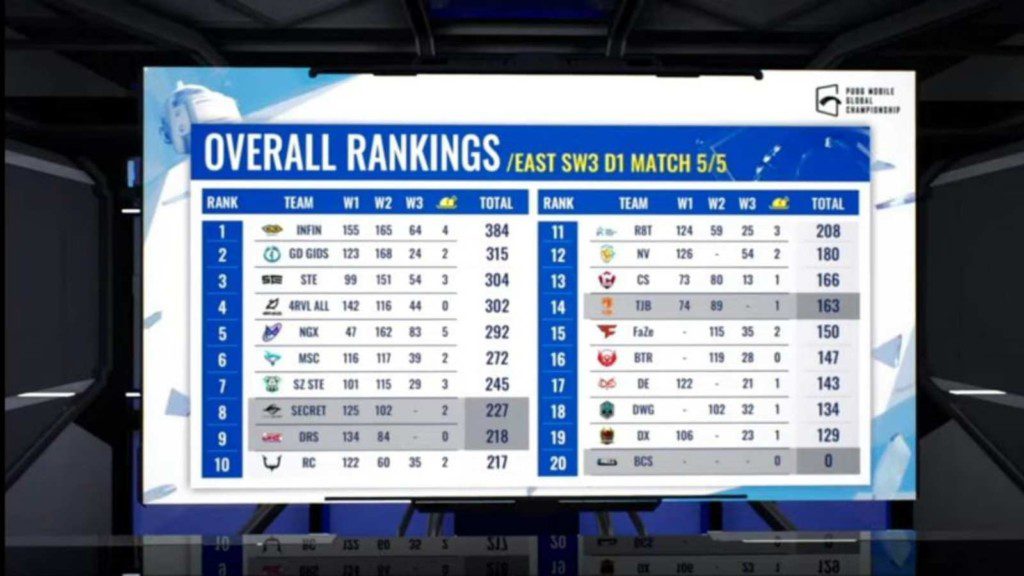 The third and fourth match of PUBG Mobile Global Championship 2021 East was won by fan favourite Nova Esports and Nigma Galaxy. By winning the fourth match, Nigma took 5 wins, the highest so far by any team at PMGC 2021 East Super Weekend. The team was consistent at the previous match too but was defeated by Paraboy who was back in form after taking 7 eliminations.
The last match of PUBG Mobile Global Championship 2021 East Super Weekend 3 Day 1 was a game changer for Stalwart Esports who after winning the match registered 300 points. REJECT took 9 eliminations but was eliminated at the third position whereas Rico Infinity, the last team to get eliminated took 5 frags.
Top 3 players (All Super Weekends)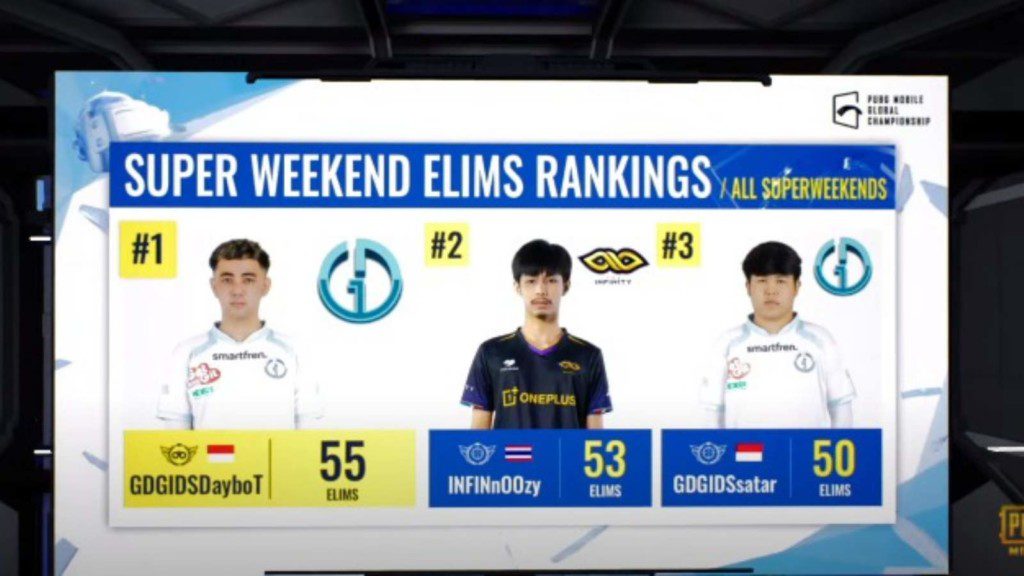 DayBot (Genesis Dogma) – 55 eliminations
nOOzy (Infinity) – 53 eliminations
Ssatar (Genesis Dogma) – 50 eliminations
Also Read: PUBG Mobile, Free Fire along with other games surpass $1 billion player spending in 2021