As the second day of week 2 of PUBG Mobile Global Championship 2021 East has concluded, sixteen teams have proceeded towards the second super weekend which will be crucial for fixing a spot at the league finals. Surprisingly, China's most powerful PUBG Mobile team, Nova Esports failed to qualify for the second super weekend as they fell short of just one rank point to Cryptics.
Mongolian team which formerly belonged to Astra Academy, Stalwart Esports were the star team at the second week day as they are leading the score board with 140 points. They also hold the highest number of chicken dinners as of now, overall, the team has maintained a perfect balance of elimination and rank points. Thai PUBG Mobile team, The Infinity stands at the second place with 110 points. Damwon Gaming is placed at the third spot with 74 points.
PUBG Mobile Global Championship 2021 East Week 2 Day 2 Results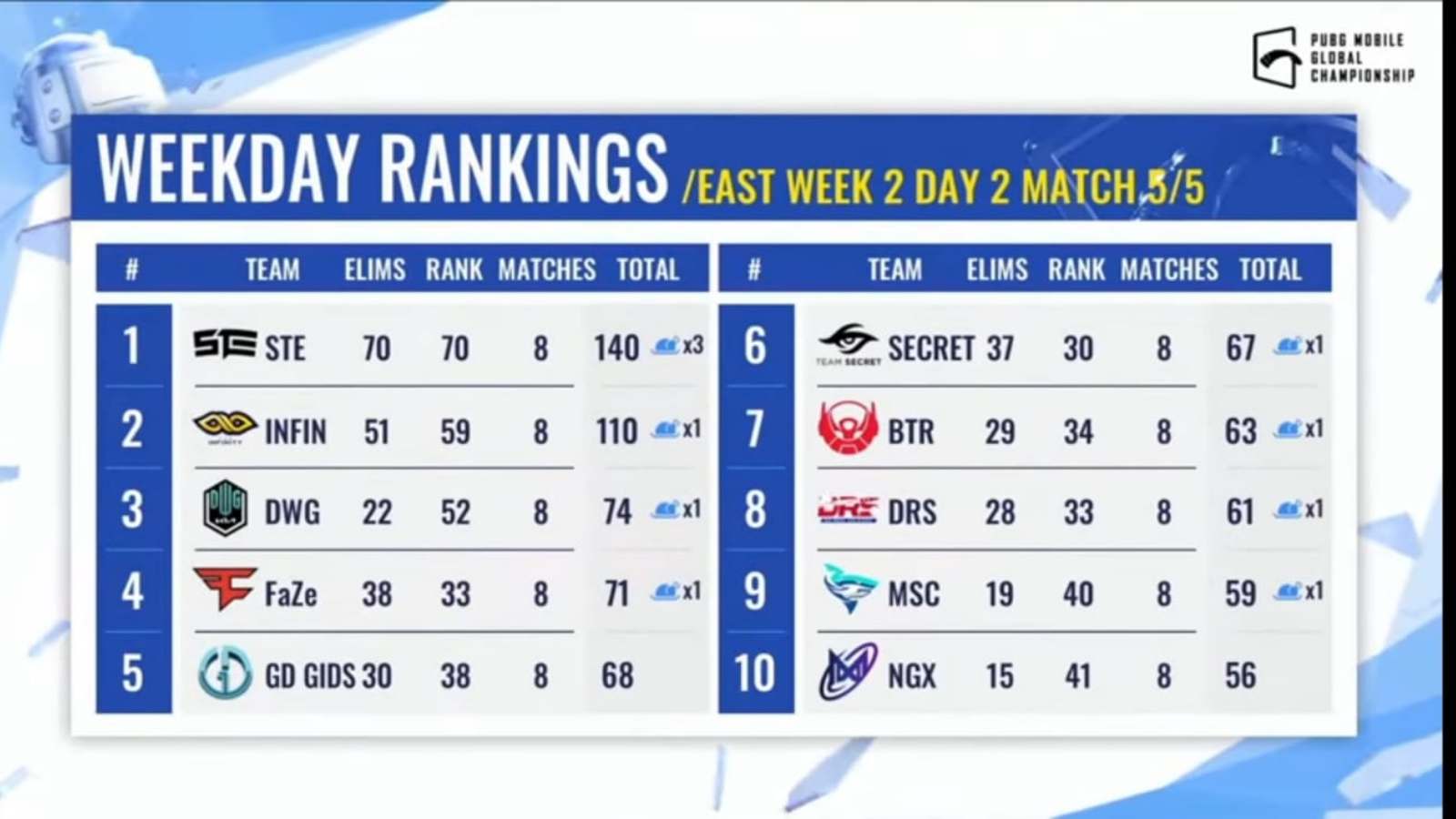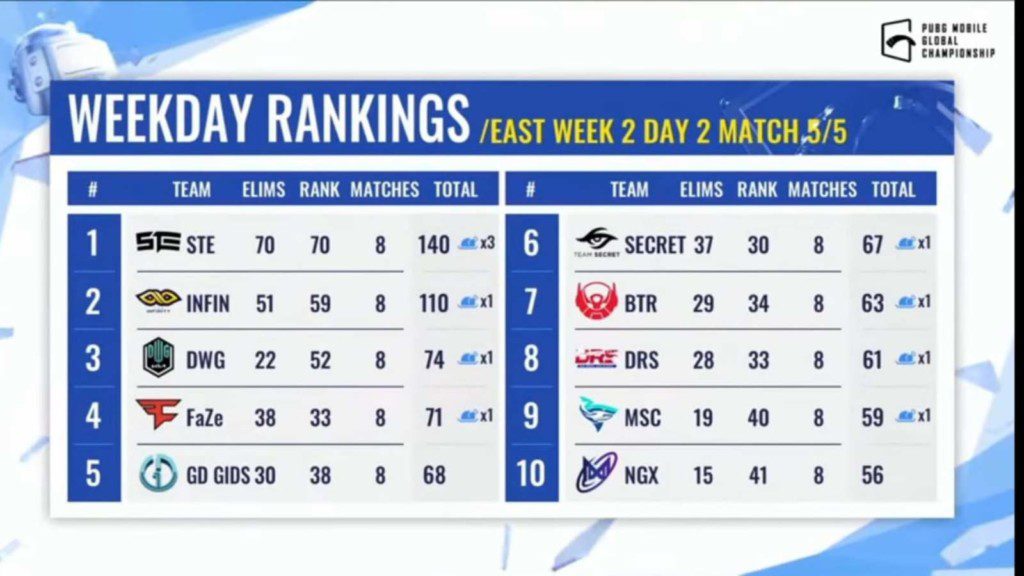 The first match of day 2 began with the Sanhok where Bigetron RA from Indonesia registered their first chicken dinner of PUBG Mobile Global Championship 2021. The team managed to keep their players all of their alive till the end and their star player, Zuxxy took 3 out of 10 frags to win the match. Deadeyes Guys with a difficult position at the end were eliminated at the second position with 16 points.
Read More: PUBG New State 0.9.2 update introduces new weapons, vehicles and Vol 2 survivor pass!
Stalwart Esports had the best day compared to all the teams as they recorded their second chicken dinner of Week 2. Most players were required to stay alive under water with their skills because of the zone placement. STE even after having one player knocked out, continued their rampage and won the match with 14 frags. Action was the MVP of this match securing 8 finishes.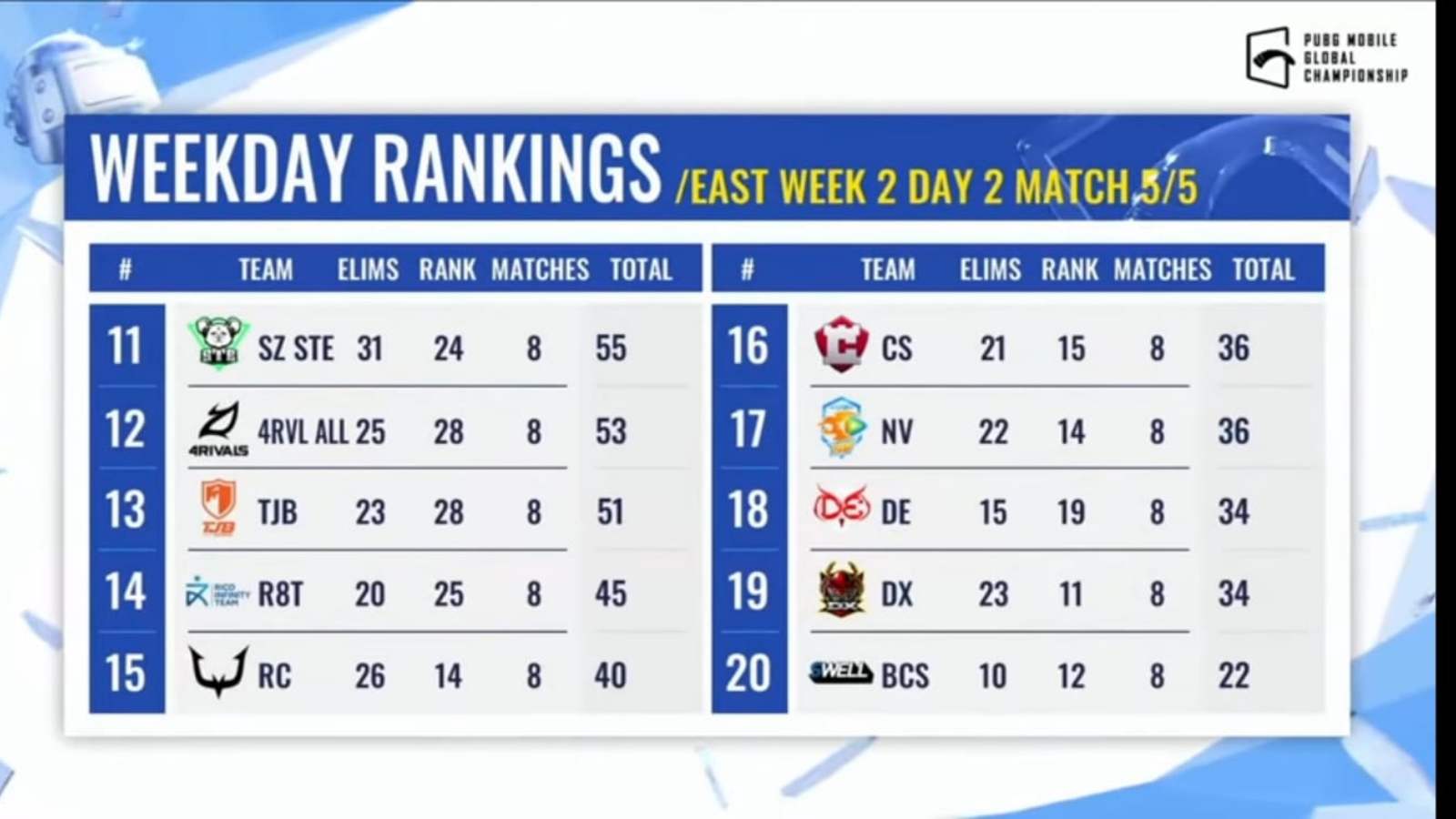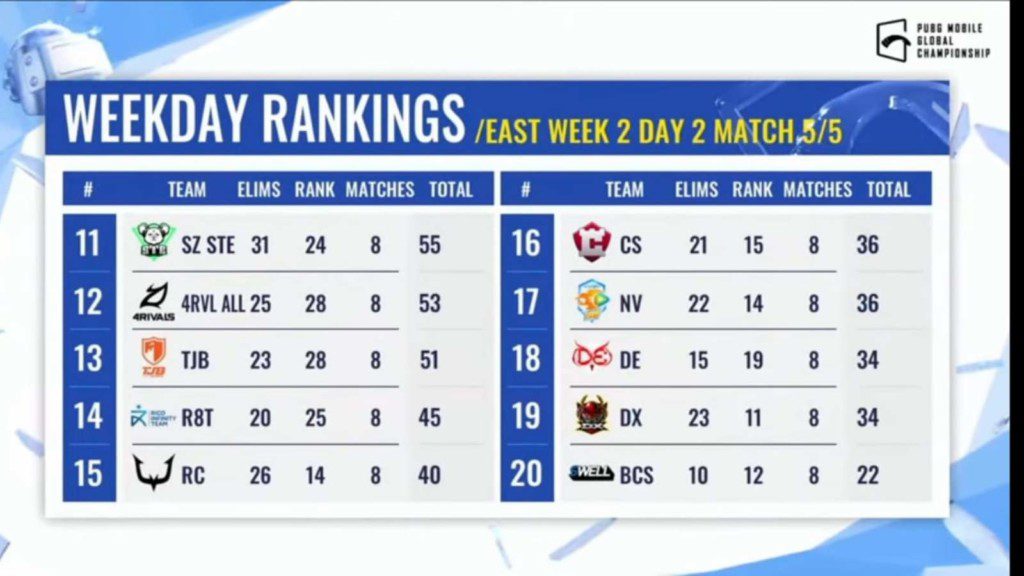 The third match of PUBG Mobile Global Championship 2021 East again saw the domination of Stalwart Esports initially but Action, the lone survivor with 8 eliminations till the end was defeated by Damwon Gaming who won the match easily as the last player of Nigma Galaxy lost in a heal battle at the end.
The fourth and fifth match of PMGC East 2021 was won by FaZe Clan, Thai team who had a hard time climbing up to the top 10 positions and Stalwart Esports, the star team of the day. FaZe Clan accumulated 29 points and 14 frags whereas Stalwart took 23 points with 8 frags.
Qualified teams for Super Weekend 2
Following teams have qualified for the second super weekend of PUBG Mobile Global Championship 2021 East: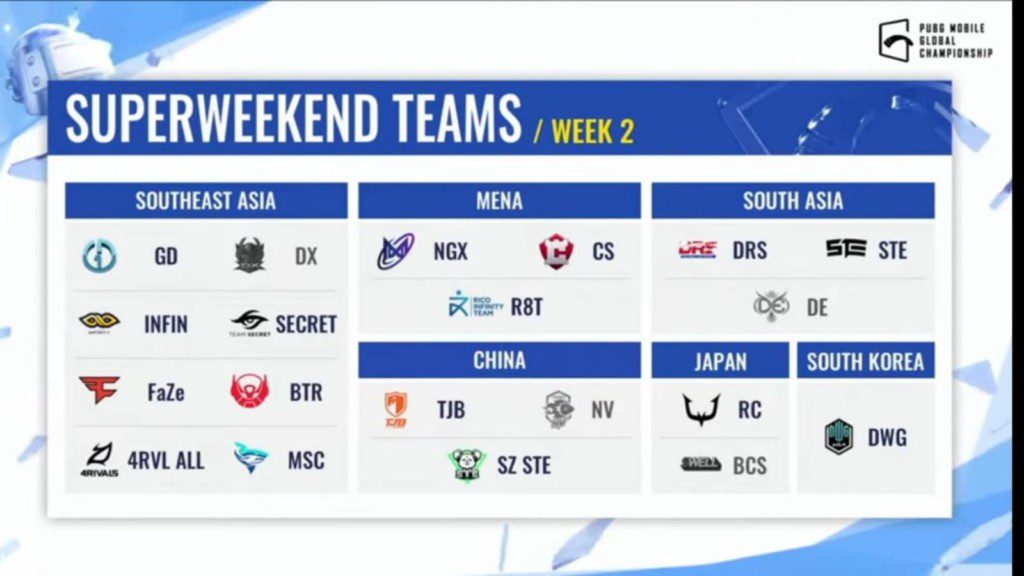 Genesis Dogma GIDS
Inifinity
Team Secret
FaZe Clan
Bigetron RA
4Rivals
MS Chonburi
Nigma Galaxy
Cryptics
Rico Infinity Team
Tong Jia Bao Esports
Six Two Eight
DRS Gaming
Stalwart Esports
REJECT
Damwon Gaming
Teams that failed to qualify
Nova Esports
D'Xavier
Deadeyes Guys
BC Swell
Also Read: PUBG Mobile Global Championship 2021 West: Week 2 Day 1 overall standings