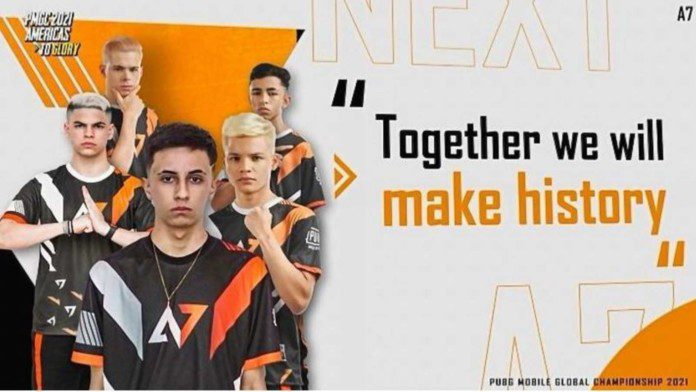 The first day of Super Weekend 2, PUBG Mobile Global Championship 2021 West has concluded today and sixteen teams are eyeing for staying at top positions in order to qualify for league finals easily. After the conclusion of five matches, Brazilian PUBG Mobile stars, A7 Esports are the top scorers after garnering 80 points and 36 frags. With a fierce competition, Knights is also advancing ahead with 73 points. Besiktas Esports also gave a satisfying performance today as they managed to climb up to the third position with 61 points.
Other big teams such as S2G Esports and Ghost Gaming still have a long way to reach the top 10 position. These teams have scored 21 and 19 points respectively with 12 and 7 eliminations each.
PUBG Mobile Global Championship 2021 West Super weekend 2 Day 1 Results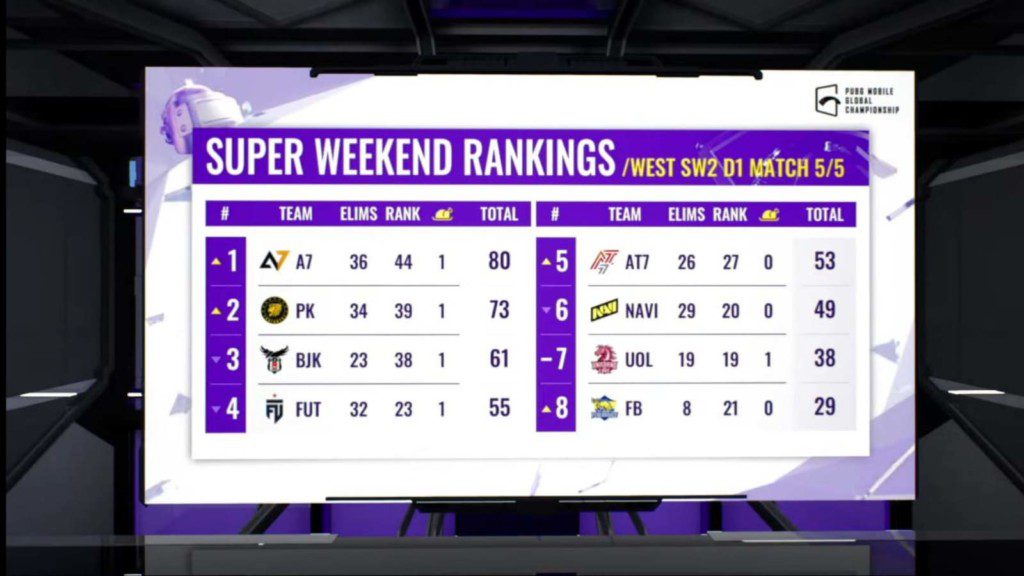 The action of Super weekend 2 day 1 began at Erangel where viewers were kept glued to their screens at the final moments of the match as Besiktas Esports pulled off an unbelievable chicken dinner. Natus Vincere took 17 eliminations but didn't have much luck against the accurate grenades of Aton Esports. It was the 1 vs 2 clutch of Enjoy7 from Besiktas that helped the team to win the match.
Read More: Krafton teases PUBG Mobile x Spiderman No Way Home collaboration
The second match of PUBG Mobile Global Championship 2021 West SW2 Day 1 began at Miramar where fans got to see a hardcore battle between Unicorns of Love and the table toppers, A7 Esports. The spectacular finishes taken by LLIN and GK1st from Unicorns of Love helped their team to take 15 frags whereas A7 managed to take 8 frags.
FutBolist were stars of the third match of PMGC 2021 West Super Weekend 2 Day 1 as they won the match with 14 frags and 29 total points. A7 Esports retained their excellent performance and took 13 frags in this match. Fenerbahce only accumulated 3 frags but their survival game was noteworthy.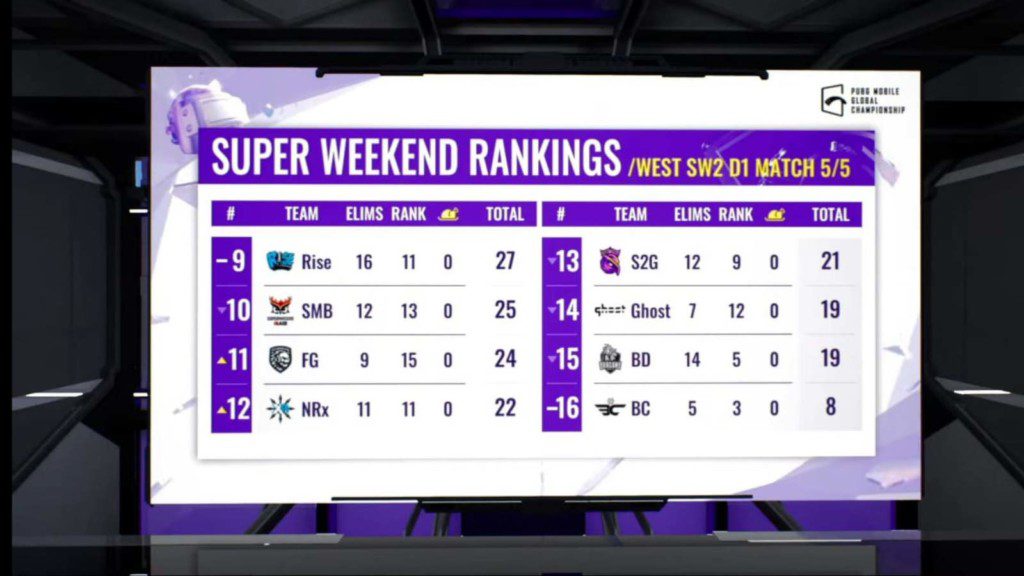 Knights made a comeback at the fourth match of PUBG Mobile Global Championship 2021 Super weekend 2 Day 1 as they obtained an easy chicken dinner with 13 frags. The last survivor of Besiktas was engaged in a heal battle at the end. A7 Esports became the winners of the last match to become the table toppers at the end.
The second day of Super weekend 2 will be live streamed today in the official channel of PUBG Mobile Esports. Fans can catch the live action at 11:30 PM IST.
Also Read: PUBG Mobile Global Championship 2021 East: Nigma Galaxy tops Super Weekend 2 Day 1