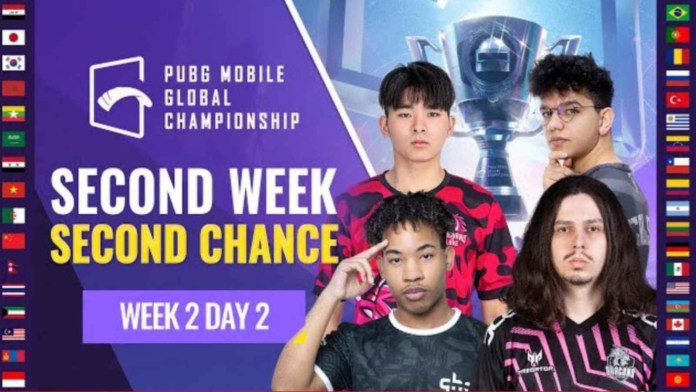 The second day of PUBG Mobile Global Championship 2021 League stage West ended today after five battles at different maps. As the second day of week 2 has concluded, sixteen top performing teams have advanced towards the second super weekend which will be live streamed tomorrow. The second super weekend will somehow predict the teams proceeding towards league finals.
Brazilian PUBG Mobile team that lifted the trophy of PMPL Americas Championship Season 2 stands tall at the first position with 104 points, the only team to surpass 100 points at the weekday rankings. Knights also maintained their consistent performance scoring 92 points and slipping to the second position. Fan favourite Natus Vincere had a good week as they climbed up to the third position with 85 points.
PUBG Mobile Global Championship 2021 West W2 Day 2 Results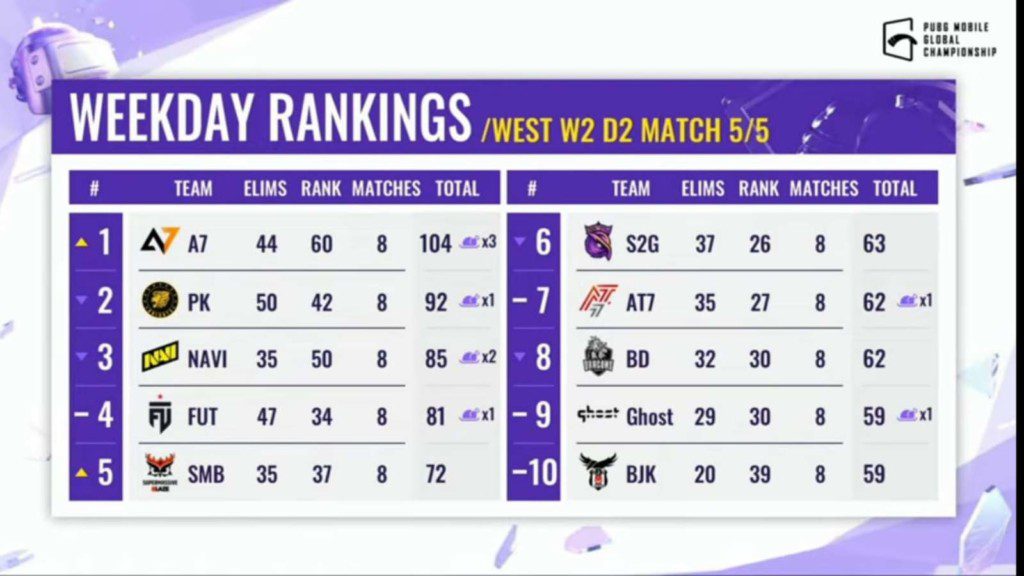 Natus Vincere started their dominance from the very beginning as they started the day with an impressive chicken dinner. With 8 frags and 15 rank points, Navi added 23 points to their scoreboard. Ghost Gaming continued to keep their super weekend hopes alive after scoring 19 points. Besiktas Esports sprung up in action to take 16 points in this match.
Read More: PUBG Mobile Global Championship 2021 East: Nova Esports loses the race of Super Weekend 2
The second match of PUBG Mobile Global Championship 2021 West Week 2 Day 2 began at the 8×8 km map Erangel where Ghost Gaming jumped up with 13 frags to take away the chicken dinner from table toppers, A7 Esports. The latter team also played well to accumulate 20 points. At the third position stood Buluc Chabtan with 12 points.
The third match again saw Sanhok as the battlefield where Natus Vincere continued their domination to score 25 points out of which they took 10 frags in the match. Ghost Gaming didn't have much lukc in this match as they got eliminated with 0 frags. Black Dragon and Unicorns of Love played well to grab the second and third position respectively.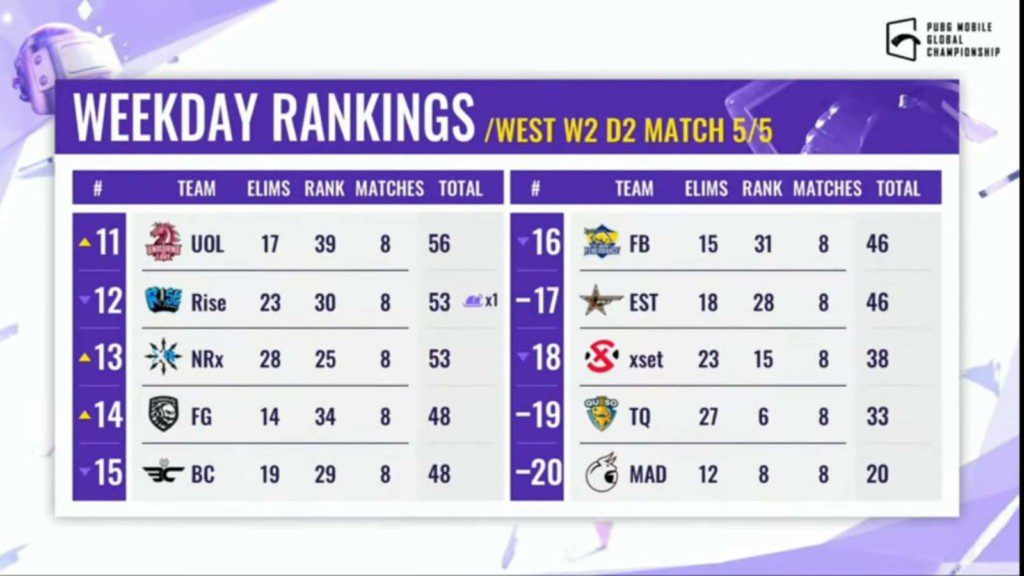 Rise Esports took the chicken diner at the fourth match where their player Mufaasa, the grenade expert continued to experiment with throwables. Ultimately, Next Ruya's lone survivor was defeated in a 1 vs 2 situation at the end. Furious Gaming increased their rank points by surviving for a long time at the fourth and fifth matches. The winner of the fifth match was A7 Esports.
---
Teams qualified for Super Weekend 2
Following teams have qualified for the second super weekend of PMGC 2021 West: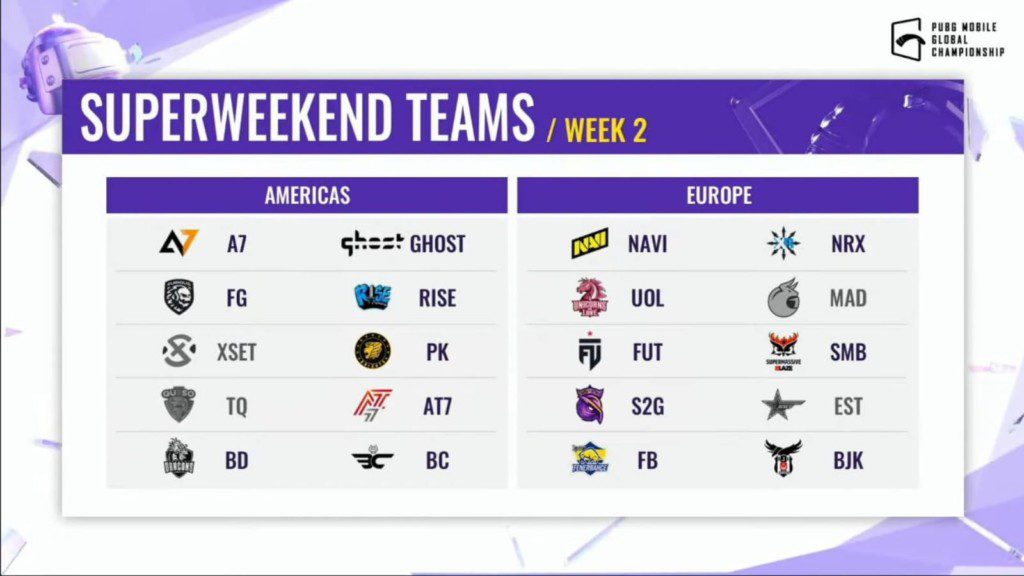 A7 Esports
Ghost Gaming
Furious Gaming
Rise Esports
Kinghts
Aton Esports
Black Dragon Esports
Buluc Chabtan
Natus Vincere
Unicorns of Love
FutBolist
S2G Esports
Fenerbahce Esports
Next Ruya Gaming
SMB Esports
Besiktas Esports
Teams that failed to qualify
XST
Team Quesco
MadBulls
Eastern Stars
Also Read: PUBG New State 0.9.2 update introduces new weapons, vehicles and Vol 2 survivor pass!