BGMI has been making news headlines after its unban after a year and consecutively adding to the list of its features the new Royal Pass and BGMI Rising Party 2023 championships. With huge support and excitement, the championship concluded with much applause and new prizes for teams to win. Team Rebel wins the BGMI Rising Launch Party in 2023. The frontrunner, Team Rebel, emerged as the trophy winner of the tournament with their spectacular gameplay and strategy in the grand final.
The team consists of four famous characters: Nikki, Evil, Rebel, and Clutchy. The squad stood tall in first place with a total of 110 points, which took them straight to their victory. Through seven matches and with two pan fights between the team captains. With a grand pool prize of Rs. 2,50,000.
Not far behind is team Jonathan, who accomplished a lot of points and ever-increasing public support with 105 points, putting them in a second prize of Rs. 1,50,000. The third contender for the championship was a surprise with three chicken dinners and a very close call of 103 points right behind team Jonathan. Team Owais took home third place.
Surprisingly, team Pahadi did a great job, and their teammate Justin even took home the crown of MVP and a prize of 50k rupees. Let's take a look at the overall standings, prize distribution, and more.
Related: Top 5 Tips and Tricks to Survive in the Last Circles of BGMI
Grand finals showdown highlights in BGMI Rising Party 2023
Let's take a brief look at the match details of each match and their highlights. Each map was included in holding the matches in BGMI Rising Party Launch 2023.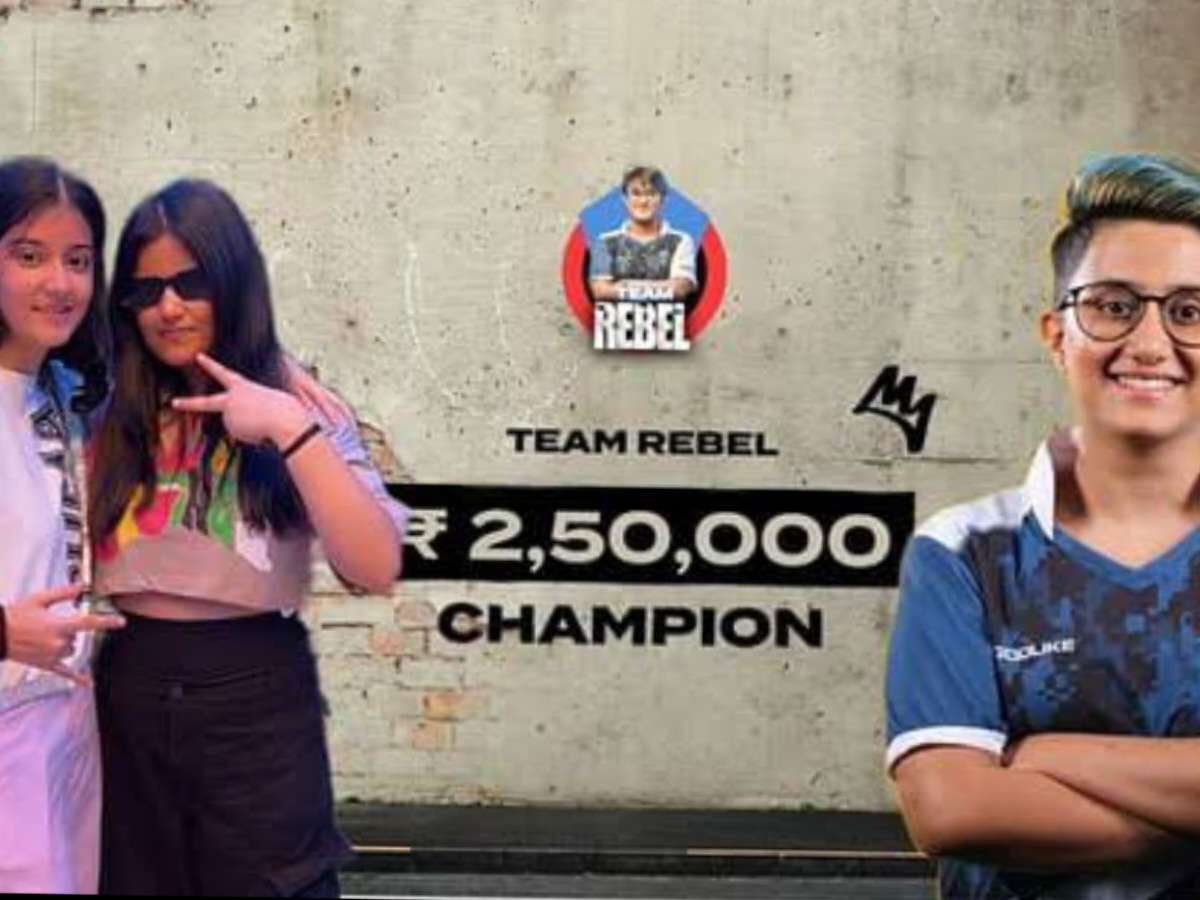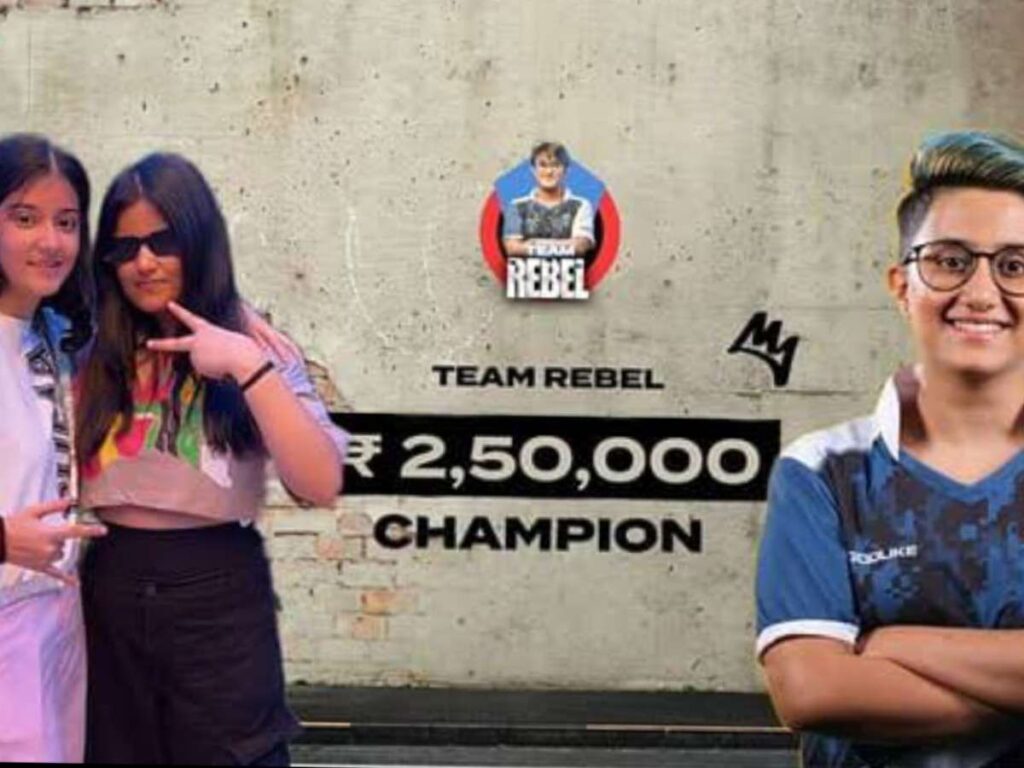 1. Erangel
One of the most famous and popular maps of the entire game, Erangel, was a tough game to watch. Team Owais overpowered Team Lolzzz in the circle and took home victory by pressuring the Lolzzz into making mistakes. The same was an indication of their huge 32 points through a single match, of which 17 alone were bagged from elimination.
Team Jonathan was on the edge of their smoking guns as they went rogue and put up aggressive fights to overwhelm other contenders. With 10 kills in total, the lights went out on Team Jonathan rather quickly. On the other hand, Team Sensei and Team Rebel avoided too much attention but also went back with only 8 and 6 points, respectively, in the BGMI Rising Party 2023.
2. Sanhok
Sanhok is said to be home to snakes and crawlers (BGMI). This map shows a lot of firefighters erupting in close quarters. Team Owais kept their cool and conquered their adversities one at a time with perfectly timed frag grenade kills, eventually dominating the game.
This was their second consecutive victory in the tournament. With 21 points, Team Jonathan continued with their blitzkrieg strategy and took home a wholesome 21-point lead. With all the chaos that Team Owais and Team Jonathan caused, Team RIPFlickYT and Team Dynamo were hunted and couldn't grab a single point in the slaughter.
4. Miramar
The match took rather a long time to conclude since each team held on to every inch of advantage. Since Miramar is a huge map with not many dense buildings, the teams took it a bit slow to progress and engaged in medium-to-long firefight engagements.
Team Shadow grabbed fourth place with their consistent and slow grappling gameplay and teamwork. With nine kills to their credit, the team performed all too well. With three fragment kills, Team Crow came in second.
Match no. 3 and 5
Both of the matches were custom fights that only included the team captains of the top 16 teams. Team Jonathan took a much-deserved win in the BGMI Rising Finals. This was the first-of-its-kind team captain showdown, with Pan fighting to ensure a final winner.
Team Jonathan throughout the tournament kept the other contenders on the edge of their seats with all-out aggressive gameplay and going guns blazing in most matches.
6. Sanhok
Team Shadow bagged first place, while Lolzzz took 16 points with 4 kills. Wixxky of Team Shadow was declared MVP. GodL Crow and Drigger recorded five and four further kills, respectively.
7. Erangel
In the battle of the BGMI Rising Finals, fans got to see full-on action throughout the match, with each team trying to save their own skin while eliminating the rest. In this match, Team Rebel won with 9 kills and took the crown from Team RIPFlickYT in the match. Third place went to the new contender, Aquanox, with six frags in the final match.
Overall Standings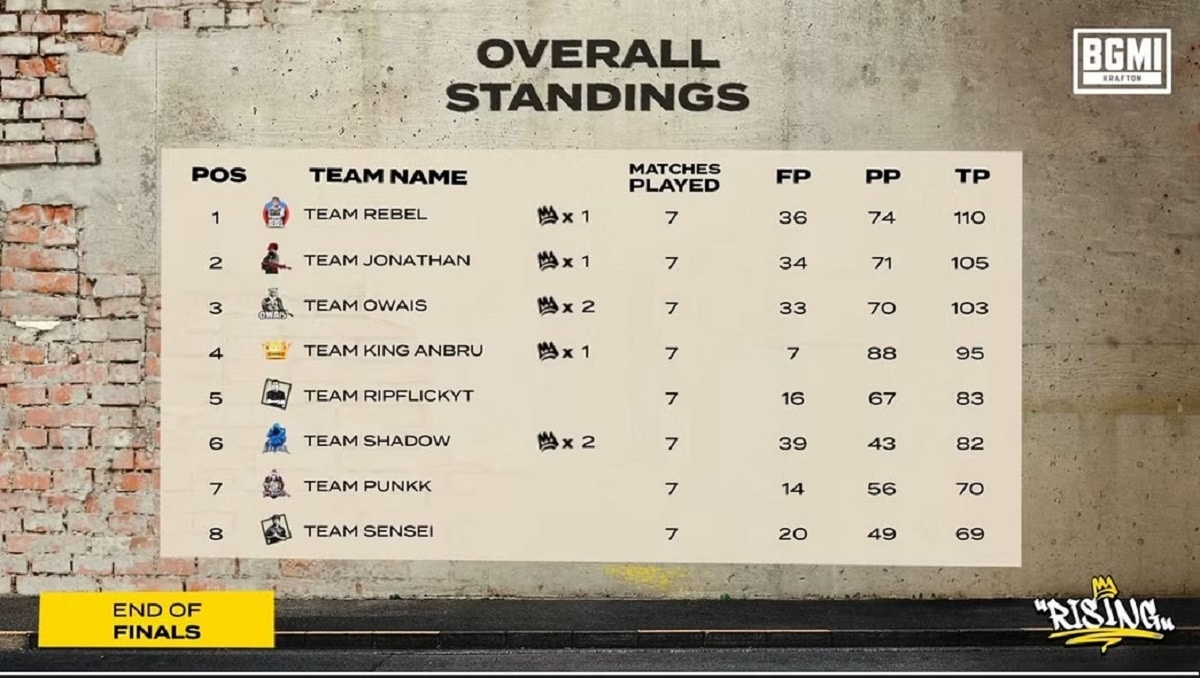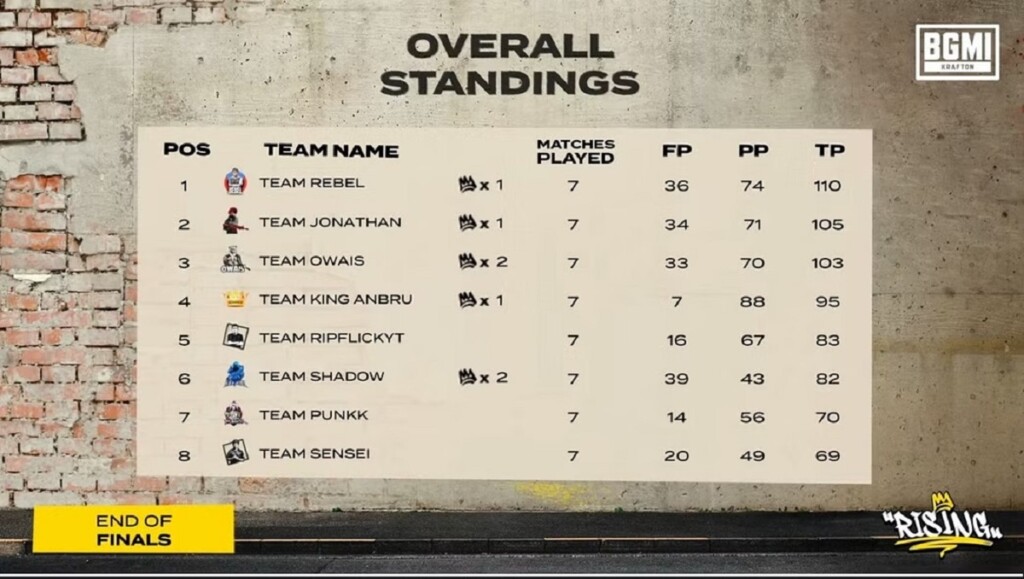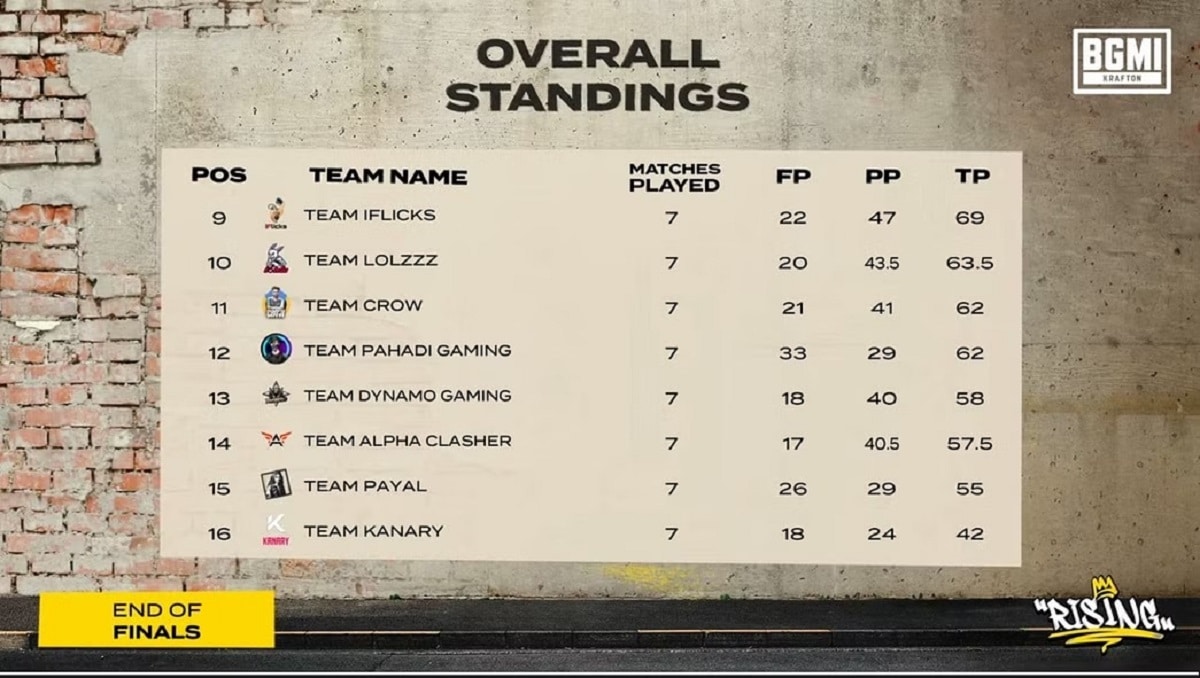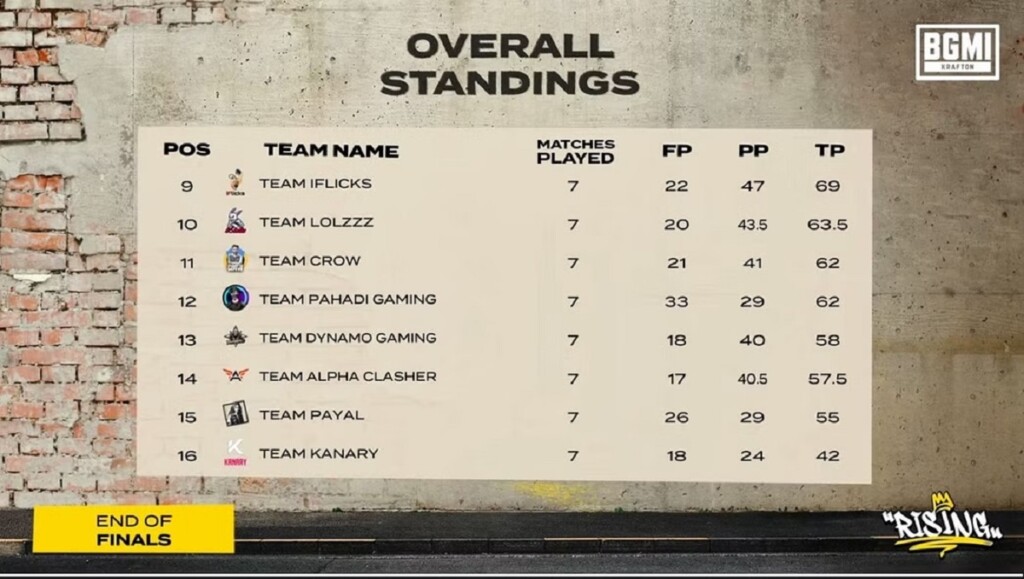 Insight into the prizes and rewards in BGMI Rising Party 2023
The total pool price was 10 lakh rupees. The highest was 2.5 lakh rupees, which went to the Rebel Team as they won the whole thing. Team Jonathan, with their explosive performance, bagged second place and got 1,50,000 rupees. And third place goes to Team Owais with 1,00,000 rupees. The remaining sum was rewarded for other miscellaneous categories. These are: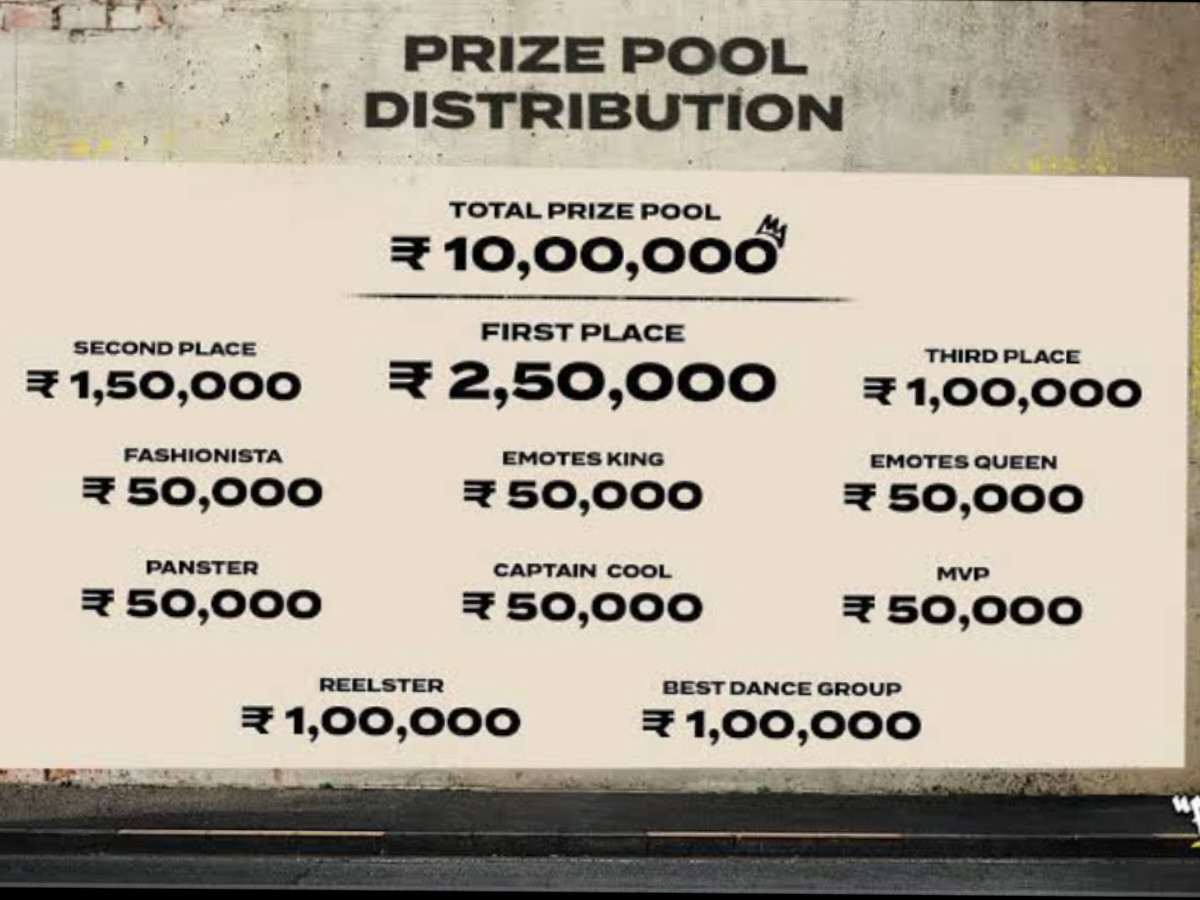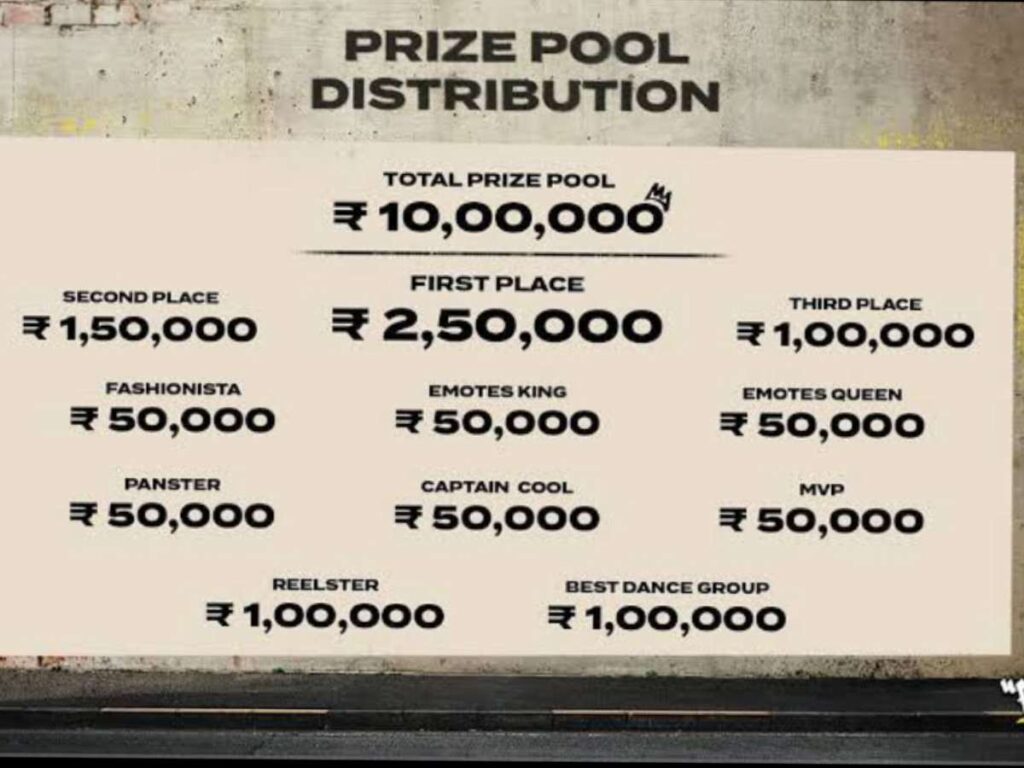 Fashionista title for best Outfit in Semi-32 teams (Prize: ₹50,000): Team Red Parasite
Emote king title for most likes emotes reel (Prize: ₹50,000) – Team Classified YT
Emote Queen title (Prize: ₹50,000) – Team Payal
Reelster title (Prize: ₹1,00,000) – Team Red Parasite
The Best Dance Group title (Prize: ₹1,00,000) – Team Payal
Additionally, Jonathan won Pansters, and Captain Cool for most pan kills and most-voted captain respectively.
The BGMI Rising Party 2023 has put the BGMI back in the "game" for players. With its key focus on player satisfaction, BGMI is taking the Indian gaming community to new heights, for sure. So keep an eye out for more!
In case you missed it: