After the end of the 2023 VCT season, the roster mania is at its peak. Orgs are looking to rebuild their roster for the upcoming 2024 VCT season. There are some hot free agents such as El Diablo, Yay, Aspas, etc. currently in the market and orgs are eyeing them. However, Evil Geniuses revealed some surprising news that surprised everyone in the Valorant community. Evil Geniuses are allowing their players to explore their options this offseason.
Evil Genisues made history few weeks ago as they defied all odds and won the Valorant Champions 2023 in LA. They were considered as the clowns of NA as they seemed very clueless during their initial run. However, as they started picking the pace, they defeated some big teams like NRG, LOUD and ultimately they defeated the VCT Pacific winner, Paper Rex in the Valorant Champions 2023 grand finals to seal the deal. Each player gave a commendable performance and it was a complete team effort and not a one-man show.
Evil Geniuses already parted ways with their reserve roster earlier. But it seems that's not it. Fans are in confusion as the roster is apparently going to undergo changes. The said roster that was responsible for all the success and glory mentioned earlier, is now allowed the green flag to leave and explore other options, questioning their existence on the current Evil Geniuses roster.
Related: Global Esports Valorant roster is in shambles as two of the key players set to leave the Indian org following the awful 2023 VCT season
Evil Geniuses roster might part ways with org or will receive a significant pay cut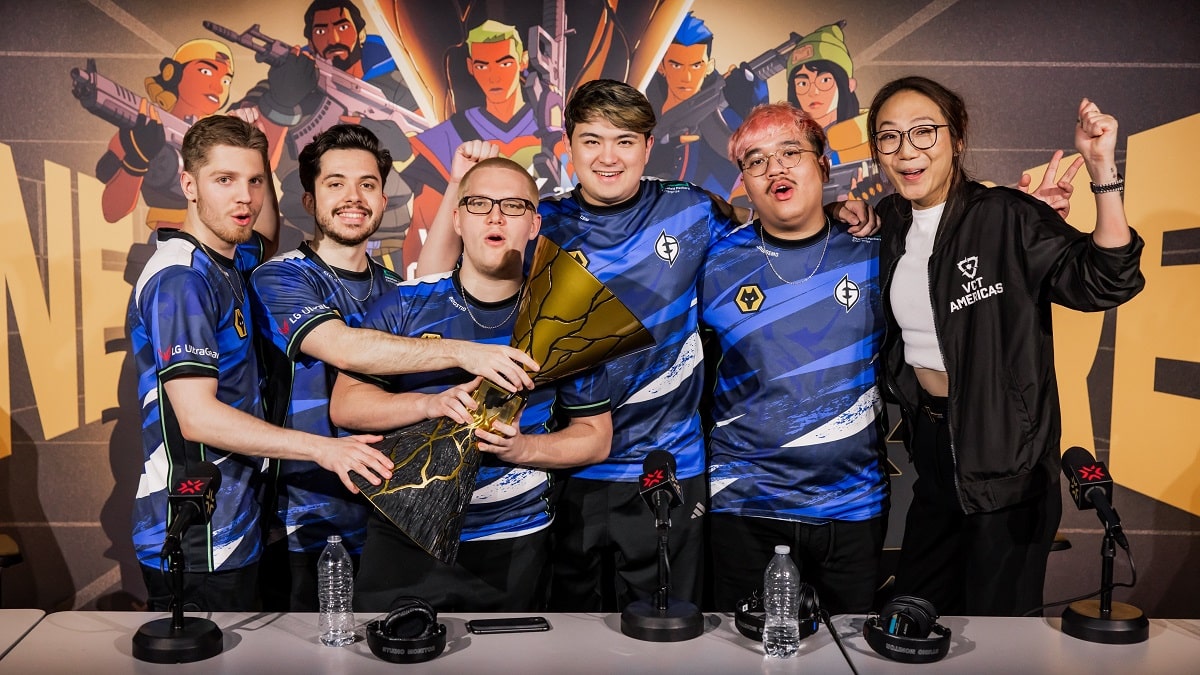 Earlier Today, some reports surfaced on social media informing that EG is taking some hard decisions. Prominent eSports news reporter Max Katz revealed on X that that has let their starting roster explore their option and If they do stay with the org they would be subjected to a significant pay cut. This news has made a buzz on social media.
Sources: EG has let their starting roster explore their options. If they do stay with the org they would be subjected to a significant pay cut.#VCT

— Max Katz (@purest) September 11, 2023
When the team was not struggling initially, the team's coach Potter was under fire however she turned things around. But even after winning the tournament, players are experiencing again a very uneasy situation.
EG's Valorant roster currently consists of Demon1, Jawgemo, Boostio, c0m, and Ethan. Each player performed stupendously and played their role well. But one name that stands apart is the villain of VCT 2023, Demon1. Demon1 joined EG in the mid-season and everyone raised the question. The community bashed EG for this immature move as he was less experienced and EG was crumbling. However, Demon1 just smoked out his critiques and came out as the best player of the season.
Other players also stepped up their game and were in red-hot form during the entire Valorant Champions. EG's decision to move on from this set-perfect roster is not sitting well with fans. The team gave 200% throughout the season and surpassed everyone's expectations. Now these players being available for signing is a big opportunity that most of the org will be wanting to capitalize on.
Valorant Community reacts to EG's new move
Despite winning the tournament, people are criticising EG's move as it is very inconsiderate to the players. Corbin "c0m" Lee's father, PapaC0M even reacted to the situation by telling his fans to not become an eSports player. He explains how despite loving the organization, he believes it's not a stable organization, especially with financial concerns. Despite having a difficult start, they found their way through the playoff run and eventually shocked the world by taking home the trophy.
does EG know they won champs

— Sentinels (@Sentinels) September 11, 2023
Guard win ascension, EG win champs, both teams are being potentially disbanded.

e-sports is tough rn🤨 https://t.co/d5spG8FT84

— POISED (@poisedfps) September 11, 2023
eg continues to be the worst possible organization

coach and players win you a world championship

still fuck them over

super cool!

— mimi (@aEvilcat) September 11, 2023
EG lucks into the best team in the world and then forces them to take pay cuts interesting https://t.co/bosRTxUWnk

— zach (@zekkenVAL) September 11, 2023
Wow just fucking wow

— EG Boostio (@Boostio) September 11, 2023
Winning is cool

sucks it doesn't matter anymore

— EG Ethan (@ethanarnold) September 11, 2023
gonna miss this

stream for a little maybe ranked if feeling it come support 💔https://t.co/jSRveG1Pv4 pic.twitter.com/8Q0M2CpECt

— EG C0M (@C0Mtweets) September 12, 2023
What looks best? 🔵🔴⚫️ 🤔

— EG Demon1 (@Demon1___) September 11, 2023
Nothing is perfect, winning doesnt mean anything until next time.

— EG JAWGEMO (@jawgemo) September 11, 2023
EG has gone from laughing stock to underdogs to beloved villains to champions to genuinely hated villains in like half a year.

— Scott Robertson (@counterscottGO) September 11, 2023
wins champions = letting the whole roster go?? EG needs to be removed from Franchising pic.twitter.com/f6YiNyfesE

— GalAxy 🇵🇸 (@GalAxyVALO) September 11, 2023
Why is this EG stuff surprising to anyone?

Where are the revenue streams, and how do you break even? EG is reducing salaries so that the Riot stipend covers their cost, and it no longer becomes a losing investment but breaks even instead.

If they can't meet payroll they go…

— Apex (@Apex177) September 12, 2023
The only acceptable way to talk about the EG news is memes: pic.twitter.com/vagoSZoSiV

— Tombizz ❤️🇺🇦 (@Tombizz) September 12, 2023
If the team eventually disband, it won't be the first time that a Valorant Champions-winning team is splitting up. The inaugural Valorant Champions winner 2021 Ascend was disbanded later. In addition to that, last year's champion LOUD parted ways with pAncAda and Sacy a few weeks after winning the tournament.
One can see winning Valorant Champions as a jinx. However, fans before taking shots at EG need to understand that eSports is more complex than it seems. The finances behind the scenes are much more difficult to understand. So it will end up on players if they want to take a pay cut or move on to another org for a lucrative offer.
In case you missed it: