All the VCT regional Leagues have concluded playoffs. A total of twelve teams have qualified for VCT Master Tokyo 2023 through grueling battles of skills and tactics. All these teams have given their all to qualify for the Masters Tokyo and are all set to battle teams from other regions. The four regions from where the teams have qualified for the event are Americas, EMEA, Pacific & China.
Riot Games will hold the VCT Masters 2023 in Tokyo, Japan. The event will commence on 11th June. The VCT Masters Tokyo is a major event in the Valorant esports calendar. It will be a great opportunity for fans to see the best teams from around the world compete for the title of Masters champions.
The VCT Master Tokyo, hosted by Riot Games, is a major Valorant tournament for teams to prove their worth in the international leagues. Organizers have decided the match format and schedule. Now players & teams need to brace up and get ready to get up on the stage.
Related: Riot Games delays 2023 LCS Summer Season for League of Legends
VCT Masters Tokyo 2023: Teams, Format & Schedule
The Masters Tokyo 2023 is the second international tournament of the Valorant Champions Tour 2023 season. Masters Tokyo will be held in Chiba, Japan, between June 11-25, 2023. A total of 12 teams will compete in the tournament. This includes the top three teams from each of the four regional leagues. The winner of Masters Tokyo 2023 will earn a spot in the Valorant Champions 2023.
VCT Masters Tokyo 2023 Teams: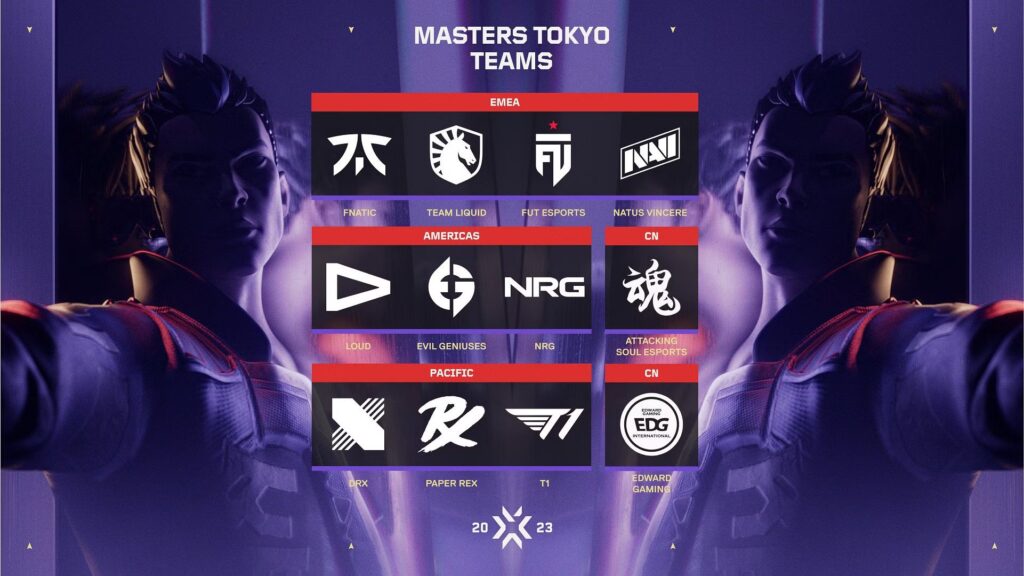 The teams that have qualified for this event are:
EMEA

Team Liquid
FUT Esports
NAVI

Americas
Pacific
China

Attacking Soul Esports
EDward Gaming
The organizers will place the winning teams of their respective International Leagues in the double-elimination bracket. These teams are Team Liquid from EMEA Leagues, LOUD from Americas Leagues, and PaperRex from Pacific Leagues. Furthermore, the Lock//in champions from last season, Fnatics, have also earned a spot in the double-elimination bracket.
VCT Masters Tokyo 2023 Format: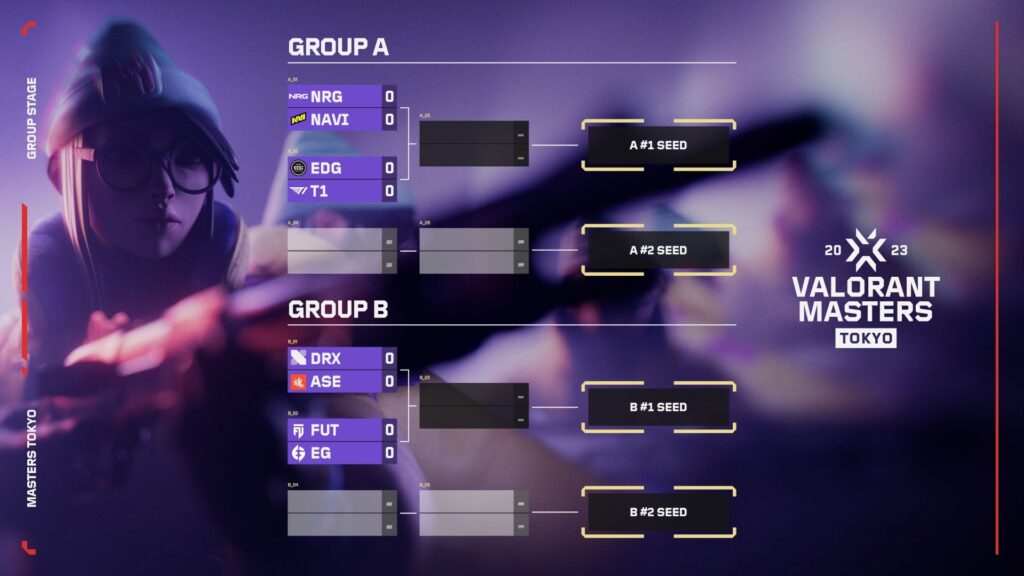 Furthermore, the format of this event will be as follows:
Group Stage (June 11th – 14th, 2023):

Two double-elimination formats: 8 Low Seed teams & all matches are best of 3 (NRG, NaVi, EDG, T1, DRX, ASE, FUT, EG)
There will be two groups of four teams each. These will be labeled as Group A & B, which are further bifurcated into A1-A2 & B1-B2.
Each team will play the other team in their group once.
The top two teams from each group will advance to the playoffs.

Playoffs(June 16th – 25th, 2023):

The playoffs will be a double-elimination bracket.
8 teams, 4 High Seeds, and 4 Qualified teams (High Seeds: Fnatic, PaperRex, LOUD, Team Liquid & Qualified Teams: TBA-the winners of the group stages)
The first round will be a best-of-three series.
The quarterfinals, semifinals, and grand final will be the best-of-five series.
VCT Masters Tokyo 2023 Schedule: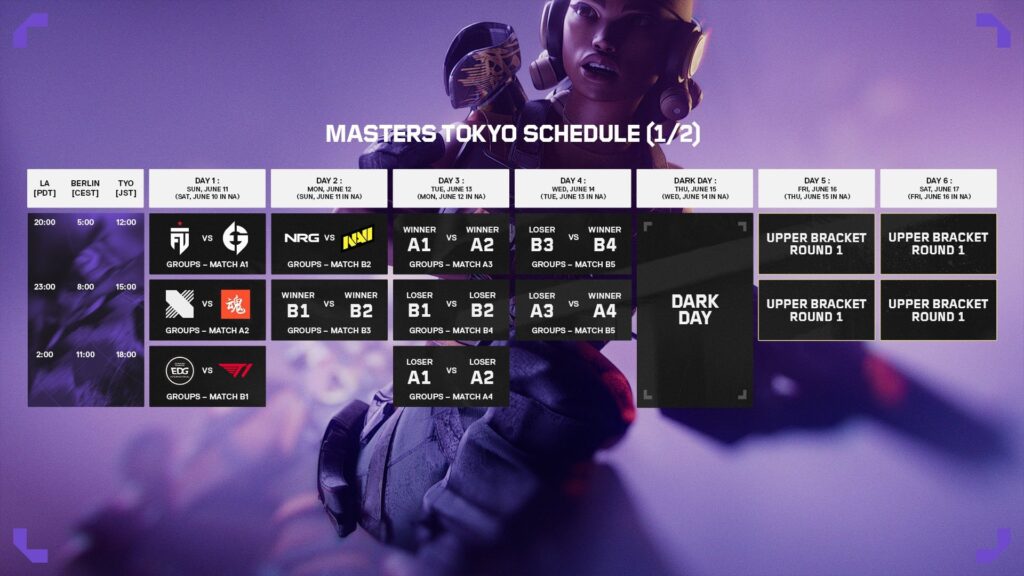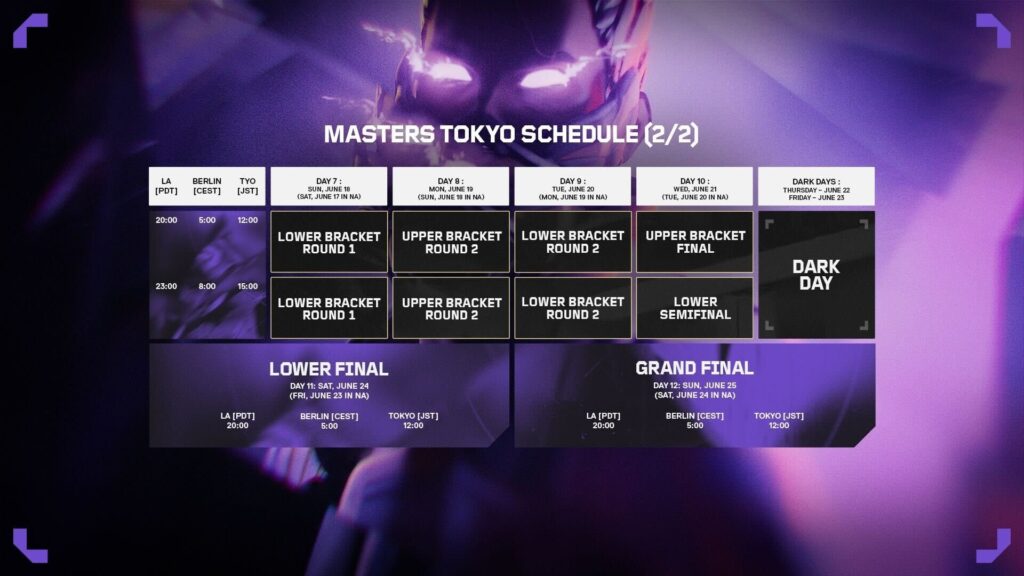 The event would go on from 11 June to 25 June. Right now, only the initial group-stage matches are known. Organizers will hold these matches on both 11th & 12th of June.
June 11 (Group A)

FUT eSports vs Evil Geniuses [PDT: 2000hrs]
DRX vs Attacking Soul Esports [PDT: 2300hrs]

June 12 (Group B)

EDward Gaming vs T1 [PDT: 0200hrs]
NRG vs NaVi [PDT: 2000hrs]
The VCT Masters Tokyo 2023 is all set up to commence soon. This stage is a good way for teams to compete against and set a standard as pro teams. This time, many teams like Fnatic are in their golden season, so we can expect to see some really good gameplay from them. Overall, this event would be one filled with blood, sweat & tears and would also be very interesting to watch and follow.
In case you missed it: