N3on has been making killer IRL streams in the past week as he happens to be in Los Angeles. Collaborating with streamers like Sneako, Bradley Martyn, and SteveWillDoIt amongst many others. He even happened to crash a Kardashian Party, where he had a weird interaction with Charli D'Amelio. However, in his latest stream, he decided to meet up with a good old friend, Crip Mac.
It has become very common for streamers to press N3ON on cameras. The streamer has a personality of triggering other people during the stream. This time again, N3ON landed himself in a new problem when he teased Crip Mac on the livestream and made him angry and as a result, little bro got pummeled on stream.
The irony is instilled as Crip Mac is a gang member who also is a local celebrity of the legendary 55th Neighborhood of Los Angeles, California. He had appeared on an Adin Ross stream where N3ON was also present. However, their short interaction did not go well as N3ON happened to piss off the gangster and had urged Crip to threaten him 'on sight' if they ever met.
Related: Watch: Island boys get into a fight with a girl on N3ON's livestream and get smacked hard
Crip Mac assaulted N3ON for making a disrespectful joke
Having ended off the stream in bad faiths between each other, N3ON had seemed to have gotten the wrong start with the 55th Gangster. However, in his latest stream, he decided to meet up with Crip Mac as he was in Los Angeles. Just before N3ON met Crip, he had already started to sweat and shiver. What's even funnier is N3ON decided to pull up to their collab by wearing all red, which is something that Crip's gang are not a fan of as they rep blue outfits.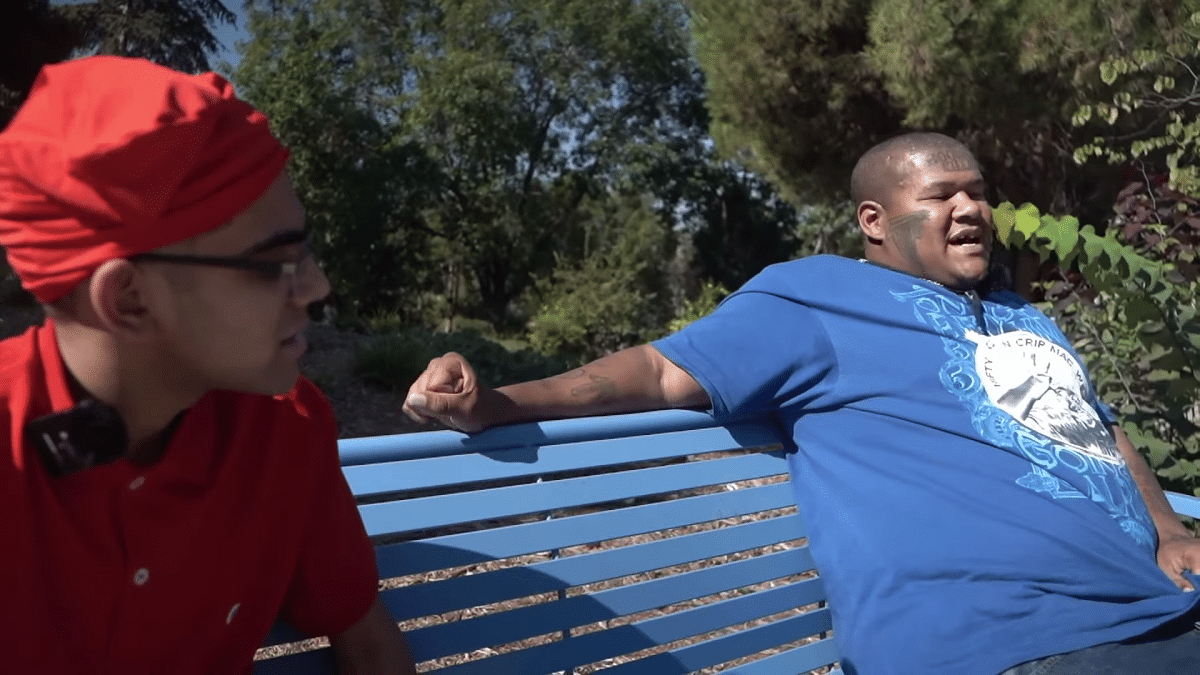 After sharing a ton of banter and almost getting pressed multiple times, Crip and N3ON head over to the store to change N3ON's appearance and persona. However, during their time at the store, N3ON happened to make quite a disrespectful joke that did not sit well with the 55th gang member. As Crip was searching for some 'bowls', N3ON told him, "Do you want a blue vibrator or not?"
Crip Mac instantly looks back with his intimidating face. He then goes over to grab N3ON and lifts him up whilst squeezing him. He tells him "I don't play them custer hoover games, get over here!". This however was not surprising as the entire time they spent together, N3ON was trying his best to troll Crip. Despite bringing his bodyguard, Crip did not hold back and manhandled him for a viral clip.
Fans know that N3ON will still go on to keep his triggering behaviour. They love N3ON doing all these things and getting into trouble for it. In addition to that, N3ON also revealed that Rumble has offered him a huge sum of money to sign with the streaming platform.
In case you missed it: