Kai Cenat is back in talks after what went on in his recent stream. It's not alien for streams to go crazy or have weird moments in them. We have seen Adin Ross having SWAT storm his place, or even the French streamer Anaplaying burning her hair on camera. But one of the most chaotic streams that deserves to be added to this list, is Kai Cenat's November 21 stream. Even after neither him nor his audience being completely on board with the idea, rapper Blueface, along with his girlfriend Chrisean Rock made a cameo on his stream. What led further was a stream full of awkward and chaotic moments, which led the audience as well as Kai himself to rethink his decision.
Also Read : 5 times streamers forgot they were live
There were many crazy moments in this stream, including one where Chrisean Rock literally pulled Kai Cenat out of his own chair, in order to sit in it, or the one where they pick up Kai's friend and throw him on the couch, while Kai protests. The craziest and most disrespectful moment happens towards the end of the stream, when Chrisean Rock, quite nonchalantly and without any reason, throws one of Kai's chairs, which apparently made a hole in his wall. Kai was sitting in his chair speechless while just saying "you put a hole in my wall" to which Chrisean simply replied "it's okay, you're rich you'll fix it".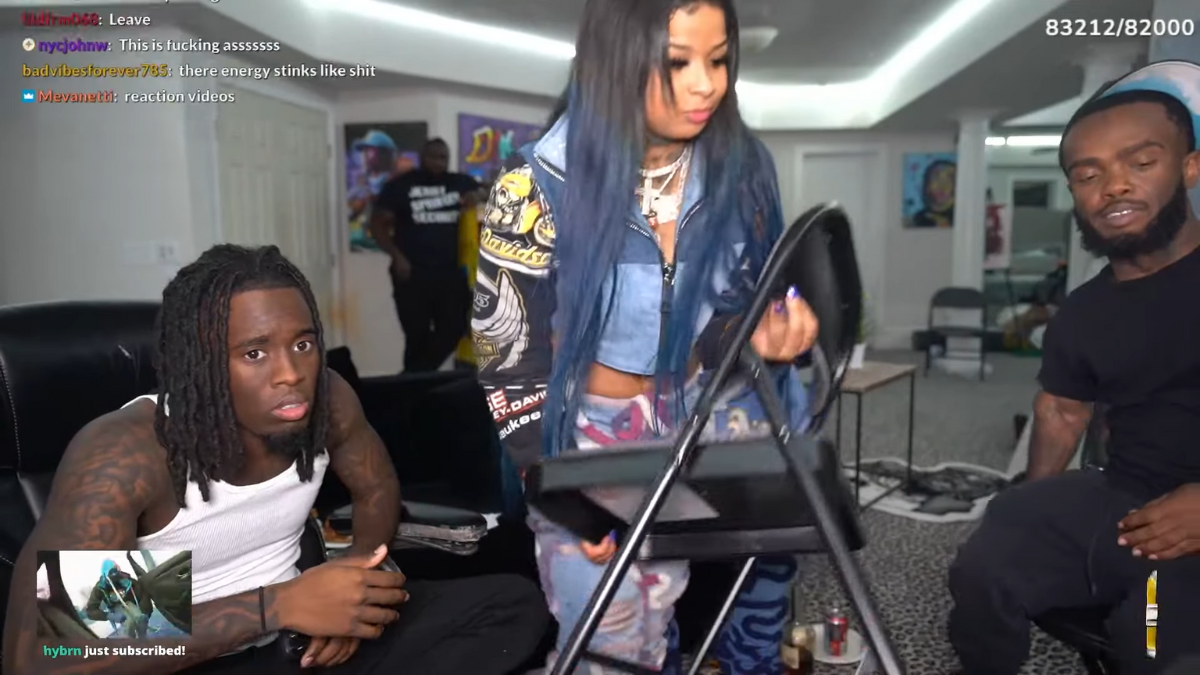 Read Also : "Crazy headspace": xQc takes an abrupt exit from his Twitch livestream for the first time, leaving fans worried
It's not the first time Kai has had celebrities or rappers come to his place for a cameo on his live stream. Previously, he has had NLE Choppa, 21 Savage and Lil Baby on his stream. But none of them have been as disrespectful as these two on stream. It got so bad to a point that even the audience was asking Kai Cenat to throw them out of the stream. It wasn't the first time they had behaved like this, with them also behaving the same at Adin Ross' stream.
How did the audience react to Kai Cenat's stream ?
The audience was initially very skeptical of calling them on, considering how recently Blueface got arrested at Las Vegas and was allegedly caught shooting in a video. The cameo he made was after he posted a bail of $50,000. This already made the situation shaky enough, and how they behaved at the stream was enough for the audience to hate on them.
Read Also : Call of Duty Warzone Mobile: Expected release date, maps and everything known so far