With the former professional kickboxer taking every headline lately post his arrest by the Romanian police, several US-based streamers have been reacting to the whole scenario. Jeremy 'Disguised Toast' Wang, on the other hand, had an unusual reaction as he revealed that he had a recent dream of fighting the Top G.
Toast's fighting skills were demonstrated when he was invited to Ludwig's Mogul Chessboxing Championship, that took place last year along with several other streamers and internet personalities, together in a ring. The Taiwanese-Canadian streamer was scheduled to have a chessboxing match with PointCrow, and he claimed victory in doing so.
Although a couple of weeks have passed since this event took place, Toast revealed he recently had a dream about fighting Andrew Tate. He stated during his livestream, "This is going to sound really stupid, but yesterday I got jolted awake because I thought I had to do a boxing match with Andrew Tate." He explained the reason for this further, that Andrew Tate is everywhere in his social media feed.
"I know Andrew Tate is a boxer, was a boxer and like when I was sleeping, I'm like 'Oh my God I need to fight Andrew Tate", at like 3 AM in the morning. Toast also made a surprising revelation, that he was having discomfort in sleeping properly post the boxing match.
Read More: Amouranth invests a whopping $2 million on Twitch owner 'Amazon' despite not bagging an exclusive contract on the platform
Disguised Toast discusses his disturbed sleeping schedule post Ludwig's event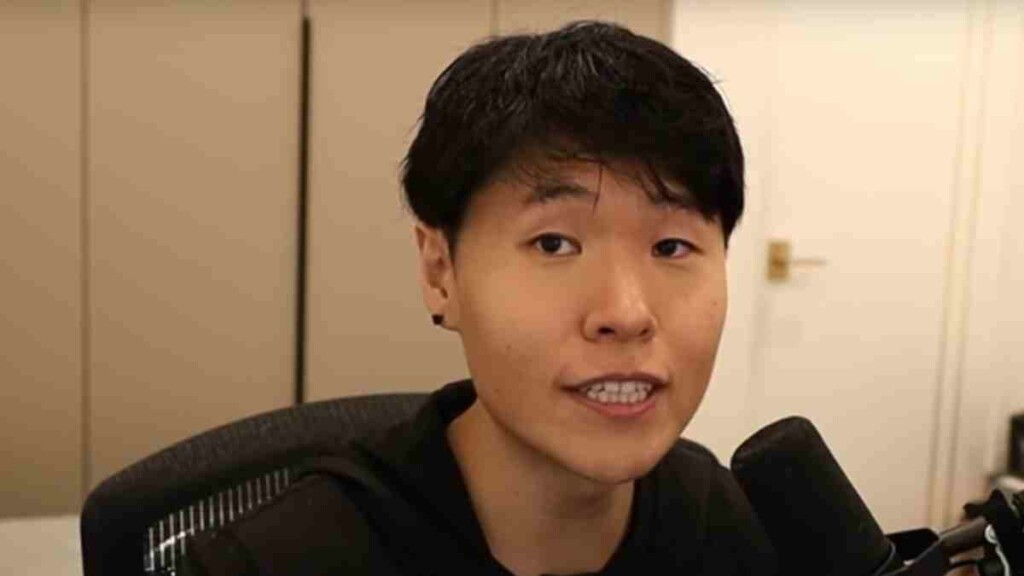 Jeremy Wang once told his audience about how much he liked Japan, that the country fascinated him to stay there longer post their OTV trip at the country. Starting his broadcast, he told his fans that he is currently living in Japan where he wakes up at 7:30 AM everyday.
He however made it clear that this is not happening because he is an early riser or something of that sort, as he explained further, "this is going to sound kind of sad, but ever since my boxing match, I can't sleep for a long time." Toast stated that he was waking up at every 3 hours but he is unable to understand the reason for this.
"So, it's been happening a lot since my boxing event. I feel kind of bad about it", he continued to say that they were supposed to take the boxing event as a casual match but as for him, it had a great impact as he is not able to sleep properly. "Something about it feels silly, I guess," he concluded by saying that even talking about this is making him feel uncomfortable.
Also Read: "We're entering a new golden age", Asmongold talks about his financial gains through the Andrew Tate situation
Fans react to Disguised Toast's revelation
His fans were quite supportive as the YouTube comments of POG Highlights showed how worried they were for the streamer, as they advised him to visit a doctor as a boxing event can be brutal, especially for someone who has spent most of his life streaming.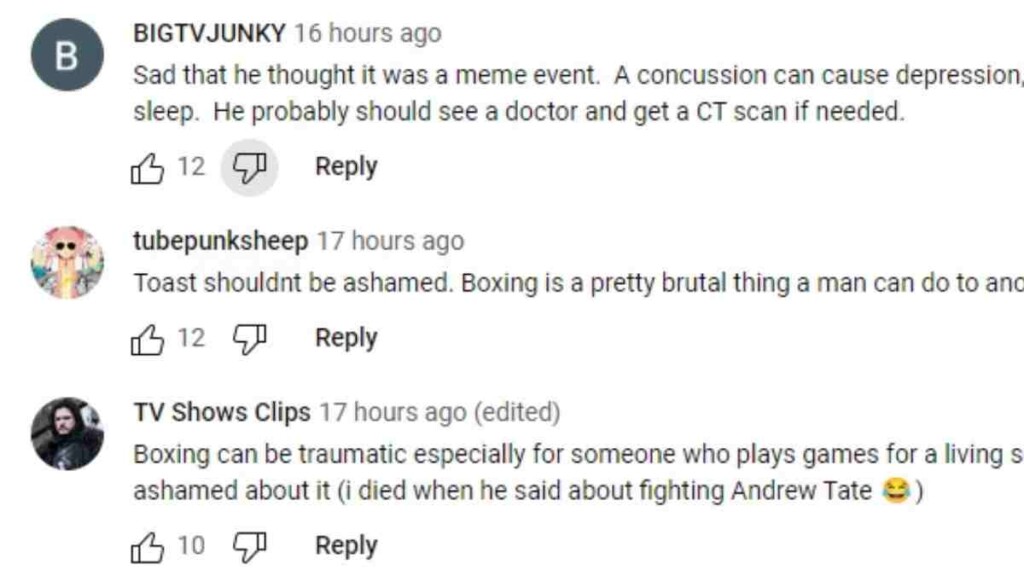 It is unlikely that the OTV content creator will ever come face to face in a boxing ring with Andrew Tate, but fans will also not miss the opportunity if something of that sort were to happen in future.
Also Read: "I was fu**ing stupid", Asmongold apologizes after Andrew Tate- Martin Luther King Jr. comparison lands him in hot waters