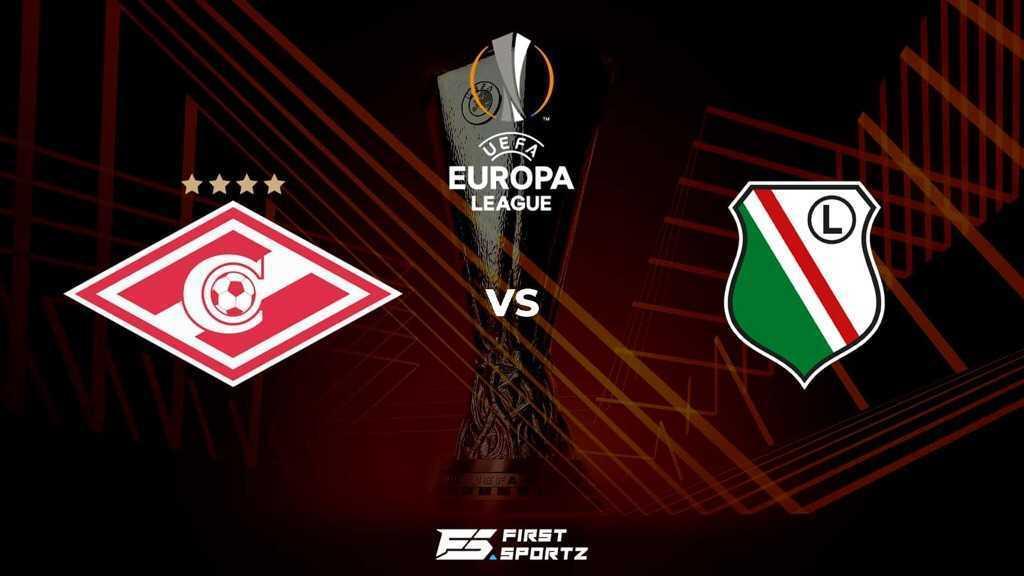 Spartak Moscow take on the Legia Warsaw in the opening game of the UEFA Europa League 2021/22. They will be trading tackles at Otkrytie Bank Arena In Moscow, Russia. Being a home crowd backing the Spartak Moscow, it'll be a much rather confident side playing. However, this opening game will be vital for both the teams taking points early on in the competition.
As the whistle blew, both the teams went aggressive onto the ball inorder to get the lead early on. An early injury in the 24th minute forced Spartak to bring in Jorrit Hendrix for Roman Zobnin. However, the first half ended 0-0. The second half was pretty much the same with one too many yellow cards handed to both the teams.
As the match closed in and reached added time, the super substitution duo scored the winning goal for Legia Warsaw. Ernest provided with a crucial assist and Lirim Kastrati finished it in the back of the net to give Legia Warsaw their first win, that too in the opening game.
Both the teams gave their all in but Legia Warsaw emerged as the winners of this battle. Let's have a look at how the players performed.
Spartak Moscow
Aleksandr Maksimenko (GK) (6.4/10) : A good performance by Maksimenko. There weren't much attempts at goal but the one crucial attempt that came in the final minutes, turned out to be the cause of his team's loss. He did make a couple of great saves but all in vain.
Nikolai Rasskazov (6.5/10) : Nikolai seemed to do well with dribbles, tackles and interceptions as he kept winning them all. However, he lost possession on twelve occasions and lost almost every ground duel.
Samuel Gigot (6.8/10) : Gigot was one of the better defenders for Spartak in today's match-up. Gigot won some valuable interceptions while being really good at winning ground and ariel duels. He also had two opportunities at goal but way off target on both occasions. He had missed a really big opportunity that could've been a game changer.
Georgi Dzhikiya (6.7/10) : The captain did a good job at keeping the ball in possession and winning interceptions. He looked good with his passing and made some key passes. Georgi also created a big opportunity but wasn't converted.
Victor Moses (6.6/10) : Victor had a good game overall and his stats did look promising in today's game. He did well with his dribbling skills but failed at winning any ground duels. He did have two attempts at goal but off target on both occasions.
Nail Umyarov (6.6/10) : Apart from contributing extremely well in the defence, Nail was miserable at winning ground. He barely won any. He won ariel duels pretty well and also found a shot at goal but was off the target.
Roman Zobnin (6.6/10) : Roman Zobnin had an unfortunate game as he had to go back in after he faced an injury in the 24th minute of the first-half. He was looking good with his feet and interceptions but had to be subbed in.
Ayrton (7.5/10) : Ayrton did a fantastic job before getting substituted in the 69th minute. He was excellent with his passing and made three valuable passes while also having a shy at goal but was way off target. He was brilliant with his defending as he ticked all the boxes. Made brilliant clearences, interceptions and tackles and blocked a shot in the box.
Jordan Larsson (7.4/10) : The most promising forward for Spartak in today's game was Jordan. He was to be seen everywhere on field with his pace and quick footwork. He got as many as six attempts to make a big chance at goal. He was off target two times but was denied twice while being on target. He did have two good balls but both got blocked in defence.
Ezequiel Ponce (7.2/10) : Ponce was seen doing a lot of Ariel challenges and won half of the challenges he made. He also had three attempts at goal but all of them were off target. He did all he could but couldn't get his team over the line.
Quincy Promes (7.3/10) : Quincy did a stellar job playing forward and he contributed in every way possible. He was unlucky on two occasions having his shots blocked in defence. However, as he went pass the defence he had two chances off which one was on target and denied while the other was way off target.
Substitutes
Jorrit Hendrix (6.8/10) : Jorrit replaced the injured Zobnin in the 24th minute of the match. Since then, Jorrit has been seen winning a couple of interceptions and also making a good run towards the box on multiple occasions. However, he has had his shots blocked thrice by the defenders.
Aleksandr Lomovitskiy (6.5/10) : Except for the one tackle battle win, Aleksandr had a tough time winning any sort of ground duels. That further resulted in the loss of possession.
Zelimkhan Bakaev (6.4/10) : Bakaev walked into the pitch in the 82nd minute of the game wherein he looked pretty pacey and confident. He went to take on the ground duels, winning most of them and also looked really good with his dribbling.
Aleksandr Sobolev (6/10) : A below par performance by Sobolev as he managed to lose every single ground or Ariel duel he challenged and he just didn't seem too confident with the ball.
Legia Warsaw
Artur Boruc (GK) (7.6/10) : An exceptional performance by Artur that really worked wonders for Legia Warsaw. He made some good and comfortable saves while also saving two really good attempts from inside the box. His mistake led to a shot but was denied on attempt, by him.
Artur Jędrzejczyk (7.1/10) : The captain was a delight to watch, keeping the ball away from his team's box. He made as many as five crucial clearences and won couple of interceptions and tackle battles.,
Mateusz Wieteska (7.7/10) : Mateusz was undoubtedly the wall for Legia Warsaw in today's encounter. He made a whopping seven clearences and blocked as many as three shots in the defence that could simply be goalscoring opportunities. He did a fantastic job as he was to be witnessed everywhere, such was his determination.
Maik Nawrocki (8/10) : Be it tackles or interceptions, he won them all. Maik was almost invincible when it came to Ariel and ground duels. He seemed very confident and kept the ball moving and when the opportunity struck, he blocked five shots in the box.
Mattias Johansson (7.4/10) : It was a busy day indeed for Mattias who won three interceptions and successful tackles on four occasions. He seemed to be taking on the challenges with ease as he won 10 out of 14 ground duels that came across him.
Bartosz Slisz (7.1/10) : Apart from the interceptions, it was a really tough time for Slisz to win at ground duels. He struggled at them but he contributed in every possible way. Although, he lost possession on 20 occasions.
Ihor Kharatin (6.7/10) : After 59 minutes of gameplay, Kharatin was substituted. He had been away from all sorts of duels or challenges in the midfield while he contributed with two decent clearences and winning a single interception. Ihor had a good game.
Luquinhas (7/10) : Luquinhas had as many as three good opportunities to make it right for Legia but he failed at every occasion. He was denied being on target and the other attempt was way off target. Meanwhile, the third one was blocked in the defence itself while trying to create a big chance.
Filip Mladenović (6.8/10) : Filip was good with his pace which helped him win tackles and interceptions but he was really poor at passing. He failed at completing every cross he made. While attempting at goal, he was way off target.
Josué Pesqueira (7.4/10) : Pesqueira was doing a brilliant job playing forward as he made as many as eight successful long balls and won ten out of his fifteen ground duel challenges. He did exceptionally well at winning four tackle battles.
Mahir Emreli (6.4/10) : Not the best time to be a striker for Mahir Emreli as he missed out on a really big opportunity. He also failed more than he succeeded at attempting ground duels.
Substitutes
Lirim Kastrati (7.5/10) : Lirim was the star of the match for Warsaw as he scored the winning goal in the added time. He got hold of Muci's assist and finished it in the back of the net to get his team the crucial points firstup. He just had the one shot at goal and he took full advantage of it.
Ernest Muci (7.4/10) : Ernest walked in the 83rd minute and out of nowhere produced a brilliant assist to Lirim which was converted into the winning goal for Legia Warsaw.
Tomas Pekhart (6.5/10) : Tomas barely got any gameplay time and he just managed to get bare minimum touches on the ball. Despite his determinat personality, he couldn't make a huge impact.
Rafael Lopes (6/10) : Just the couple of minutes to play for in this match for Rafael Lopes. He didn't get to do almost anything but atleast walked in as part of the winning team.
ALSO READ | Champions League: Sevilla vs RB Salzburg Player Ratings as the Sevilla holds Salzburg in Champions League opening game