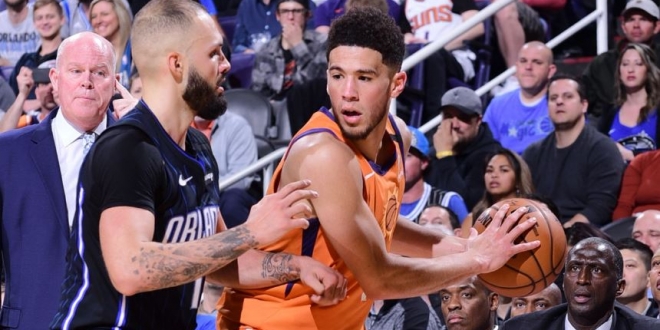 Evan Fournier surely kept his calm when he scored the last of his 21 points with a driving layup against De Andre Ayton with just over 6 seconds to left to make Orlando Magic lead by just 1-point against in form Phoenix Suns. Devin Booker dropped in a couple of free throws with over 19 seconds left but missed a layup at the last play to change the outcome in the Suns' favor.
Orlando trailed by 13 in the early going and by five in the fourth period before rallying behind Nikola Vucevic's 32nd 20-point performance of the season. Vucevic's fadeaway jumper put Orlando up 107-102 with 2:58 to play and his free throw with 27.4 seconds remaining broke a tie at 109.
Evan Fournier's driving layup gets Orlando Magic past Phoenix Suns
Phoenix Suns' veteran Chris Paul scored eight of his 23 points in the fourth quarter for the Suns. Booker finished with 25 points, seven rebounds and seven assists. Joe Crowder had 17 points and four 3-pointers. The final one tying the game at 109 with 38.1 seconds to play. Ayton had 21 points and 9 rebounds.
Having said that, there were five lead changes and five ties in the fourth period alone.
While discussing his frustration over the Magic suffering through another losing season, Gordon seemed to realize that Wednesday's game could be his final one in an Orlando uniform. Gordon, a seven-year member of the Magic, reportedly requested a trade in recent weeks and he could be dealt elsewhere before Thursday's NBA trade deadline.
Despite the rampant rumors centered around the forward and approximately a half-dozen teams, Gordon promised to keep his focus on the present.
"As of right now, I'm an Orlando Magic," Aaron Gordon said as per ESPN. "I've been here seven years and developed a home here and a sense of love and community. As long as I have Orlando on my chest, the Magic on my chest, I'm going to give it everything I have." 
Also Read: Daniel Theis fazes out, missing game winning 3-pointer as Bucks beat…