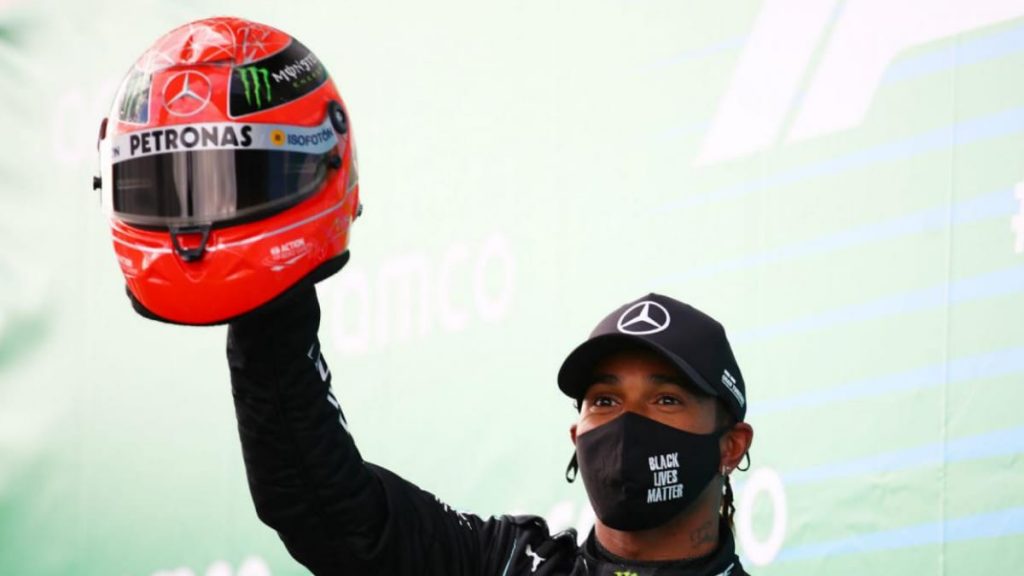 Mercedes' Formula 1 driver Lewis Hamilton was gifted former F1 great Michael Schumacher's helmet by Mick Schumacher, the German great's son and current F2 racer. Hamilton secured victory in the Eifel Grand Prix yesterday and in the process tied Schumacher's record of 91 wins. He was then presented with Schumacher's helmet from the 2012 season. Hamilton appeared speechless and lost for words as he received the helmet.
Schumacher has not been seen in public since suffering severe head injuries in a skiing accident seven years ago. And hence, it was his son Mich who presented him with the helmet.
'A great achievement' – Mick Schumacher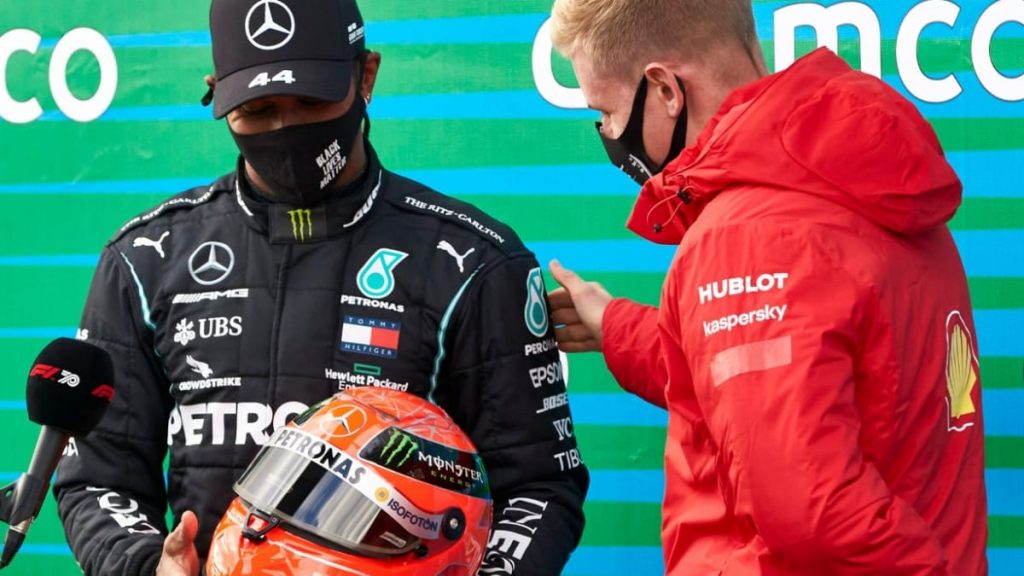 "Congratulations. This is from all of us. A great achievement," said the young Schumacher, who leads the F2 series and could make his F1 debut next year. 'I don't even know what to say,' replied Hamilton.
"When you grow up watching someone you generally idolize them in terms of the quality of the driver they are but also what they are able to continuously do race by race, year by year, week by week," Hamilton said.
"There was a game called Grand Prix 2 and I remember playing as Michael and seeing his dominance for so long I don't think anyone, especially me, could be anywhere near Michael in terms of records. It's an incredible honour. It's going to take some time to get used to it. As I came in the pit lane that was only when I realized I had equalled the record. I couldn't have done this without this incredible team pushing behind me. So a big thank you and huge respect to Michael." Hamilton added.
Also Read: Would love to be the player with the most Grand Slams, says Rafael Nadal