The reigning world champion, Red Bull's Max Verstappen, has found himself in an unusual position – at the heart of what has humorously been termed the "Max Verstappen podcast." This unique moniker has gained viral traction throughout the season, but surprisingly, Max Verstappen himself has openly expressed his distaste for podcasts.
Verstappen's incredible performance this season, with podium appearances in almost every race and 13 victories out of 16, has made him a central figure in the post-race cool-down room discussions. In these sessions, the top three finishers come together to review race highlights and share their thoughts before the podium presentations. This casual gathering, now playfully referred to as the 'Max Verstappen podcast', has gained notoriety.
In the post-race conference at the Japanese GP, when Max was probed about his feelings regarding these viral cool-down room sessions, he was candid. He remarked, "Yeah, I don't even know who came up with that because I don't even like podcasts, they make me fall asleep." He added, "So I don't know. Maybe we can call it something different. Or come up with something a bit more fun."
During the post-race cool-down room session at the Japanese Grand Prix, McLaren's Lando Norris playfully hinted at Max Verstappen's return by quipping, "Did you know this cool-down room is called 'Max Verstappen podcast'." In response, Verstappen maintained his humorous stance, reaffirming his dislike for podcasts with the words, "I don't even like podcasts."
Discover: Christian Horner showers MASSIVE praise on Max Verstappen for his 'hunger and determination' after Suzuka triumph
Max Verstappen acknowledges the need for caution with the constant presence of cameras on the drivers
Following Max's response of wanting to call it anything else than a podcast, Oscar Piastri, who took his maiden podium expressed his happiness at being a guest on the "podcast." To which, Verstappen responded, "You can be a guest of anything." He added, "Yeah, it's nice. I think it's natural, right, when you see some footage of the race and you talk about it as drivers too quickly when you see some shots."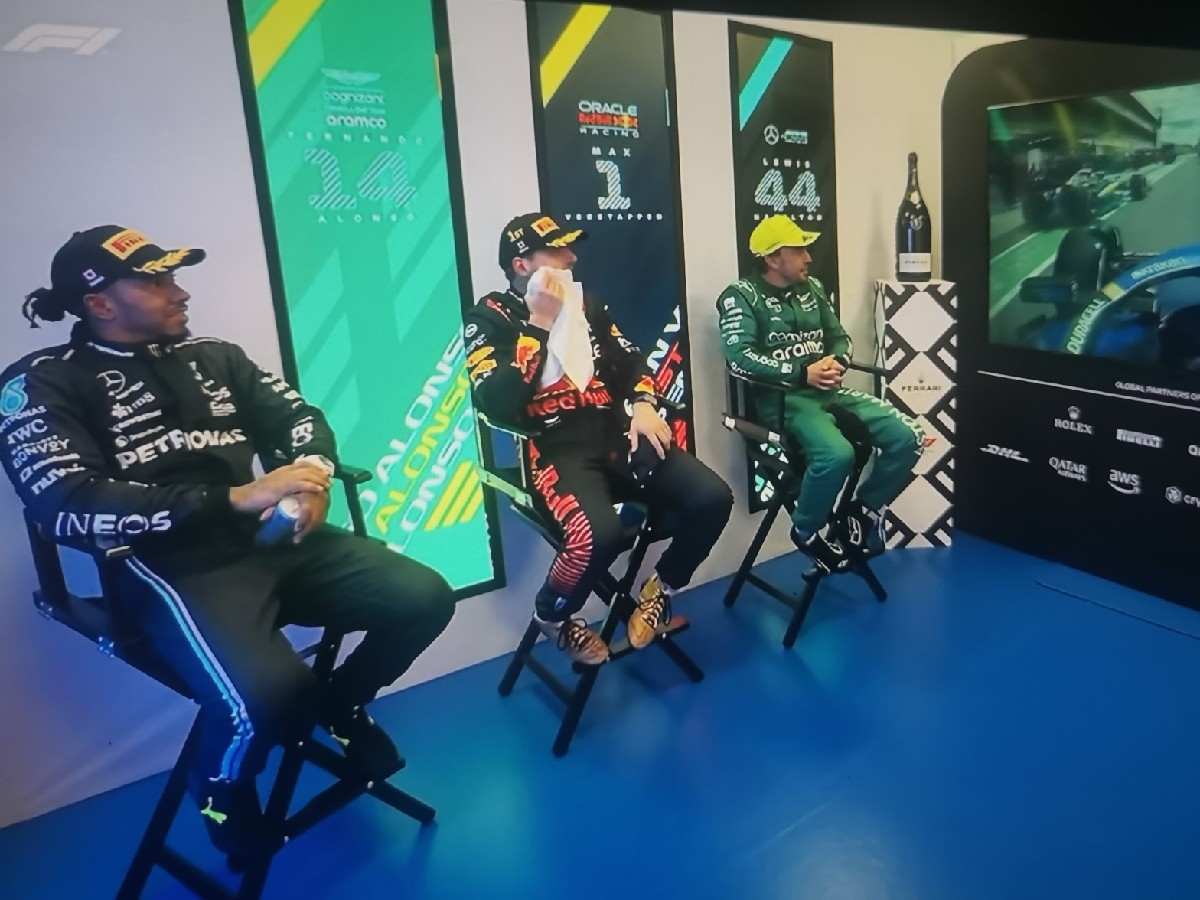 Verstappen acknowledged the natural tendency of drivers to discuss race footage and share their insights. However, he also noted the omnipresent cameras, cautioning that they prevent the drivers from freely expressing themselves. "Nowadays everything gets recorded. Fortunately, when the camera's there, you can't say everything you want to say," he added.
Beyond the podcast banter, the 2023 season has been a remarkable one for Red Bull Racing. They have clinched their sixth constructors' title with six races still to go, showcasing their utter dominance on the track. Verstappen himself has a unique opportunity to secure a world title on a Saturday, as the upcoming race in Qatar will be part of a sprint weekend.
In case you missed it: