The São Paulo Grand Prix weekend was chock full of excitement, but there was also no shortage of controversy and outrage. On Friday, Ferrari had put Charles Leclerc on the intermediates, meaning he couldn't set a competitive time in Q3 and started 10th for the sprint race. They received quite a bit of flak for that. Then on Sunday's race, there were a series of collisions, one of which involved Red Bull.
Daniel Ricciardo made contact with Kevin Magnussen and spun him around, but when the Australian tried to carry on and try to dodge the car, Magnussen's Haas came rolling back onto him and both of them retired from the race. Lando Norris sent Charles Leclerc spinning into a wall, and 2021 rivals Max Verstappen and Lewis Hamilton made contact in the Senna 'S'.
But there was nothing as controversial as what happened right in the final laps. On the lap 60 safety car restart, Sergio Perez was the only medium tyre runner surrounded by drivers on soft tyres. As expected, he quickly lost positions, and his teammate Verstappen, who was recovering from the collision with Hamilton, was right behind him.
At that moment, Red Bull chose to 'let' the Dutchman pass his teammate. Perez did not have any pace at all, and Verstappen would lose bags of time behind him. So they asked Verstappen to try and pass Alonso and Leclerc, so he could take points away from the Ferrari driver, who is in a fight for P2 in the WDC with Perez.
Also Read: "Best race in the whole season," Twitter goes haywire as a drama filled Brazil GP goes down with F1 getting it's new winner
Max Verstappen refused to let Sergio Perez pass him despite team orders from Red Bull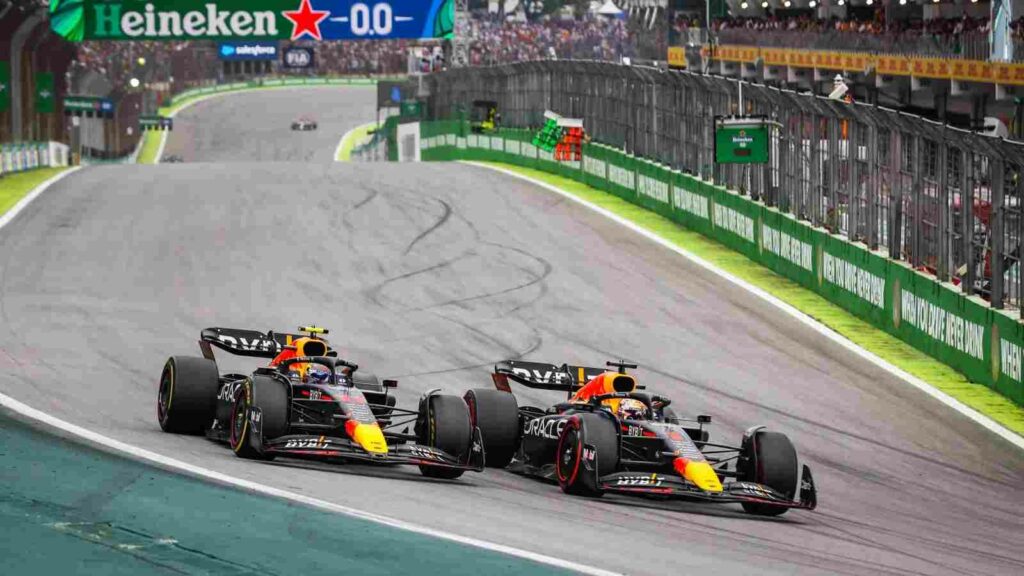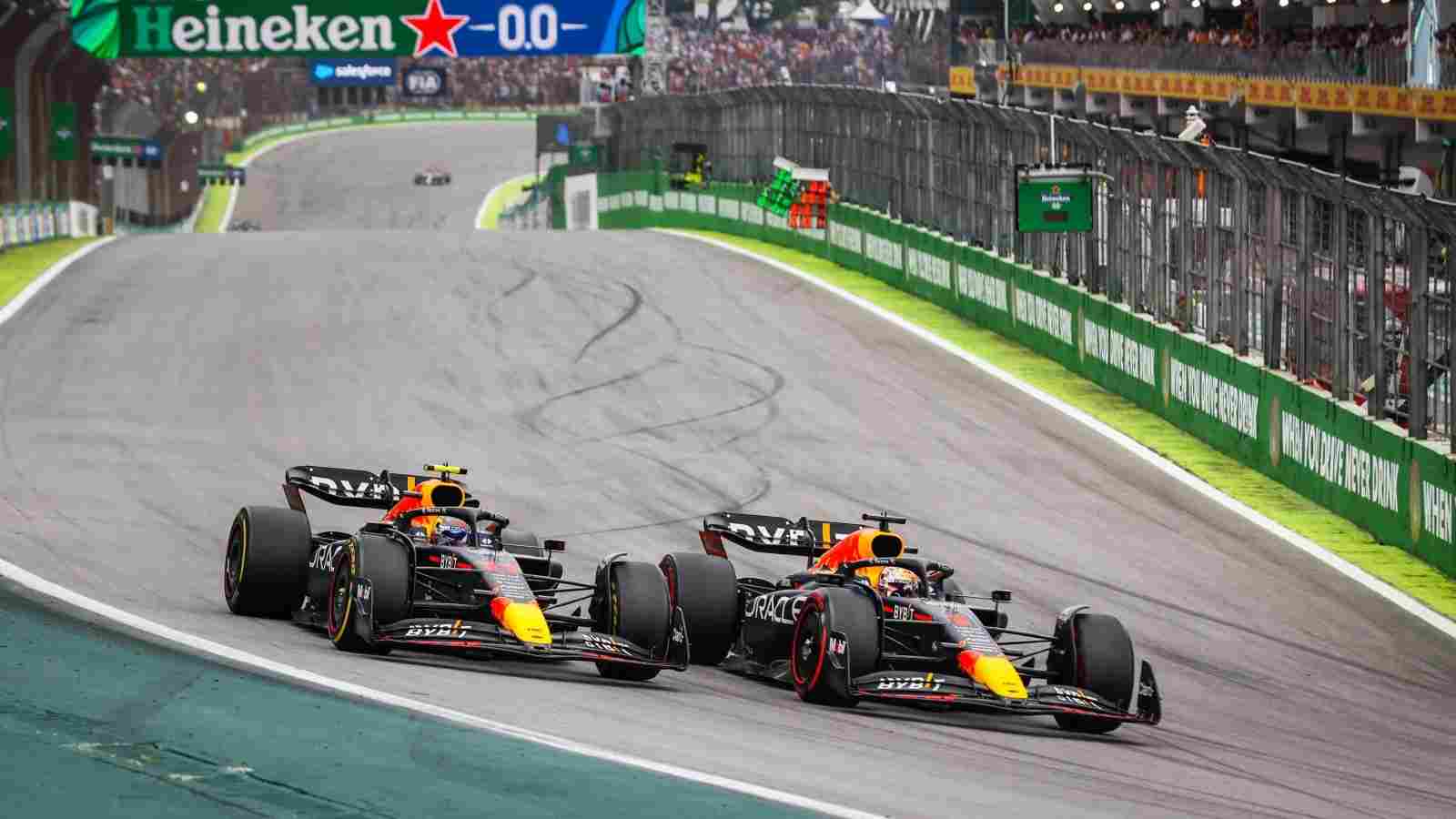 Max Verstappen was unable to achieve his goal, and Red Bull asked him to let his teammate back through. But the two-time world champion did not seem particularly keen on doing that, and said over the radio: "I told you already last time/summer (audio unclear), you guys don't ask that again to me, okay? Are we clear about that? I gave my reasons and I stand by it."
It's anyone's guess what his reasons were, even though there are rumours. Sergio Perez, for his part, made it clear he did not appreciate this. When Christian Horner came on the radio to apologize to him, and then when he was told by his engineer that they'll 'debrief' everything afterwards, Perez replied: "Yeah, it shows who he [Verstappen] really is."
This was not the end of it. Perez continued on, saying in a post-race interview with Sky Sports about the drama in the final laps: "I was told to let him [Verstappen] by, and that I was going to get back the position. I don't know what was the communication with him," When told that his teammate refused to let him by saying 'I have my reasons', and asked if he knew what those reasons were, Perez replied:
"No idea, no idea, maybe you should ask him about it. But, yeah, nothing to say really. After all [that] I've done for him, it's a bit disappointing, to be honest." When further quizzed if he really has 'no idea', he said: "No idea, I mean I'm really surprised, so…" and shrugged.
In a separate post-race interview, he said: "I don't understand why he didn't give me the position, even with everything I have done for him. If he has two titles, it's because of my help." Perez of course is referring to the numerous times he helped Verstappen last season, including in the season finale in Abu Dhabi.
Also Read: "Demonstrates the difference in sportsmanship and character" – F1 fans call out the stark contrast between Lewis Hamilton and Max Verstappen over helping teammates
The events in Abu Dhabi
On lap 20 of the race, when Lewis Hamilton entered Sergio Perez's DRS range, Max Verstappen was almost a further 9 seconds behind the Briton. When Hamilton finally overtook Perez on the next lap, Verstappen's deficit to his championship rival had sunk to just over 1.2 seconds. This would prove to be crucial in the end stages when a safety car came out on lap 54 due to Nicholas Latifi's crash on the previous lap.
It meant Hamilton wasn't able to dive into the pits for a change to soft tyres (while Verstappen did) when the safety car came out, because at that time it was thought he would lose track position, and it seemed that the race might end under a safety car anyways. But we all know what happened there: They went motor racing, and Verstappen overtook Hamilton on the final lap to win his first world title.
Also Read: "Couldn't recall a time I had spoken to him so freely," Will Buxton sheds light on 2021 Abu Dhabi GP interview with World Champion Max Verstappen
Dutch Media: Sergio Perez crashed deliberately in Monaco qualifying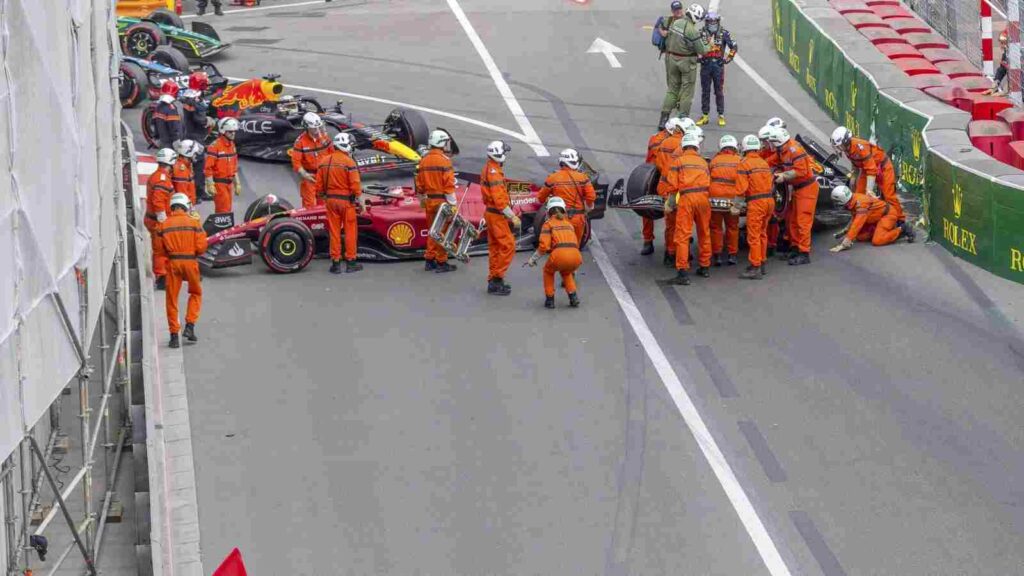 As Max Verstappen said on the radio, he had his reasons for not letting his teammate pass. We cannot be sure of what those reasons are – but there are some rumours, which, if based in truth, do provide cause for Verstappen to ignore his team's radio messages. As reported by De Telegraaf's Erik van Haren, and said by Tom Coronel on Viaplay, Sergio Perez apparently crashed on his final Q3 run in Monaco on purpose. The red flag from the crash(es) (and the track blockage) secured him P3, one position ahead of his teammate.
van Haren said (translated): "It is correct what Tom Coronel just said at ViaPlay. Perez deliberately crashed in qualifying in Monaco and later admitted it to Helmut Marko and Christian Horner. Max Verstappen has not forgotten that." It implies that Verstappen did not give the position back here as 'revenge' for Perez's supposedly deliberate crash.
After Verstappen had arrived on the 'scene of the crime' in Portier, he had exclaimed over the radio: "This shouldn't be allowed. Otherwise, it's just better to do your lap and then just bin it into the wall."
This implication itself has stirred up a big storm on social media. We are unlikely to ever know the truth of it, and while a lot of fans seem to now agree that Sergio Perez had crashed deliberately, it's hard to say what happened in reality. What we do know is that Verstappen was definitely not happy with that, even back then.
What did the Red Bull management say about this?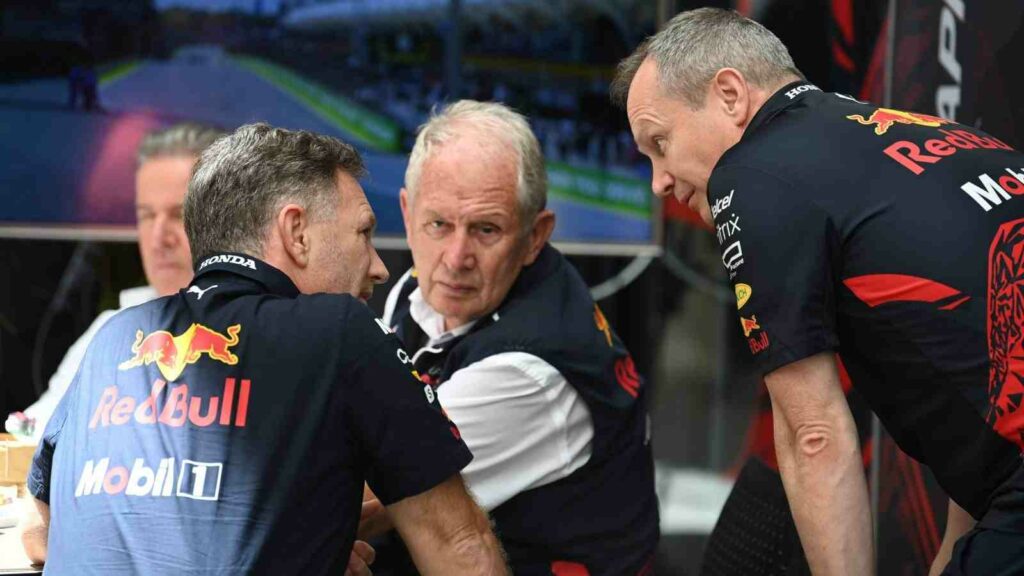 Speaking after the race to Sky Sports, when asked about the events of the final laps, Christian Horner: "We discussed these things, you know, internally. The drivers have obviously spoken about it as well. They're very, very clear." When asked if he can tell the reason(s) why Max Verstappen refused to let Sergio Perez pass, Horner 'closed the door': "I'm not gonna go into what we discussed internally."
He continued: "The drivers have discussed it, and, you know, they've shaken hands and we're absolutely focused on that next race." adding: "We work as a team, we race as a team, and our objective and priority [in Abu Dhabi] is to see if Checo can finish runner up in the championship. It's something we've never achieved as a team before, and Max has given it his commitment as well, and we'll be doing the best we can in Abu Dhabi to achieve that."
He further affirmed that Verstappen will help in any way he can in a 'straight fight' between Perez and Leclerc. He made it clear that it is a priority, and that the Mexican driver has done a 'phenomenal' job all year, and is deserving of the P2 finish. Red Bull will do their best as a team to achieve that.
Helmut Marko expressed similar views, and as per Planet F1, he said: "From his point of view Max will do everything possible there so that Checo can achieve second place in the World Championship. That here in Brazil has been ticked off and clarified and we're going to Abu Dhabi with this premise. Everything has been clarified internally, we will work as a team there."
Also Read: "The time has come for that to stop," Christian Horner asks for an end to the public backlash against Red Bull
The opinion of the author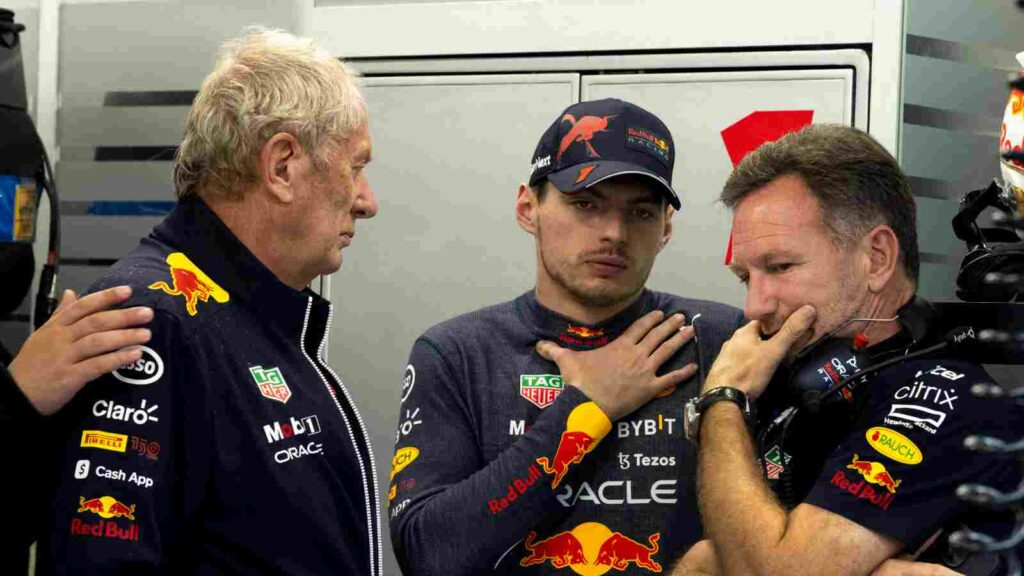 OPINION: The events certainly leave a bitter taste in the mouth. Max Verstappen and Sergio Perez have always seemed to have fairly amicable relationships, but what just happened in São Paulo may endanger that relationship. While Verstappen and the Red Bull management have said that the Dutchman will help Perez in Abu Dhabi in any way he can, moments like these can be hard to forget.
Verstappen, or even Red Bull, did not have really anything to lose from letting Perez pass. They have already sealed both championships – the only thing they're fighting for is P2 for Perez in the Driver's championship, which is as Horner said, a 'priority' of theirs for Abu Dhabi. It's slightly similar to what was happening with Ferrari.
Charles Leclerc asked to be let by Carlos Sainz to help in his P2 fight, something they had discussed prior to the race, but Ferrari chose not to, and Sainz was not informed what his teammate wanted to do. But where the difference lies is that Ferrari are still in a fight for Mercedes for P2 in the Constructor's championship. Verstappen and Alonso were close behind Leclerc, while Sainz was more than 4 seconds in front of the Monegasque.
If anything went wrong while Sainz slowed down, which he would have to do by a lot, then Alonso and Verstappen could pass him, which would destroy the team's result. But Red Bull were under no such pressure – as they have already sealed both championships. It seems plain that this was not related to the team or driver result, but it could possibly be a 'pride' thing.
It's also not impossible that the rumours about Perez crashing deliberately in Monaco are true, but we have no proof of that, and likely never will. If true, Verstappen's actions on a personal level are understandable – they are to settle a score of sorts, and now that it's 'settled', he's ready to help his teammate in Abu Dhabi. But it's still not a great look for him or the team. It's hard to see why Perez would crash to secure a P3, if at all.
Some have drawn comparisons to Multi-21, but the situations are almost entirely different. At the 2013 Malaysian Grand Prix, Sebastian Vettel passed Mark Webber on lap 46 despite team orders from Red Bull to hold station, which is now one of Formula 1's most controversial moments. But that was the second race of the season – not the second last when both championships have been sealed.
Whatever may be Verstappen's reasoning, it's unlikely that it will ingratiate him with Perez, his fans and his family, and perhaps even with Red Bull. The damage might be done, and it'll be interesting to see how this moment changes the dynamic of their relationship, which, till now, from all we know, has been fairly cordial.
Also Read: "Won't miss the next one," Andrew Shovlin pretty much confirms Toto Wolff will be present at the Abu Dhabi GP