Honda had talked about leaving Formula 1 at the end of the 2021 season, putting an end to their long-drawn partnership with Red Bull and AlphaTauri. But then, they reentered the new 2022 Championship with their engines supporting Red Bull's RB-18, which ultimately went on to win the World Championship title for Max Verstappen. On the Honda Thanks Day, celebrated with grandeur in Japan, Red Bull's previous year's F1 car was out on display, and it sported the special Honda livery that the team had designed to show their gratitude for their engine manufacturer.
In 2021, the Japanese Grand Prix was scrapped from the Formula 1 Calendar and it was replaced by the Turkish GP. In honor of Honda, who was supposed to depart from the sport at the end of that season, Red Bull had planned to reveal a special livery dedicated to the Japanese engine manufacturers at their home Grand Prix. Unfortunately, the Japanese GP could not take place, so the team debuted their Honda-special livery at the Turkish GP.
Fans were in awe of the beautiful white livery that Max Verstappen and Sergio Perez's racecars sported at the Turkish Grand Prix. The Red Bull RB16B finally went on to win Max his first-ever World Championship, and thus, the car will always hold a special place in every Red Bull fan's heart. So, when the car was out on display once again at this year's Honda Thanks Day, fans reacted to the beautiful racecar that had given Mercedes a run for their money in the 2021 Championship season.
Read More: "They are gonna come for you," F1 Fans react as AlphaTauri comes with 'spooky images' of Pierre Gasly and Yuki Tsunoda on Halloween
Fans talk about how Red Bull should have used their 2021 Honda livery at least once in the recently-concluded season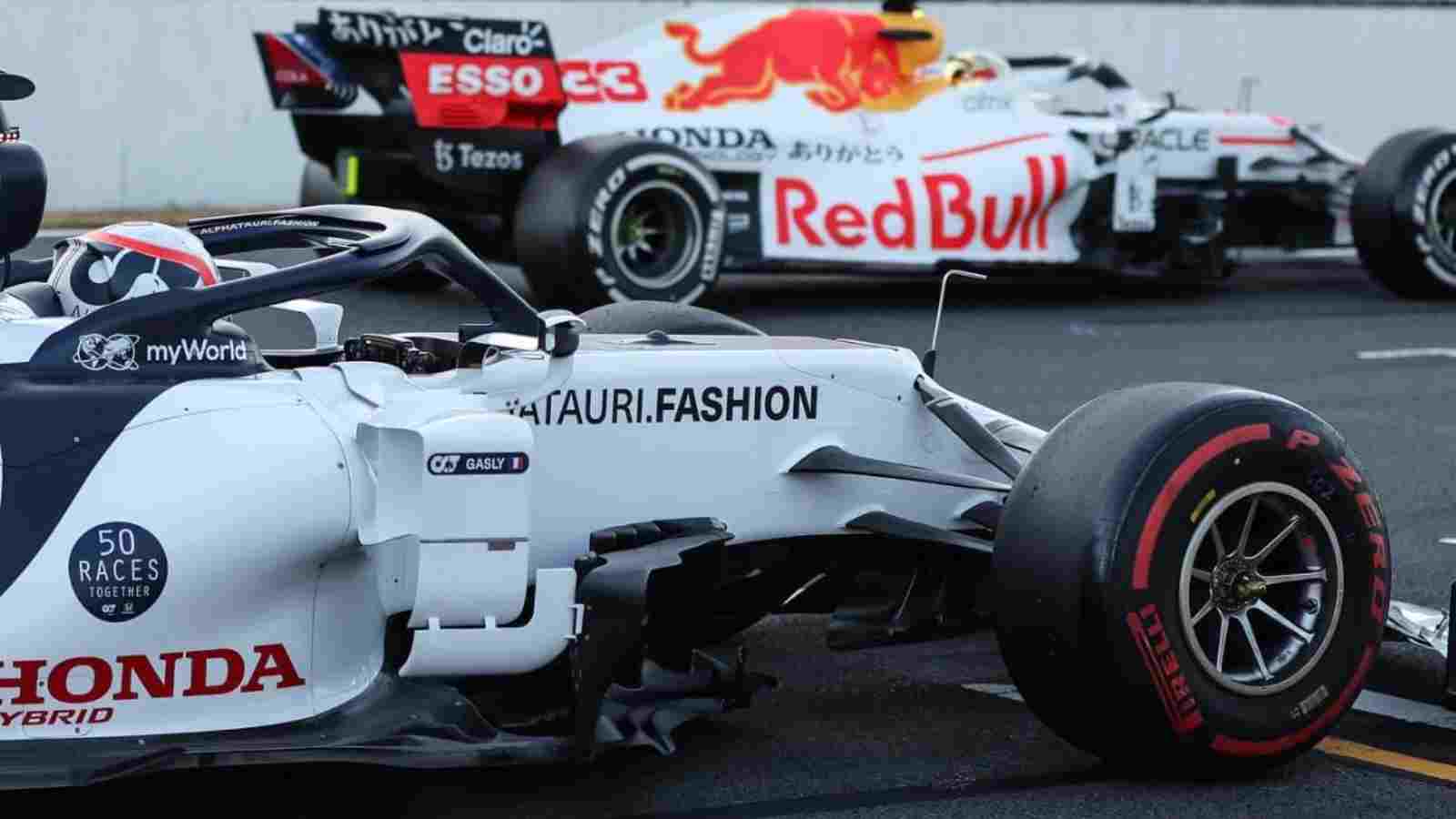 In 2022, Red Bull sported their regular black-and-red livery which has become a common site for their fans. Thus, when the white-and-red livery dedicated to Honda, was brought out for the fans to look at, during the Honda Thanks Day display, all of the Twitter users commented on how they had expected that the livery would make an appearance at least once in one of the 22 races of this year.
Welcome back, RB16B😍 pic.twitter.com/owln8rmFgH

— Oracle Red Bull Racing (@redbullracing) November 27, 2022
Here is what the fans had to say about the white-and-red Honda livery of the RB16B–
This car has a special place in our hearts💙❤️ pic.twitter.com/JOm8ZT5K2O

— formulashanky¹ (@f1shanky) November 27, 2022
Stunning at every angle pic.twitter.com/jEAIwTxfnN

— dit (@verdemiura) November 27, 2022
A very special machine that bought the most stubborn constructor in F1 history to its knees

— AKILA²⁰² (@K_A_Lakshan) November 27, 2022
The white is so much better than the blue.

— The Guvnor (@theguvnor1983) November 27, 2022
Love this one. Was bummed they didn't bring it back this year. Max winning the championship in this in the rain would have been sick!

— Andrew Lund (@DARK_AP0STLE) November 27, 2022
Please bless us with more pictures of this livery 👀 it's the best.

We're hoping for more wallpapers😏🙏🙏

— Michael (@luft_A109) November 27, 2022
I am still pissed we didn't get to see this livery in Japanese GP this year

— rup (@rpnjn) November 27, 2022
Red Bull finally got their much-coveted World Constructors' Championship title in 2022, almost a decade since their last victory in 2013. With the upcoming season in sight, they have a lot to worry about since Mercedes, who had suffered terrible underperformance in the recently-concluded season, will be looking for retribution from the very beginning of the next season.
Read More: WATCH: George Russell spotted with his gorgeous girlfriend courtside enjoying a Miami Heat game
Read More: Sebastian Vettel to not appear on F1 TV shows: "I'm not going to be a TV pundit."