Tony Ferguson and Khabib Nurmagomedov have been booked to face each other for five times and the fight was canceled on every occasion. Daniel Cormier said "This is probably the most cursed fight in the history of MMA" and his statement is indeed justified.
Although these two never got to face each other they hold a mutual dissent for each other. Tony claims that Khabib is scared of him and every time he finds a way to dodge the fight with him.
Tony posted a video of their weigh-ins from UFC 209 and wrote "UFC 209" Fathead Pulled Out A Day Before Interim Title Fight. He Did Not Make Weighins Due To His Manager Not Following UFC Protocol. We Were Offered A Different Opponent At Same Weight (155lbs) w/ Different Pay & No Interim Title # MyFavorite SnapJitsu"
Even after Khabib's retirement, Tony is still optimistic that he would get to face his long time rival in the future.
Dana White is going to press as hard as he can on Khabib to come back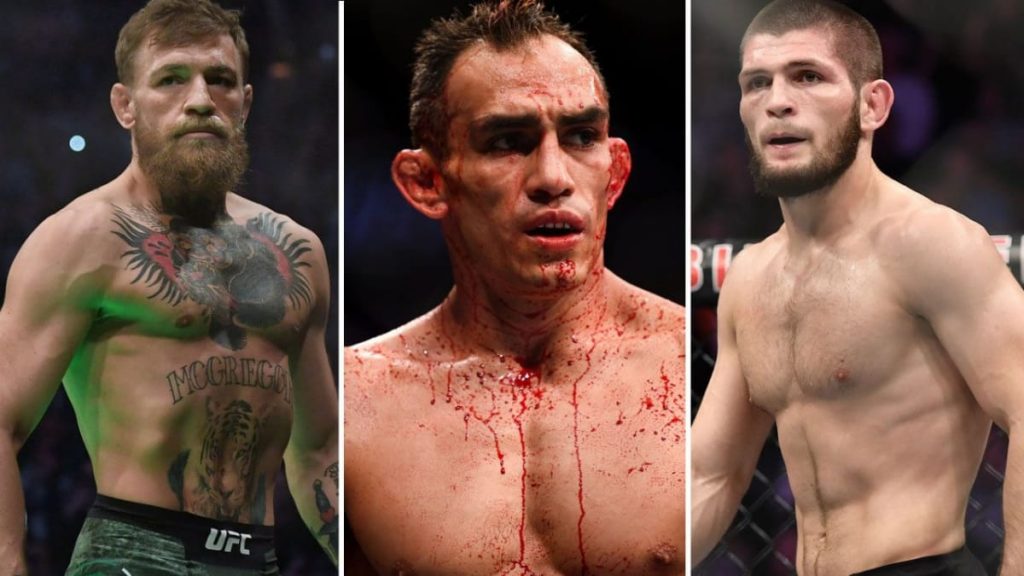 Khabib holds an impeccable record of 29-0 and he retired after his father Abdulmanap Nurmagomedov passed away. According to Khabib, his mother didn't want him to fight after his father's death.
Khabib's father wanted his son to be 30-0 and face St-Pierre in his last fight, Dana White is going to meet Khabib to talk him out of his retirement and he will try to convince him to come back for one last fight.
If St-Pierre doesn't accept the fight with Khabib then Tony's dream of fighting him can be made possible. But he isn't alone as Dana also said that if everything plays out then Conor vs. Khabib rematch is inevitable.
Also read Jon Jones vs Israel Adesanya not happening anytime soon, confirms Dana White.