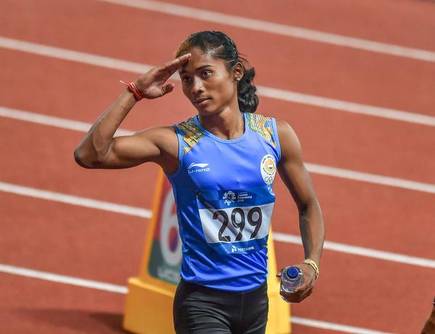 Indian star sprinter, Hima Das has expressed her sadness on incidents of attacks over police personnel and doctors, who were trying to do their respective duties during the country-wide lockdown in order to combat the COVID-19 pandemic.
Das, who's also a DSP in Assam Police, said she expressed her sentiments during the video conferencing with Prime Minister Narendra Modi, which was also attended by 40 other elite athletes.
In a later shared video, she said, "He told us the measures the government has taken to fight against coronavirus, especially in the health sector. We also told him what we were doing during the lockdown, how we were obeying the lockdown by staying inside our rooms."
"The other thing I told the was: I feel sad that people attacked policemen and doctors by throwing stones at them. These people don't follow lockdown rules," she added. Actually here she was referring to the incidents of disarray in Indore and Ghaziabad, which have triggered the outrage.
Further, Das also advised people to remain indoors and practice social distancing till the coronavirus is eliminated by its root.
Till date, this deadly virus has affected more than 2100 people in India and has resulted in
62 deaths.