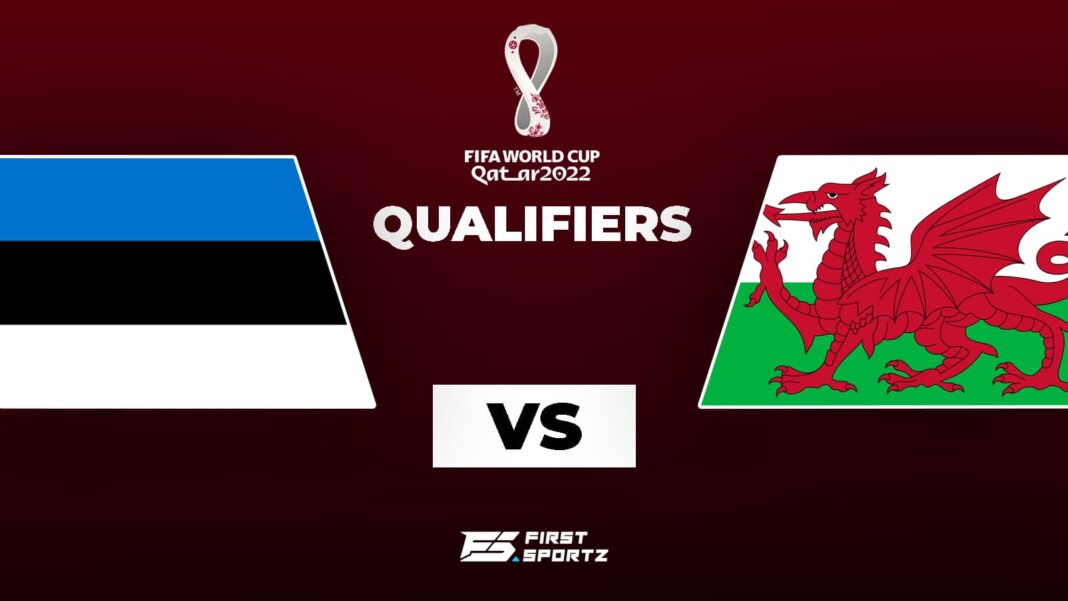 Estonia vs Wales: The two European teams Estonia and Wales are going to battle out against each other for their spot in the 2022 Qatar World Cup in their sixth match in Group E. Let's check the team preview, match timings and broadcast info for the match.
Estonia vs Wales: Preview
Estonia are currently in the fourth position in Group E after five matches as they have only one win, which they secured in their last match. They also have a draw and three losses in their tally, as the Estonian team struggles to secure their spot in the World Cup 2022 Qatar. They went up against Belarus in their last game in the Qualifiers as they secured their first 3 points in the group stage after defeating the away team 2-0 with Erik Sorga and Sergei Zenjov making their name into the scoresheet. They will have to win their rest of the matches if they look to keep their hopes for qualification still alive.
Wales has also been struggling to make a place for themselves in the 2022 Qatar World Cup as they are currently in the third position in the table with 8 points to their tally, having 2 wins, 2 draws and 1 win. In their last match they went up against Czech Republic who is currently just above them in place two. The match ended in a 2-2 draw after a hard fought 90 mins between both the teams as the Wales National team managed to come back in the game for two times with Aaron Ramsay and Daniel James making their name in the scoresheet for Wales.
Estonia vs Wales: Match Timings
| | | |
| --- | --- | --- |
| Date | Time | Timezone |
| Monday, 11th October | 11:45 AM | PST |
| Monday, 11th October | 2:45 PM | ET |
| Monday, 11th October | 6:45 PM | GMT |
| Monday, 11th October | 7:45 PM | BST |
| Tuesday, 12th October | 12:15 PM | IST |
Estonia vs Wales: Venue
The match between Estonia and Wales will be played in A. Le Coq Arena, home ground of the Estonia National team. The stadium has a capacity of 15,000.
Estonia vs Wales: Prediction
Wales is the better side in this fixture and will look forward to secure a win against Estonia to keep their hopes for 2022 Qatar World Cup still alive. The prediction for the match is Estonia 1 – 3 Wales.
Estonia vs Wales: Live Stream
| | |
| --- | --- |
| India | Jio TV, Sony Liv |
| Algeria | beIN SPORTS CONNECT |
| Angola | DStv Now, SuperSport Laliga ROA |
| Australia | Optus Sport |
| Austria | DAZN |
| Bahrain | beIN SPORTS CONNECT |
| Bangladesh | Sony LIV |
| Belgium | Eleven Sports 2 Belgium, Play Sports |
| Benin | SuperSport Laliga ROA |
| Bhutan | Sony LIV |
| Botswana | SuperSport Laliga ROA, DStv Now |
| Brazil | GUIGO, Estádio TNT Sports |
| Burkina Faso | DStv Now, SuperSport Laliga ROA |
| Burundi | DStv Now, SuperSport Laliga ROA |
| Cameroon | DStv Now, SuperSport Laliga ROA |
| Cape Verde | SuperSport Laliga ROA, DStv Now |
| Central African Republic | SuperSport Laliga ROA |
| Chad | beIN SPORTS CONNECT, DStv Now, SuperSport Laliga ROA |
| China | PPTV Sport China, iQiyi |
| Comoros | SuperSport Laliga ROA |
| Congo | SuperSport Laliga ROA, DStv Now |
| Costa Rica | Sky HD |
| Cote D'Ivoire | DStv Now, SuperSport Laliga ROA |
| Czech Republic | Sport 1 CZ/SK, DIGI GO |
| Denmark | Canal 9 Denmark, discovery+, Eurosport Player Denmark |
| Djibouti | beIN SPORTS CONNECT, DStv Now |
| Dominican Republic | Sky HD |
| Egypt | beIN SPORTS CONNECT |
| El Salvador | Sky HD |
| Equatorial Guinea | DStv Now, SuperSport Laliga ROA |
| Eritrea | SuperSport Laliga ROA, DStv Now |
| Estonia | TV3 Sport 2 |
| Ethiopia | SuperSport Laliga ROA, DStv Now |
| Finland | V Sport Urheilu, Elisa Viihde Viaplay |
| France | L'Equipe Web |
| Gabon | DStv Now, SuperSport Laliga ROA |
| Gambia | SuperSport Laliga ROA, DStv Now |
| Germany | DAZN |
| Ghana | SuperSport Laliga ROA, DStv Now |
| Greece | Cosmote Sport 7 HD |
| Guatemala | Sky HD |
| Guinea | SuperSport Laliga ROA, DStv Now |
| Guinea-Bissau | SuperSport Laliga ROA, DStv Now |
| Honduras | Sky HD |
| Hong Kong | 603 HD 603 |
| Iceland | Stöð 2 Sport 2 |
| Indonesia | Mola TV App, mola.tv, Mola TV |
| International | UEFA.tv |
| Iran | beIN SPORTS CONNECT |
| Iraq | beIN SPORTS CONNECT |
| Ireland | SKY GO Extra, Sky Sports Red Button |
| Israel | Sport 2 |
| Japan | DAZN |
| Jordan | beIN SPORTS CONNECT |
| Kenya | DStv Now, SuperSport Laliga ROA |
| Korea Republic | SPOTV |
| Kuwait | beIN SPORTS CONNECT |
| Latvia | TV3 Sport 2 |
| Lebanon | beIN SPORTS CONNECT |
| Lesotho | DStv Now |
| Liberia | DStv Now, SuperSport Laliga ROA |
| Libya | beIN SPORTS CONNECT |
| Lithuania | TV3 Sport 2 |
| Luxembourg | Eleven Sports 2 Belgium |
| Macau | iQiyi |
| Madagascar | SuperSport Laliga ROA, DStv Now |
| Malawi | DStv Now, SuperSport Laliga ROA |
| Maldives | Sony LIV |
| Mali | SuperSport Laliga ROA, DStv Now |
| Mauritania | beIN SPORTS CONNECT, DStv Now |
| Mauritius | SuperSport Laliga ROA, DStv Now |
| Mexico | Sky HD, Blue To Go Video Everywhere |
| Morocco | beIN SPORTS CONNECT |
| Mozambique | SuperSport Laliga ROA, DStv Now |
| Namibia | SuperSport Laliga ROA, DStv Now |
| Nepal | Sony LIV |
| Netherlands | Ziggo Sport Voetbal |
| Nicaragua | Sky HD |
| Niger | DStv Now, SuperSport Laliga ROA |
| Nigeria | SuperSport Laliga Nigeria, DStv Now |
| Norway | TV 2 Norway, TV 2 Play |
| Oman | beIN SPORTS CONNECT |
| Pakistan | Sony LIV |
| Palestinian Territory | beIN SPORTS CONNECT |
| Panama | Sky HD |
| Poland | IPLA, Polsat Sport Premium 4 |
| Portugal | Sport TV4, Sport TV Multiscreen |
| Qatar | beIN SPORTS CONNECT |
| Russia | Match! Football 3, Sportbox.ru, matchtv.ru |
| Rwanda | SuperSport Laliga ROA |
| Sao Tome And Principe | SuperSport Laliga ROA |
| Senegal | SuperSport Laliga ROA, DStv Now |
| Seychelles | DStv Now, SuperSport Laliga ROA |
| Sierra Leone | SuperSport Laliga ROA, DStv Now |
| Slovakia | Sport 1 CZ/SK, DIGI GO |
| Somalia | beIN SPORTS CONNECT |
| South Africa | SuperSport Laliga, DStv App |
| South Sudan | SuperSport Laliga ROA, beIN SPORTS CONNECT, DStv Now |
| Sri Lanka | Sony LIV |
| Sudan | DStv Now, beIN SPORTS CONNECT |
| Swaziland | SuperSport Laliga ROA, DStv Now |
| Sweden | TV12 Sweden, C More Sweden, C More Fotball |
| Switzerland | TV24, DAZN |
| Syria | beIN SPORTS CONNECT |
| Tanzania | SuperSport Laliga ROA, DStv Now |
| Timor-Leste | mola.tv, Mola TV |
| Togo | SuperSport Laliga ROA, DStv Now |
| Tunisia | beIN SPORTS CONNECT |
| Uganda | DStv Now, SuperSport Laliga ROA |
| Ukraine | Futbol 1, OLL.tv, footballua.tv |
| United Arab Emirates | beIN SPORTS CONNECT |
| United Kingdom | Sky Sports Red Button, SKY GO Extra |
| United States | TUDN App, TUDNxtra, TUDN.com, ESPN+ |
| Yemen | beIN SPORTS CONNECT |
| Zambia | SuperSport Laliga ROA |
| Zimbabwe | DStv Now, SuperSport Laliga ROA |
Also Read: 2022 World Cup Qualifiers: Iceland vs Lichtenstein Live Stream, Preview and Prediction