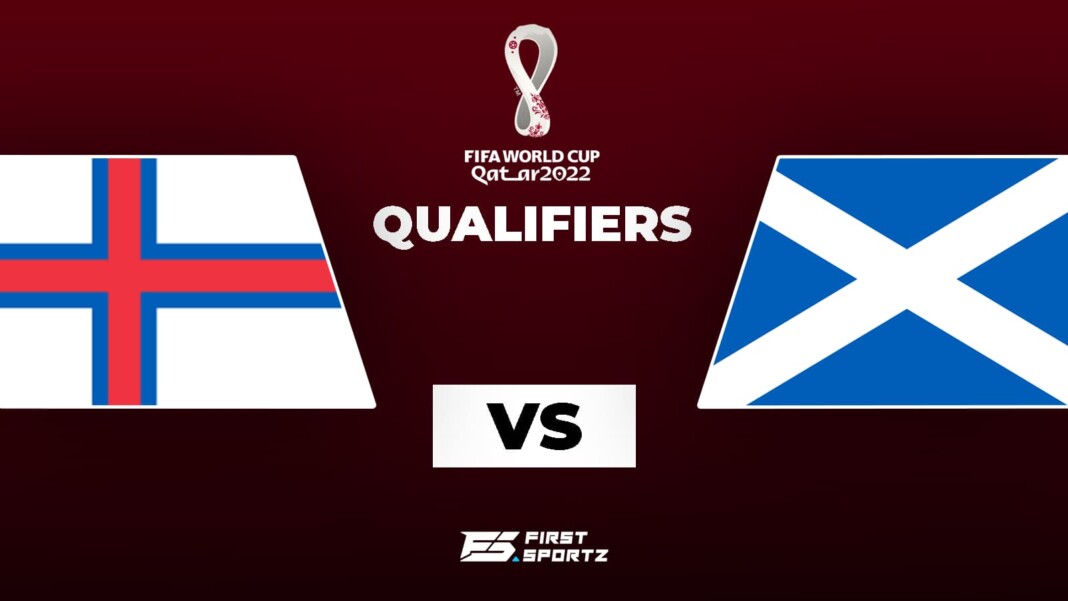 Second in Group F Scotland travel to Torsvollur to face Faroe Islands for their eighth game of the 2022 World Cup qualifying campaign. Faroe Islands hopes even making it to the playoffs are well and truly over as they sit fifth in the group with just 4 points from the seven games played.
Faroe Islands vs Scotland: Preview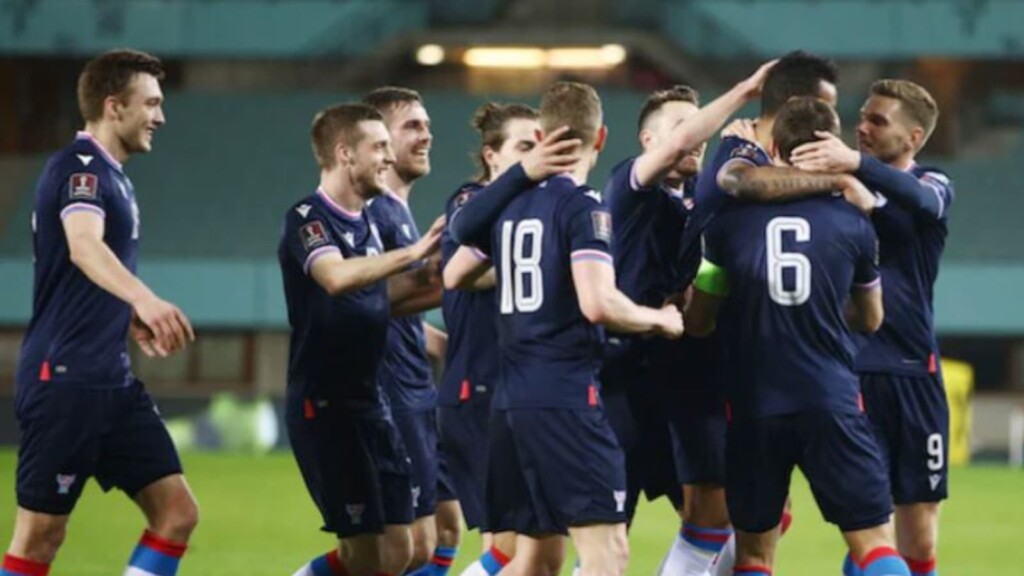 Faroe Islands only victory of the campaign came against Moldova last month when they won 2-1 on the night with 2 goals in three minutes of second half from Klaemint Olsen and Heini Vatnsdal were enough to register their first victory. The fourth smallest UEFA country by population were beaten 2-0 by Austria in their last game as Konrad Laimer and Marcel Sabitzer scored to keep their hopes alive of making it to the playoffs of the World Cup. Faroe Islands are up against a strong Scotland side at home.
The visitors, Scotland have now registered three wins in their last three group games 1-0 victories against Moldova and Austria was followed by a impressive 3-2 encounter with Israel in the last game. They were 2-1 down going into the first half. But Steve Clarke's men made a late rally as Lyndon Dykes and Manchester United's Scott McTominay scored in the second half to complete an impressive comeback on the night and also made sure to keep them 4 points clear in second place of both Israel and Austria.
It will be a crucial tie against Faroe Islands away from home as they look to secure the playoff spot in Group F. Scotland beat Faroe Islands 4-0 when the two sides met last time and will hope for more of the same when they face off on Tuesday night.
Faroe Islands vs Scotland: Venue
Faroe Islands will host Scotland at the Torsvollur Stadium in Torshavn, Faroe Islands. It was built in the year 1999 and has a total capacity of 5,000 seats.
Faroe Islands vs Scotland: Match Timings
| | | |
| --- | --- | --- |
| Date | Time | Timezone |
| Tuesday, 12th October | 11:45 AM | PST |
| Tuesday, 12th October | 2:45 PM | ET |
| Tuesday, 12th October | 6:45 PM | GMT |
| Tuesday, 12th October | 7:45 PM | BST |
| Wednesday, 13th October | 12:15 AM | IST |
Faroe Islands vs Scotland: Prediction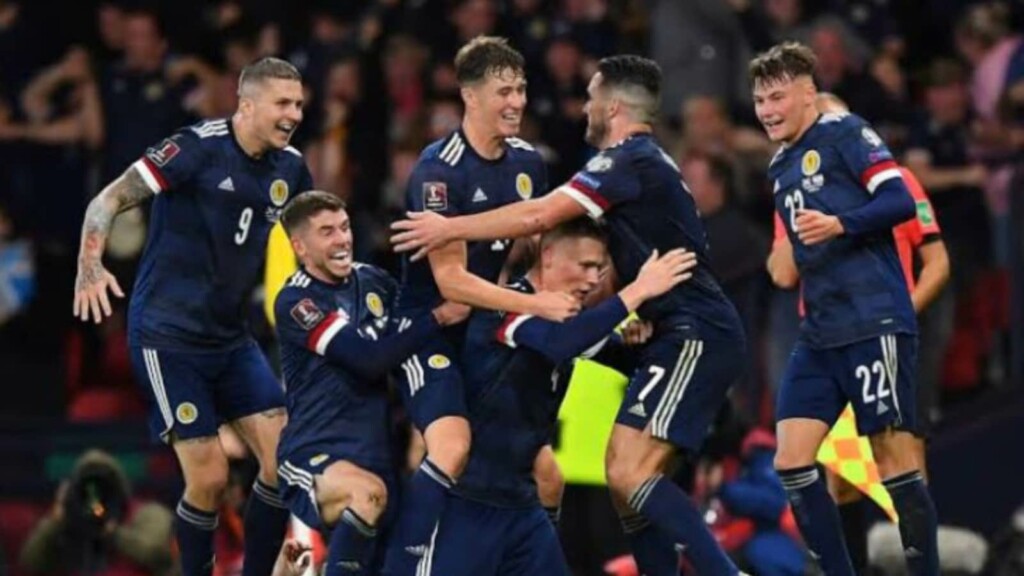 Scotland have not been lethal in front of goal as they've just scored 12 times in the seven games but on the other hand their defence have been solid keeping 4 cleansheets in the seven games. A win for Scotland is on the cards against Faroe Islands and hence we predict a comfortable win for Scotland in this game.
Faroe Islands vs Scotland: Live Stream
| | |
| --- | --- |
| India | Jio TV, Sony Liv |
| Algeria | beIN SPORTS CONNECT |
| Angola | DStv Now, SuperSport Laliga ROA |
| Australia | Optus Sport |
| Austria | DAZN |
| Bahrain | beIN SPORTS CONNECT |
| Bangladesh | Sony LIV |
| Belgium | Eleven Sports 2 Belgium, Play Sports |
| Benin | SuperSport Laliga ROA |
| Bhutan | Sony LIV |
| Botswana | SuperSport Laliga ROA, DStv Now |
| Brazil | GUIGO, Estádio TNT Sports |
| Burkina Faso | DStv Now, SuperSport Laliga ROA |
| Burundi | DStv Now, SuperSport Laliga ROA |
| Cameroon | DStv Now, SuperSport Laliga ROA |
| Cape Verde | SuperSport Laliga ROA, DStv Now |
| Central African Republic | SuperSport Laliga ROA |
| Chad | beIN SPORTS CONNECT, DStv Now, SuperSport Laliga ROA |
| China | PPTV Sport China, iQiyi |
| Comoros | SuperSport Laliga ROA |
| Congo | SuperSport Laliga ROA, DStv Now |
| Costa Rica | Sky HD |
| Cote D'Ivoire | DStv Now, SuperSport Laliga ROA |
| Czech Republic | Sport 1 CZ/SK, DIGI GO |
| Denmark | Canal 9 Denmark, discovery+, Eurosport Player Denmark |
| Djibouti | beIN SPORTS CONNECT, DStv Now |
| Dominican Republic | Sky HD |
| Egypt | beIN SPORTS CONNECT |
| El Salvador | Sky HD |
| Equatorial Guinea | DStv Now, SuperSport Laliga ROA |
| Eritrea | SuperSport Laliga ROA, DStv Now |
| Estonia | TV3 Sport 2 |
| Ethiopia | SuperSport Laliga ROA, DStv Now |
| Finland | V Sport Urheilu, Elisa Viihde Viaplay |
| France | L'Equipe Web |
| Gabon | DStv Now, SuperSport Laliga ROA |
| Gambia | SuperSport Laliga ROA, DStv Now |
| Germany | DAZN |
| Ghana | SuperSport Laliga ROA, DStv Now |
| Greece | Cosmote Sport 7 HD |
| Guatemala | Sky HD |
| Guinea | SuperSport Laliga ROA, DStv Now |
| Guinea-Bissau | SuperSport Laliga ROA, DStv Now |
| Honduras | Sky HD |
| Hong Kong | 603 HD 603 |
| Iceland | Stöð 2 Sport 2 |
| Indonesia | Mola TV App, mola.tv, Mola TV |
| International | UEFA.tv |
| Iran | beIN SPORTS CONNECT |
| Iraq | beIN SPORTS CONNECT |
| Ireland | SKY GO Extra, Sky Sports Red Button |
| Israel | Sport 2 |
| Japan | DAZN |
| Jordan | beIN SPORTS CONNECT |
| Kenya | DStv Now, SuperSport Laliga ROA |
| Korea Republic | SPOTV |
| Kuwait | beIN SPORTS CONNECT |
| Latvia | TV3 Sport 2 |
| Lebanon | beIN SPORTS CONNECT |
| Lesotho | DStv Now |
| Liberia | DStv Now, SuperSport Laliga ROA |
| Libya | beIN SPORTS CONNECT |
| Lithuania | TV3 Sport 2 |
| Luxembourg | Eleven Sports 2 Belgium |
| Macau | iQiyi |
| Madagascar | SuperSport Laliga ROA, DStv Now |
| Malawi | DStv Now, SuperSport Laliga ROA |
| Maldives | Sony LIV |
| Mali | SuperSport Laliga ROA, DStv Now |
| Mauritania | beIN SPORTS CONNECT, DStv Now |
| Mauritius | SuperSport Laliga ROA, DStv Now |
| Mexico | Sky HD, Blue To Go Video Everywhere |
| Morocco | beIN SPORTS CONNECT |
| Mozambique | SuperSport Laliga ROA, DStv Now |
| Namibia | SuperSport Laliga ROA, DStv Now |
| Nepal | Sony LIV |
| Netherlands | Ziggo Sport Voetbal |
| Nicaragua | Sky HD |
| Niger | DStv Now, SuperSport Laliga ROA |
| Nigeria | SuperSport Laliga Nigeria, DStv Now |
| Norway | TV 2 Norway, TV 2 Play |
| Oman | beIN SPORTS CONNECT |
| Pakistan | Sony LIV |
| Palestinian Territory | beIN SPORTS CONNECT |
| Panama | Sky HD |
| Poland | IPLA, Polsat Sport Premium 4 |
| Portugal | Sport TV4, Sport TV Multiscreen |
| Qatar | beIN SPORTS CONNECT |
| Russia | Match! Football 3, Sportbox.ru, matchtv.ru |
| Rwanda | SuperSport Laliga ROA |
| Sao Tome And Principe | SuperSport Laliga ROA |
| Senegal | SuperSport Laliga ROA, DStv Now |
| Seychelles | DStv Now, SuperSport Laliga ROA |
| Sierra Leone | SuperSport Laliga ROA, DStv Now |
| Slovakia | Sport 1 CZ/SK, DIGI GO |
| Somalia | beIN SPORTS CONNECT |
| South Africa | SuperSport Laliga, DStv App |
| South Sudan | SuperSport Laliga ROA, beIN SPORTS CONNECT, DStv Now |
| Sri Lanka | Sony LIV |
| Sudan | DStv Now, beIN SPORTS CONNECT |
| Swaziland | SuperSport Laliga ROA, DStv Now |
| Sweden | TV12 Sweden, C More Sweden, C More Fotball |
| Switzerland | TV24, DAZN |
| Syria | beIN SPORTS CONNECT |
| Tanzania | SuperSport Laliga ROA, DStv Now |
| Timor-Leste | mola.tv, Mola TV |
| Togo | SuperSport Laliga ROA, DStv Now |
| Tunisia | beIN SPORTS CONNECT |
| Uganda | DStv Now, SuperSport Laliga ROA |
| Ukraine | Futbol 1, OLL.tv, footballua.tv |
| United Arab Emirates | beIN SPORTS CONNECT |
| United Kingdom | Sky Sports Red Button, SKY GO Extra |
| United States | TUDN App, TUDNxtra, TUDN.com, ESPN+ |
| Yemen | beIN SPORTS CONNECT |
| Zambia | SuperSport Laliga ROA |
| Zimbabwe | DStv Now, SuperSport Laliga ROA |
Also read: 2022 World Cup Qualifiers: Portugal vs Luxembourg Live Stream, Preview and Prediction