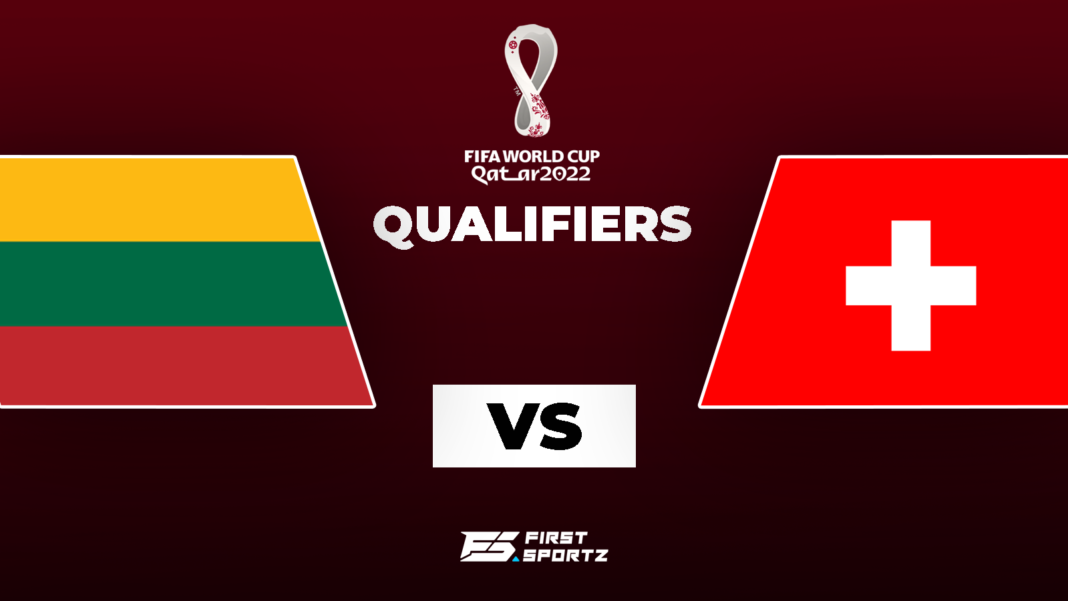 Unbeaten in Group C Switzerland face Lithuania away from home at the LFF Stadionas on Tuesday 12th October. Switzerland are chasing the leaders Italy with just 3 points separating the two nations.
Lithuania vs Switzerland: Preview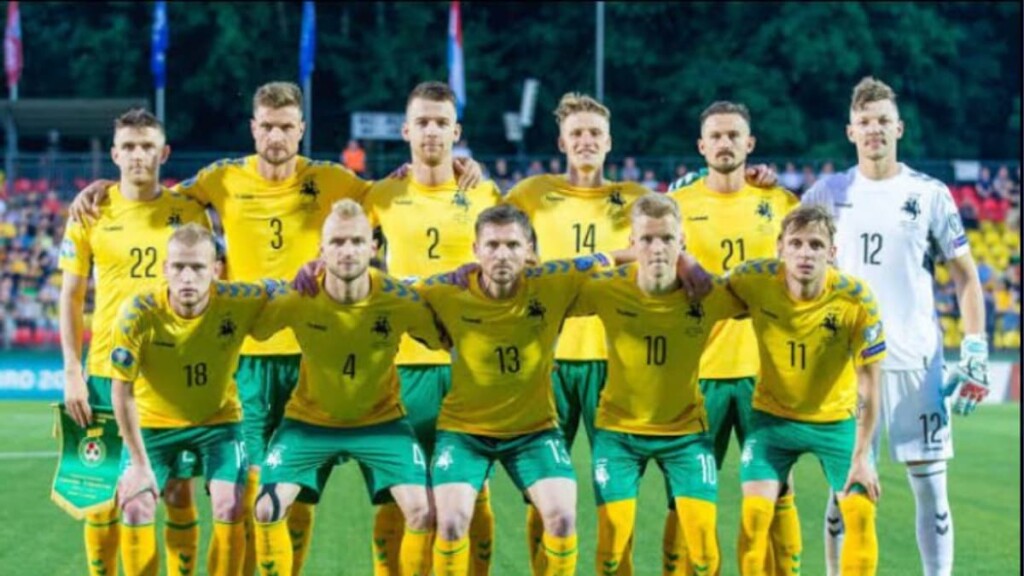 Lithuania finally recorded their first win of the qualifying campaign in Group C against Bulgaria in their last game after having lost the previous five games prior to that. The game was level at 1-1 after a goal from Justas Lasickas and Kiril Despodov each. However a late brace from Fedor Cernych in the last ten minutes turn the tie in Lithuania's favour and as a result helped them register their first win.
The visitors Switzerland are favourites of taking the playoff spot in Group C as they were successful in beating their rivals Northern Ireland 2-0 in the last game. A controversial second yellow card was shown to Jamal Lewis in the closing minutes of the first half before Steven Zuber and Christian Fassnacht scored in the additional time of both halves to give their side all three points on the night.
A win against Lithuania on Tuesday is a must for Murat Yakin's side if they want to give themselves a chance to claim the top spot in Group C. All three points against Lithuania will take the Swiss level on points with Italy ahead of their group meeting next month. Switzerland edged past Lithuania last time when these two sides met with Xherdan Shaqiri scoring the only goal of the game in the 2nd minute.
Lithuania vs Switzerland: Venue
Lithuania will welcome Switzerland at the LFF Stadium in Vilnius, Lithuania. The stadium was formerly known as the Vetra Stadium. It is a UEFA category 3 stadium and has a total capacity of 5,067 seats.
Lithuania vs Switzerland: Match Timings
| | | |
| --- | --- | --- |
| Date | Time | Timezone |
| Tuesday, 12th October | 11:45 AM | PST |
| Tuesday, 12th October | 2:45 PM | ET |
| Tuesday, 12th October | 6:45 PM | GMT |
| Tuesday, 12th October | 7:45 PM | BST |
| Wednesday, 13th October | 12:15 AM | IST |
Lithuania vs Switzerland Match Timings
Lithuania vs Switzerland: Prediction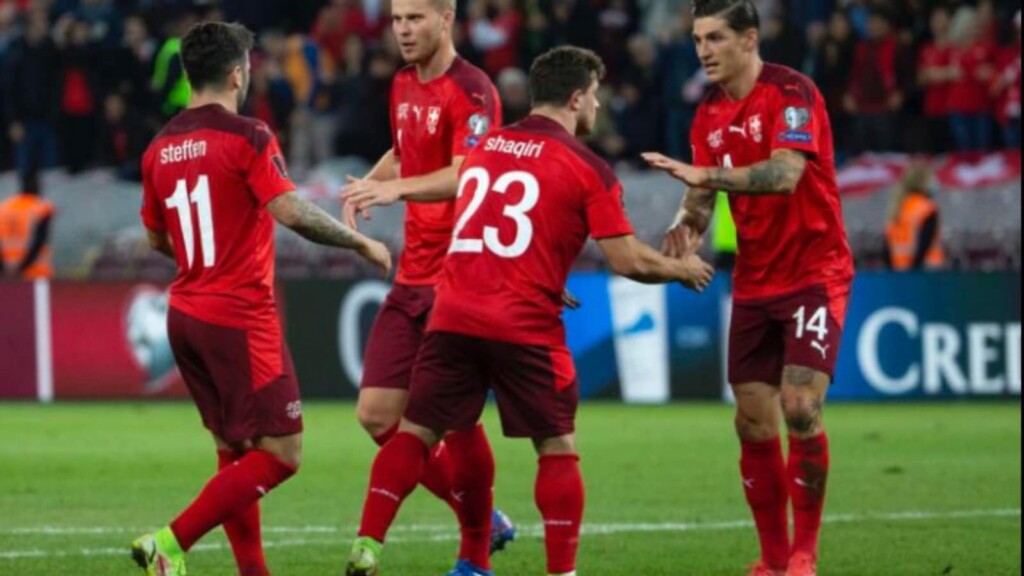 Switzerland will surely want to go level on points with group leaders Italy with a comprehensive win against bottom side Lithuania. However it will take something more than last time's result for the Swiss to beat Lithuania this time around as the home side are coming off an impressive 3-1 win in their last game. But we still believe that Switzerland have the quality to see off Lithuania and set up a crucial match in Group C against Italy next month. Hence we predict a win for Switzerland in this game.
Lithuania vs Switzerland: Live Stream
| | |
| --- | --- |
| India | Sony LIV, JioTV |
| Angola | SuperSport Variety ROA, DStv Now |
| Anguilla | ESPNPlay Caribbean |
| Antigua and Barbuda | ESPNPlay Caribbean |
| Aruba | ESPNPlay Caribbean |
| Australia | Optus Sport |
| Austria | DAZN |
| Bangladesh | Sony LIV |
| Barbados | ESPNPlay Caribbean |
| Belize | ESPNPlay Caribbean |
| Benin | SuperSport Variety ROA |
| Bhutan | Sony LIV |
| Botswana | DStv Now, SuperSport Variety ROA |
| British Virgin Islands | ESPNPlay Caribbean |
| Burkina Faso | DStv Now, SuperSport Variety ROA |
| Burundi | SuperSport Variety ROA, DStv Now |
| Cameroon | DStv Now, SuperSport Variety ROA |
| Cape Verde | SuperSport Variety ROA, DStv Now |
| Cayman Islands | ESPNPlay Caribbean |
| Central African Republic | SuperSport Variety ROA |
| Chad | DStv Now, SuperSport Variety ROA |
| Comoros | SuperSport Variety ROA |
| Congo | DStv Now, SuperSport Variety ROA |
| Cote D'Ivoire | SuperSport Variety ROA, DStv Now |
| Cuba | ESPNPlay Caribbean |
| Cyprus | Cytavision on the Go, Cytavision Sports 7 |
| Denmark | discovery+, Eurosport Player Denmark |
| Djibouti | DStv Now |
| Dominica | ESPNPlay Caribbean |
| Dominican Republic | ESPNPlay Caribbean |
| Equatorial Guinea | SuperSport Variety ROA, DStv Now |
| Eritrea | DStv Now, SuperSport Variety ROA |
| Ethiopia | SuperSport Variety ROA, DStv Now |
| Finland | Elisa Viihde Viaplay |
| Gabon | SuperSport Variety ROA, DStv Now |
| Gambia | SuperSport Variety ROA, DStv Now |
| Germany | DAZN |
| Ghana | DStv Now, SuperSport Variety ROA |
| Grenada | ESPNPlay Caribbean |
| Guadeloupe | ESPNPlay Caribbean |
| Guinea | DStv Now, SuperSport Variety ROA |
| Guinea-Bissau | DStv Now, SuperSport Variety ROA |
| Haiti | ESPNPlay Caribbean |
| Honduras | ESPNPlay Caribbean |
| Hong Kong | 603 HD 603 |
| Indonesia | mola.tv, Mola TV App, Mola TV |
| International | UEFA.tv |
| Ireland | Sky Sports Red Button, SKY GO Extra |
| Israel | Sport 3 |
| Jamaica | ESPNPlay Caribbean |
| Japan | DAZN |
| Kenya | SuperSport Variety ROA, DStv Now |
| Lesotho | DStv Now |
| Liberia | SuperSport Variety ROA, DStv Now |
| Madagascar | SuperSport Variety ROA, DStv Now |
| Malawi | SuperSport Variety ROA, DStv Now |
| Maldives | Sony LIV |
| Mali | SuperSport Variety ROA, DStv Now |
| Martinique | ESPNPlay Caribbean |
| Mauritania | DStv Now |
| Mauritius | DStv Now, SuperSport Variety ROA |
| Montserrat | ESPNPlay Caribbean |
| Mozambique | DStv Now, SuperSport Variety ROA |
| Namibia | SuperSport Variety ROA, DStv Now |
| Nepal | Sony LIV |
| Niger | DStv Now, SuperSport Variety ROA |
| Nigeria | DStv Now, SuperSport Variety Nigeria |
| Norway | TV 2 Play |
| Pakistan | Sony LIV |
| Puerto Rico | ESPNPlay Caribbean |
| Russia | Russia 1 |
| Rwanda | SuperSport Variety ROA |
| Saint Barthelemy | ESPNPlay Caribbean |
| Saint Kitts and Nevis | ESPNPlay Caribbean |
| Saint Lucia | ESPNPlay Caribbean |
| Saint Martin | ESPNPlay Caribbean |
| Saint Vincent and the Grenadines | ESPNPlay Caribbean |
| Sao Tome And Principe | SuperSport Variety ROA |
| Senegal | DStv Now, SuperSport Variety ROA |
| Seychelles | DStv Now, SuperSport Variety ROA |
| Sierra Leone | DStv Now, SuperSport Variety ROA |
| Slovenia | ŠTV 1 |
| South Africa | SuperSport Variety, DStv App |
| South Sudan | DStv Now, SuperSport Variety ROA |
| Sri Lanka | Sony LIV |
| Sudan | DStv Now |
| Swaziland | DStv Now, SuperSport Variety ROA |
| Sweden | C More Sweden |
| Switzerland | DAZN |
| Tanzania | SuperSport Variety ROA, DStv Now |
| Timor-Leste | Mola TV, mola.tv |
| Togo | SuperSport Variety ROA, DStv Now |
| Trinidad and Tobago | ESPNPlay Caribbean |
| U.S. Virgin Islands | ESPNPlay Caribbean |
| Uganda | SuperSport Variety ROA, DStv Now |
| United Kingdom | SKY GO Extra, Sky Sports Red Button |
| United States | TUDN.com, ESPN+, TUDNxtra, TUDN App |
| Vietnam | myK + LIVE |
| Zambia | SuperSport Variety ROA |
| Zimbabwe | SuperSport Variety ROA, DStv Now |
Lithuania vs Switzerland Live Stream
Also read: 2022 World Cup Qualifiers: Slovenia vs Russia Live Stream, Preview and Prediction