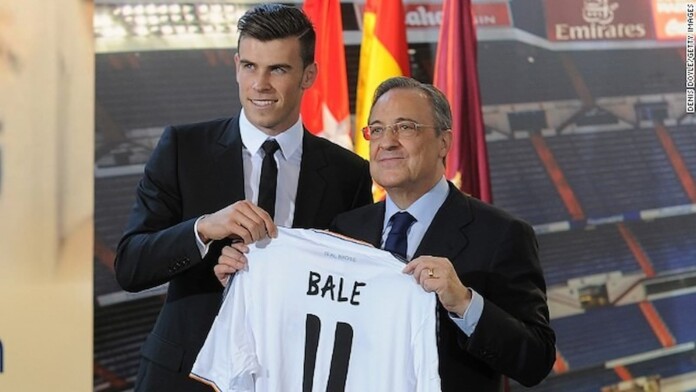 On the deadline day of the summer transfer window of 2013, Gareth Bale completed the switch from Tottenham Hotspurs to join the Galacticos on a six-year contract for a the then world record €100.8 million deal and was handed the No.11 kit. Real Madrid took to Instagram to congratulated the athlete for completing eight years with the Los Blancos. Although Bale had some rough patches in his time in Madrid, he has contributed a lot to the club.
The Gareth Bale era in Real Madrid
While being one of the unluckiest players with injuries, Bale has 98 goals in 251 appearances for the Galacticos, and in his time at Santiago Bernebeu, he has lifted 4x Champions League titles, 2x La Ligas, one Copa Del Rey and a lot of other trophies. Gareth Bale had a slow start to his Madrid career due to some injury issues, as he could only play five full games of the first possible 16 games.
But gradually, he grew into the team and became an integral part of the 'three-peat' winning team which is arguably one of the greatest teams ever. During the later years, due to several situations, Bale went out of favor of the Real Madrid management, and in the 2020 summer transfer window, he was loaned back to his former club Tottenham. After another failed campaign, he returned to Madrid, and is believed to be in the plans of new boss Carlo Ancelotti.
Some of the best Gareth Bale moments in the Madrid shirt
Gareth Bale has been in the spotlight always, be it on the pitch or off the pitch. Bale is known for some wrong reasons too, like the famous "In that order" banner and his short nap during the 2019/20 season. But his contributions overshadow the unfortunate events. Bale made his mark by winning the "La Decima" where he scored one of the most important goals in the UCL Final of 2014.
In the same season, he previously scored the most famous Bale goal, when he sprinted half the field while leaving Marc Bartra on the ropes, in the Copa Del Rey final to win it for them. With some silent years in between, Bale was up again scoring two, one of them being a ridiculous bicycle kick, in the 2018 UCL Final in Kyiv against Liverpool.
After some disappointing campaigns in the white shirt, Bale is back in the plans of the same manager who brought him in Real Madrid for the first time, as he is reunited with Carlo Ancelotti. With his contract running out next summer, this could be the last season of Gareth Bale in the Madrid shirt, and he would like to end this tale on a high.
Also read: Jamshedpur FC announce the signing of Ishan Pandita from FC Goa