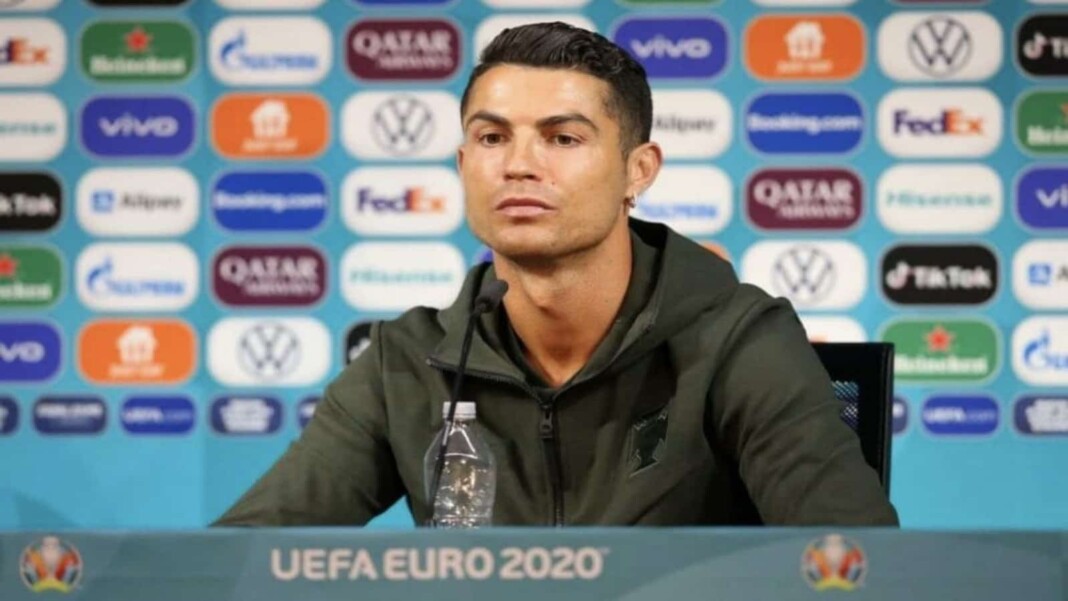 Cristiano Ronaldo is in the headlines once again, this time not with his feats on the football pitch, but rather outside. Ronaldo grabbed the headlines as he removed two Coca-Cola bottles from the desk at Portugal's press conference before their opening game of Euro 2020 against Hungary, quite to the surprise of everyone present there, even his national coach Fernando Santos.
Ronaldo moved aside the Coca-Cola bottles kept in front of him while preparing to speak to the media before Tuesday's Group F opener against Hungary. Following that, he lifted the water bottle from the table and said "Agua", which means Water in Portuguese, addressing everyone present there and watching to drink water instead of soft drinks.
Ronaldo removes Coca cola bottles during the press meeting, asks to drink water instead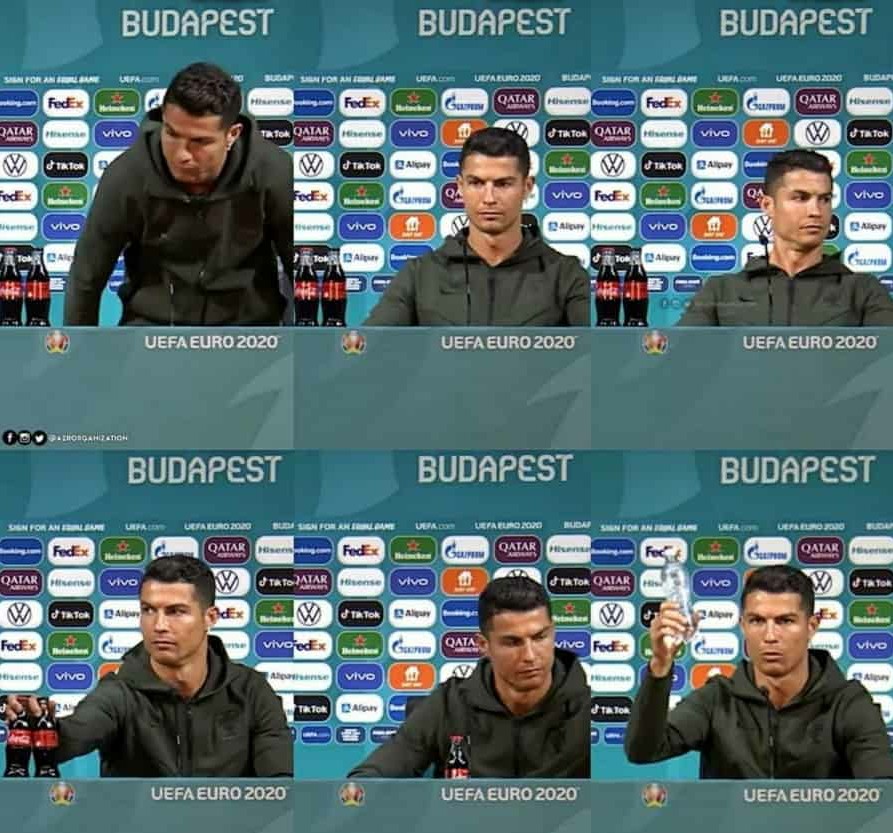 Ronaldo has for long set the benchmark for an ideal footballer throughout his illustrious career, and is quite well known for his fitness and professionalism, with his well maintained diet and rigorous training schedule testament to the same, helping him to stay at the top level even at this age. Cristiano has been open about his disliking to fast food and soft beverages, as he criticized those in the past.
As a matter of fact, Cristiano has even admitted that he had asked his son to steer clear of junk foods and soft drinks if he wants to be a footballer in future, as they largely hamper the fitness of a professional.
"My son has potential, We'll see if he will become a great footballer. Sometimes he drinks Coca-Cola and Fanta and eats crisps and it irritates me. I just want him to be the best in whatever he chooses to do. I always tell him, hard work is the most important." Ronaldo had earlier said in an interview in December.
This incident however had large repercussions, as Coca Cola share prices on the stock market took a major massive dip on Tuesday, after the incident, with the share prices falling from $55.71 at the start of the day to about $55.22 during mid-day, seeing a dip of about 0.87% in market shares, which costed Coca-Cola, one of the official sponsors of Euro 2020, about $2million approximately.
Portugal will be taking on Hungary on Tuesday in their Group F fixture and it is to now see whether Cristiano's actions could have any adverse disciplinary actions from UEFA as this act of his could be considered as a negative publicity for one of the key sponsors of the EURO 2020.
Also Read : Watch: Cristiano Ronaldo removes Coca Cola bottles at Euro 2020 press, ask to drink water