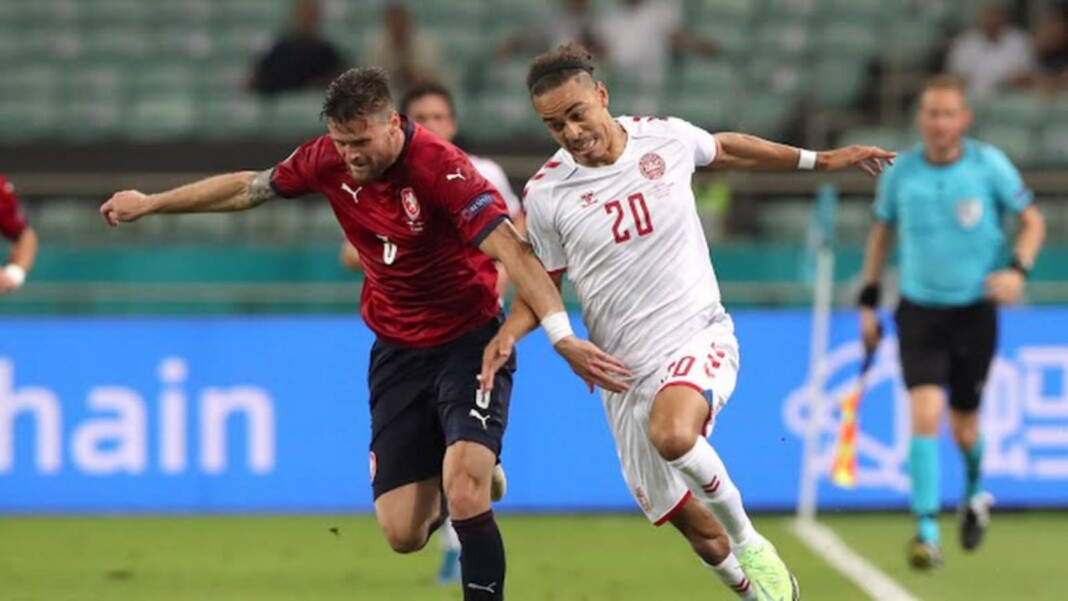 Denmark held on to their 2-1 lead over Czech Republic as they overcame a long difficult journey in this EURO 2020 as they await for the England vs Ukraine result to see who they face in the semis.
Denmark opened the scoring as early as the 5th minute as Thomas Delaney headed a corner completely unmarked. Kasper Dolberg doubled the lead in the 42nd min.
Czech Republic mounted a spirited comeback in the early second half as Patrick Schick pulled one back, but they could not sustain the momentum as they crashed out.
Czech Republic Vs Denmark Player Ratings
Here are the player ratings from the quarter final clash between Czech Republic and Denmark
Czech Republic player ratings
Tomas Vaclik (GK) – 7/10
He was very impressive today despite conceding two goals, he made some stunning saves that kept Czech in the game
Vladimir Coufal – 8/10
He was an able ally down the right wing and provided appropriate attacking support and even assisted Czech's only goal.
Ondrej Celus- 6/10
He had a poor showing, as he was the one charged with marking Delaney, he left him unmarked to score the opening goal for Denmark.
Tomas Kalas -6.5/10
He has an equally disappointing performance as he looked shadow of the player that performed so well vs the Dutch.
Jan Boril -6.5/10
He had a decent game, however he didn't have any impact in the match
Tomas Soucek – 7.5/10
Soucek played his heart out today, however it wasn't enough. Despite bleeding and heavily bandaged Soucek carried on an drove the Czech comeback but if felt short
Tomas Holes- 6/10
It was an impactless performance from his part. He wasn't involved in the proceedings of the match
Lukas Masopust – 6/10
He hardly offered any threat throughout the match and was subbed off early in the match. It was a very poor showing.
Petr Sevcik – 7/10
Even he didn't have a very impactful match by his standard. The decision making on many occasion was very poor from his side.
Antonin Barak – 6.5/10
Burdened with the creative duty, he didn't do well enough to see his team past the finishing line
Patrick Schick-7.5/10
He scored the goal that seemed to have handed Czech a lifeline, but he didn't have a great game considering how tremendously good he has been at this EURO.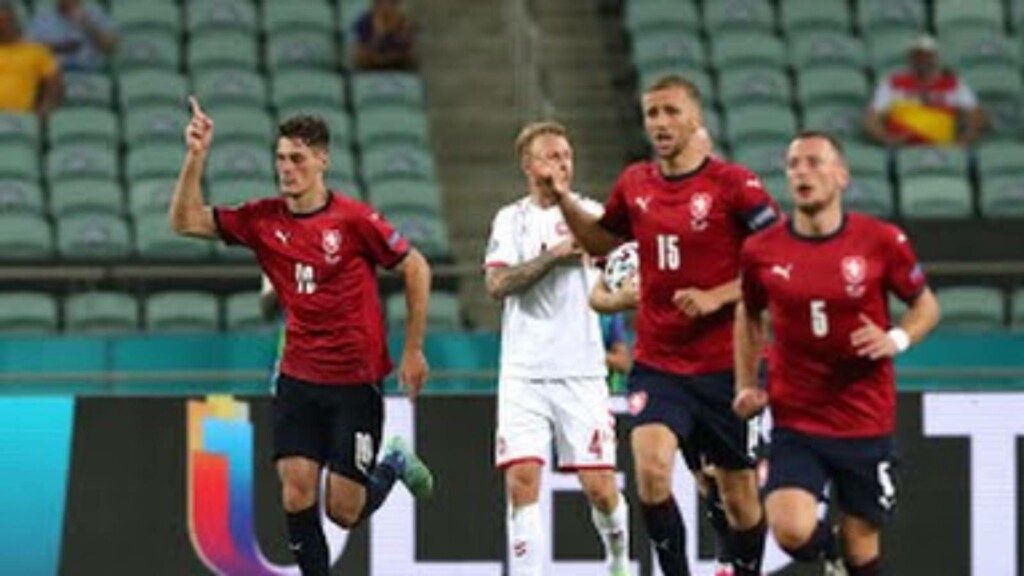 SUBSTITUTES
Jakub Brabec – 6/10
Vladimir Darida -7/10
Jakub Jankto – 6/10
Micheal Kremencik – 6/10
Matej Vydra – 5/10
Denmark Player Ratings
Schmeichel- 7.2/10 played his usual game. Didn't have much threat in the goal except Patrick Shick's goal in 49th minute
Simon Kjaer- 7.5/10 Played the role of a captain perfectly. Holding the defence line till the end to not let any last moment Equalizer slip in
Christensen- 7.2/10 Held the defenese along with Kjaer responsibly, making some good interceptions and challenges.
Vestergaard- 6.9/10 again played fairly well in the last line making some decent clearences
Maehle- 7.7/ 10 played a very important role in the flanks making important runs and crosses one of which helped Dolberg score in the end minutes of first half
Hojberg- 7.2/10 Hojberg- played the role of a defensive midfielder very well, making defensive as well as offensive runs throughout the match
Delaney- 8.0/10. Delaney also played a crucial role at the important knockout stage scoring the first goal from a free header to give the Danes an important lead.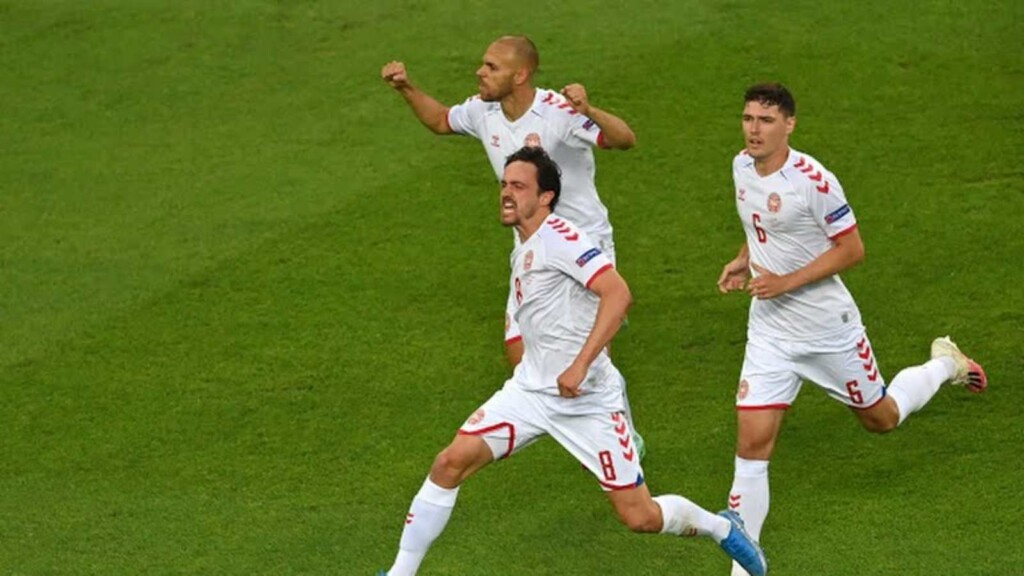 Laarsen- 7.7/10 Laarsen again was in charge of the right flank and he played that part correctly. Making way for the first goal through his important cross helped his country lead.
Braithwaite- 6.9/10 Though he didn't shine much like other matches today and was subbed of earlier,he made some intelligent runs nonetheless one of which allowed the second goal.
Daamsgaard- 6.8/10 Damsgaard had an average performance, having two shots on target and around 77% passing rate
Dolberg- 7.8/10 Dolberg played as the main striker again, making his presence feel for the Czech defenders and scoring an all important second goal in the 42nd minute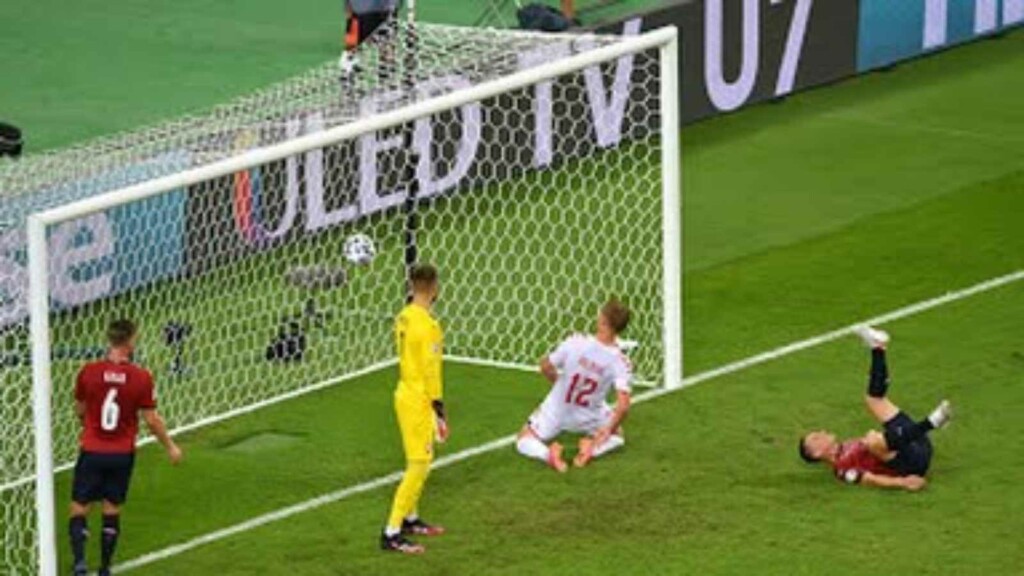 SUBSTITUTES
Poulsen – 6.5/10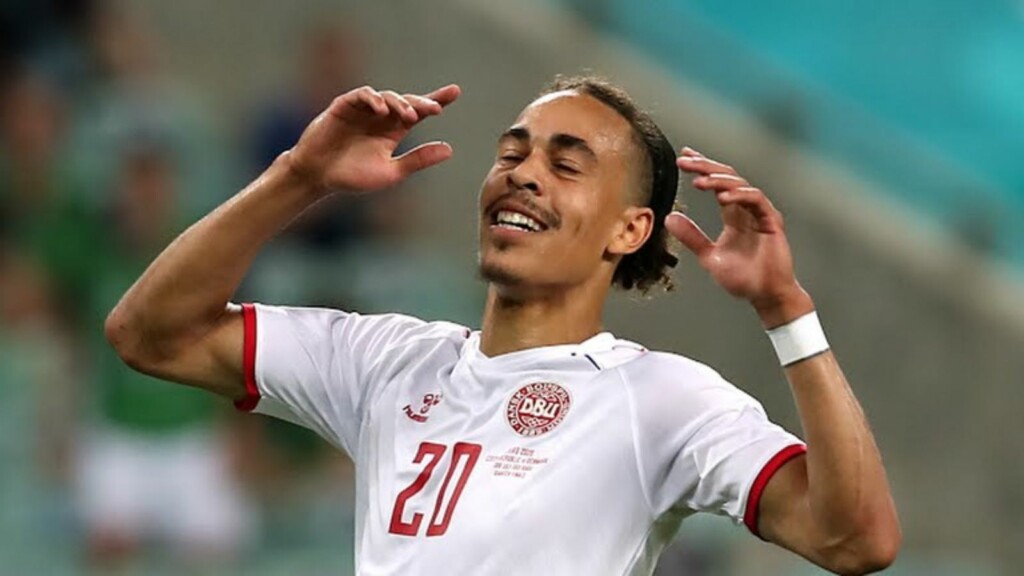 Norgaard- 6.3/10
Wass- 6.5/10
Andersen – 6.5/10
Jensen- 6.5/10
Player of the Match – Thomas Delaney (DEN) – 8.0/10
ALSO READ: Cristiano Ronaldo breaks another record as he finds himself at the zenith of Instagram Rich List 2021