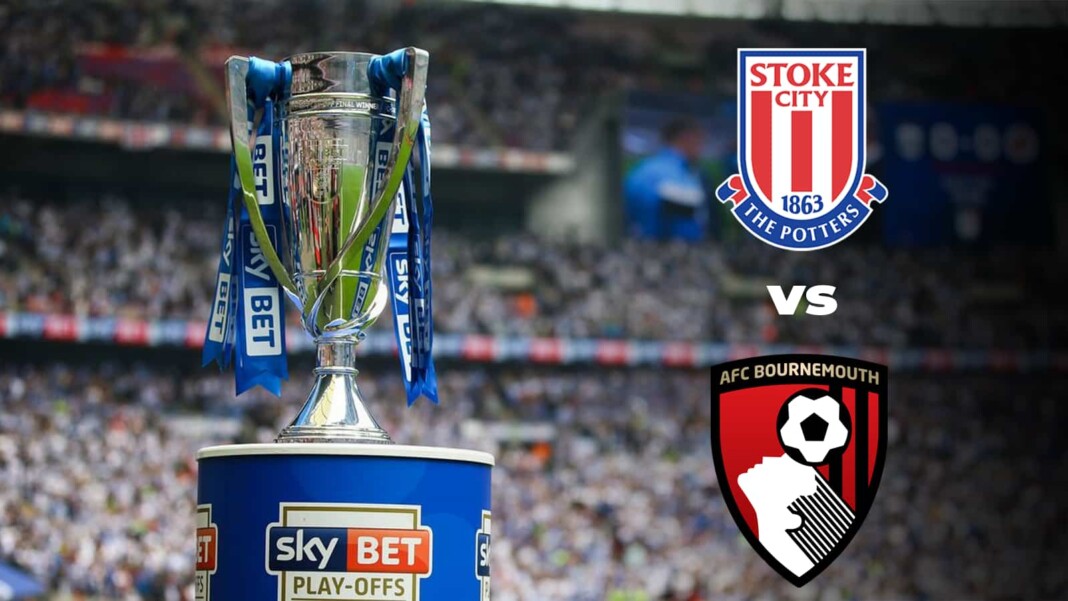 Stoke City vs Bournemouth: Stoke City will take on current EFL table-toppers AFC Bournemouth in matchday 13 of the EFL Championship 2021/22. Let's check out the teams' preview, match timings, and broadcast information ahead of the match.
Stoke City vs Bournemouth: Preview
Stoke City have had a decent campaign up until now in the second division, and are 5th in the table. They are 7 points off the top spot and have won 6, drawn 3, and lost 3 in the opening 12 matches of the season. Michael O'Neill's side have also made it into the fourth round of the Carabao Cup after defeating Premier League opponents Watford. The Potters, as they are affectionately called will have an uphill task of getting a victory against the in-form team of the second division.
Bournemouth have started off this season in the EFL Championship in supreme fashion, and are currently the top most team in the division. The Cherries are unbeaten in the division, and their last defeat came in a Carabao Cup fixture against Norwich way back in August. They have won 8 of their 12 matches, while the other 4 have ended in a draw. In their last match, they came out with a 2-0 victory courtesy of first-half goals from Jamal Lowe and Jordan Zemura.
Stoke City vs Bournemouth: Match Timings
| | | |
| --- | --- | --- |
| Date | Time | Timezone |
| Tuesday, 19th October | 11:45 AM | PST |
| Tuesday, 19th October | 2:45 PM | ET |
| Tuesday, 19th October | 6:45 PM | GMT |
| Tuesday, 19th October | 7:45 PM | BST |
| Wednesday, 20th October | 12:15 AM | IST |
Match Timings
Stoke City vs Bournemouth: Venue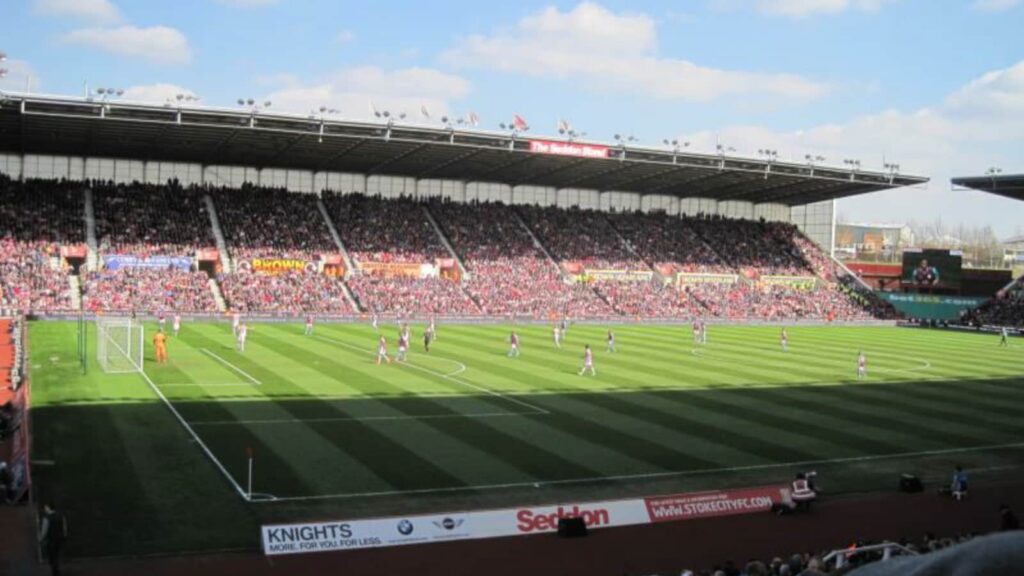 The EFL Championship fixture between Stoke City and AFC Bournemouth will be played at the Bet365 Stadium, which was previously known as the Britannia Stadium. It has a seating capacity of 30,000 and was first opened in 1998.
Stoke City vs Bournemouth: Predictions
Going by recent form, we expect a victory for the table-toppers- Bournemouth. They have shown their defensive resilience as well as what they can do higher up the pitch in front of the goal. We predict a 2-1 victory for the away side over Stoke City.
Stoke City vs Bournemouth: Live Stream
| | |
| --- | --- |
| Country | Broadcaster |
| India | Viacom |
| Bosnia & Herzegovina | Sportklub |
| Croatia | Sportklub |
| Kosovo | Sportklub |
| Macedonia | Sportklub |
| Montenegro | Sportklub |
| Serbia | Sportklub |
| Slovenia | Sportklub |
| Denmark | NENT |
| Finland | NENT |
| Norway | NENT |
| Sweden | NENT |
| Estonia | NENT |
| Latvia | NENT |
| Lithuania | NENT |
| Belgium | Eleven Sports |
| Bulgaria | Nova Sport |
| Czech Republic | Arena Sport, DigiSport |
| Slovakia | N/A |
| France, Andorra, Monaco & DOM TOMs | beIN Sports |
| Germany | DAZN, Sport 1 |
| Greece | Nova Sports |
| Hungary | Arena4 |
| Iceland | 365 Media |
| Israel | Charlton |
| Italy | DAZN |
| Netherlands | Ziggo |
| Poland | Eleven Sports |
| Portugal | Eleven Sports |
| Russia | Football-TV |
| Spain | DAZN |
| Turkey | beIN Sports |
| Armenia | Setanta |
| Azerbaijan | Setanta |
| Belarus | Setanta |
| Georgia | Setanta |
| Kazakhstan | Setanta |
| Kyrgyzstan | Setanta |
| Moldova | Setanta |
| Tajikistan | Setanta |
| Turkmenistan | Setanta |
| Uzbekistan | Setanta |
| Bahrain | beIN Sports |
| Iran | beIN Sports |
| Iraq | beIN Sports |
| Jordan | beIN Sports |
| Kuwait | beIN Sports |
| Lebanon | beIN Sports |
| Oman | beIN Sports |
| Palestine | beIN Sports |
| Qatar | beIN Sports |
| Saudi Arabia | beIN Sports |
| Syria | beIN Sports |
| UAE | beIN Sports |
| Yemen | beIN Sports |
| Algeria | beIN Sports |
| Chad | beIN Sports, Supersport, ESPN Africa |
| Djibouti | beIN Sports, Supersport |
| Egypt | beIN Sports |
| Libya | beIN Sports |
| Mauritania | beIN Sports, Supersport, ESPN Africa |
| Morocco | beIN Sports |
| Somalia | beIN Sports, Supersport |
| Sudan | beIN Sports, Supersport |
| Tunisia | beIN Sports |
| Angola | ESPN Africa, Supersport |
| Benin | ESPN Africa, Supersport |
| Botswana | Supersport |
| Burkina Faso | ESPN Africa, Supersport |
| Burundi | ESPN Africa, Supersport |
| Cameroon | ESPN Africa, Supersport |
| Cape Verde | ESPN Africa, Supersport |
| Central African Republic | ESPN Africa, Supersport |
| Chad | beIN Sports, ESPN Africa, Supersport |
| Comoros | Supersport |
| Congo | ESPN Africa, Supersport |
| Democratic Republic of Congo | ESPN Africa, Supersport |
| Equatorial Guinea | ESPN Africa, Supersport |
| Eritrea | Supersport |
| Ethiopia | Supersport |
| Gabon | ESPN Africa, Supersport |
| Gambia | Supersport |
| Ghana | Supersport |
| Guinea | ESPN Africa, Supersport |
| Guinea-Bissau | Supersport |
| Ivory Coast | ESPN Africa, Supersport |
| Kenya | ESPN Africa, Supersport, Azam |
| Lesotho | Supersport |
| Liberia | Supersport |
| Madagascar | ESPN Africa, Supersport |
| Malawi | ESPN Africa, Supersport |
| Mali | ESPN Africa, Supersport |
| Mauritania | beIN Sports, ESPN Africa |
| Mauritius | ESPN Africa, Supersport |
| Mozambique | ESPN Africa, Supersport |
| Namibia | Supersport |
| Niger | ESPN Africa, Supersport |
| Nigeria | ESPN Africa, Supersport, TStv |
| Rwanda | ESPN Africa, Supersport |
| Sao Tome & Principe | Supersport |
| Senegal | Supersport |
| Sierra Leone | Supersport |
| Seychelles | ESPN Africa |
| South Africa | ESPN Africa, Supersport |
| Swaziland | Supersport |
| Tanzania | ESPN Africa, Azam |
| Togo | ESPN Africa, Supersport |
| Uganda | ESPN Africa, Azam |
| Zambia | ESPN Africa, Supersport |
| Zimbabwe | Supersport |
| Hong Kong | i-Cable |
| Indonesia | Emtek |
| Macau | TDM |
| Singapore | Singtel |
| Vietnam | VTV |
| Canada | DAZN |
| USA | ESPN/BAMTech |
| Anguilla | Sportsmax |
| Antigua | Sportsmax |
| Aruba | Sportsmax |
| Bahamas | Sportsmax |
| Barbados | Sportsmax |
| Barbuda | Sportsmax |
| Bonaire | Sportsmax |
| Cayman Islands | Sportsmax |
| Curucao | Sportsmax |
| Dominica | Sportsmax |
| Falkland Isles | Sportsmax |
| French Guiana | Sportsmax |
| Grenada | Sportsmax |
| Guadeloupe | Sportsmax |
| Guyana | Sportsmax |
| Haiti | Sportsmax |
| Jamaica | Sportsmax |
| Martinique | Sportsmax |
| Montserrat | Sportsmax |
| Nevis | Sportsmax |
| St. Lucia | Sportsmax |
| St. Marteen | Sportsmax |
| Suriname | Sportsmax |
| Tortola | Sportsmax |
| Trinidad & Tobago | Sportsmax |
| Turks & Caicos | Sportsmax |
| Costa Rica | Sky Mexico |
| Dominican Republic | Sky Mexico |
| El Salvador | Sky Mexico |
| Guatemala | Sky Mexico |
| Honduras | Sky Mexico |
| Mexico | Sky Mexico |
| Nicaragua | Sky Mexico |
| Panama | Sky Mexico |
| Argentina | ESPN Sur |
| Bolivia | ESPN Sur |
| Brazil | ESPN Sur |
| Chile | ESPN Sur |
| Colombia | ESPN Sur |
| Ecuador | ESPN Sur |
| Paraguay | ESPN Sur |
| Peru | ESPN Sur |
| Uruguay | ESPN Sur |
| Venezuela | ESPN Sur |
| Australia | beIN Sports |
| New Zealand | beIN Sports |
Also Read: England's Wembley Stadium set to host closed-door matches as punishment