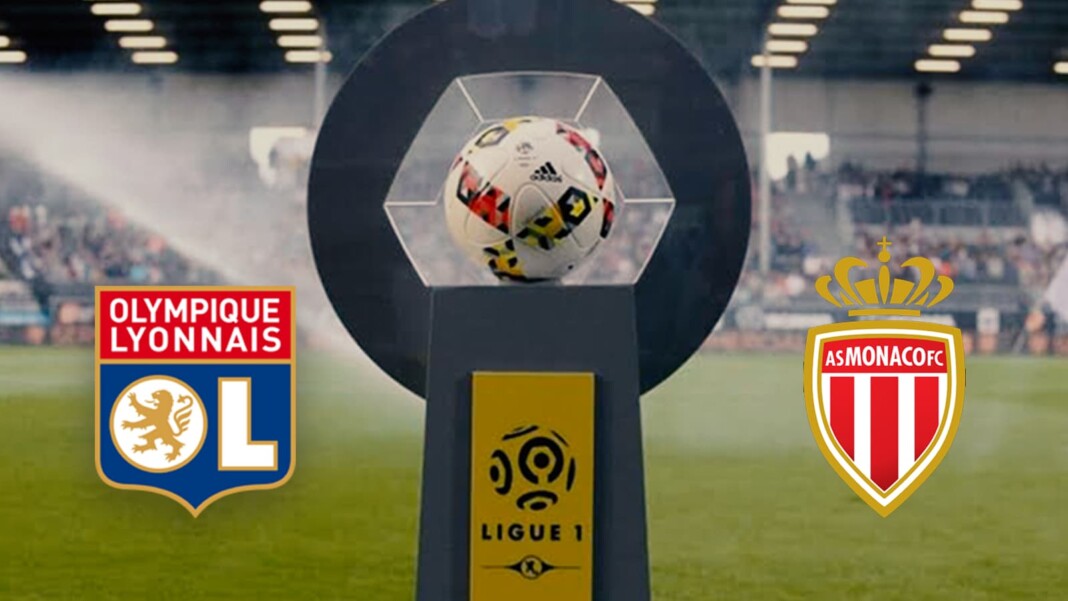 Olympique Lyonnais vs AS Monaco: With the international break coming to an end this week we will again be witnessing some live actions of the clubs as they battle out for the top spot in their respective leagues. Olympique Lyonnais will go head to head against AS Monaco this weekend as they are set resume their matches in Ligue 1. Let's check the team preview, match timings and broadcast info for the match.
Olympique Lyonnais vs AS Monaco: Preview
Olympique Lyonnais has not been able to create much of a difference in Ligue 1 in their first 9 matches as they are currently at the 10th position in the table with 3 wins, 4 draws and 2 losses. They will be looking to come back stronger with the end of the international break. In their last game they went up against Saint Étienne where they were comfortably winning 1-0 before the first half with a goal from Houssem Aouar but unfortunately a last minute penalty from Lyon was conceded and Wahbi Khazri grabbed the chance to score the equaliser from the 12yard spot at the 95th minute, ending the match in a 1-1 draw.
AS Monaco has had a decent start to the season and will be looking to get back in action with a much positive agenda to move up in the table, as they are currently in the 6th place with 4 wins, 2 draws and 3 losses. They went up against Bordeaux in their last game in Ligue 1 before the international break started as the match went on to end in a 3-0 scoreline in favour of Monaco with the home side completely dominating the game. Aurélien Tchouaméni, the young Frenchmen opened the scoring for Monaco to which later on in the game Aleksandr Golovin and Wissam Ben Yedder added to secure a comfortable 3 point in their name.
Olympique Lyonnais vs AS Monaco: Match Timings
| | | |
| --- | --- | --- |
| Date | Time | Timezone |
| Saturday, 16th October | 12:00 PM | PST |
| Saturday, 16th October | 03:00 PM | ET |
| Saturday, 16th October | 07:00 PM | GMT |
| Saturday, 16th October | 08:00 PM | BST |
| Sunday, 17th October | 12:30 AM | IST |
Olympique Lyonnais vs AS Monaco: Venue
The match between Olympique Lyonnais and AS Monaco will be played in the Parc Olympique Lyonnais, home ground of Lyon. The stadium has a capacity of 59,186.
Olympique Lyonnais vs AS Monaco: Prediction
The match between Lyon and Monaco will be an exciting contest to watch as both the teams return after the international break to make a place for them in Ligue 1. The prediction for the match is Olympique Lyonnais 3 – 1 Monaco.
Olympique Lyonnais vs AS Monaco: Live Stream
Country
Broadcast
India
Voot
Albania
SuperSport 4 Digitalb
Algeria
beIN Spoorts HD 2
beIN SPORTS CONNECT
Anguila
ESPN2 Carribean
ESPNPlay Carribean
Antigua and Barbuda
ESPN2 Carribean
ESPNPlay Carribean
Argentina
ESPN Sur
Star+
Armenia
Setanta Sports 1
Aruba
ESPN2 Carribean
ESPNPlay Carribean
Australia
Kayo Sports
Foxtel Now
Austria
DAZN
Azerbaijan
Setanta Sports 1
Bahrain
beIN Sports HD 2
beIN SPORTS CONNECT
Barbados
ESPN2 Carribean
ESPNPlay Carribean
Belarus
Setanta Sports 1
Belize
ESPN2 Carribean
ESPNPlay Carribean
Bermuda
ESPN2 Carribean
Bolivia
ESPN Sur
Star+
Bosnia And Herzegovina
Arena Sport 3 Serbia
Brazil
Estádio TNT Sports
GUIGO
British Virgin Islands
ESPN2 Carribean
ESPNPlay Carribean
Brunei
beIN Sports 1 Thailand
beIN Sports Connect
Cambodia
beIN Sports 1 Thailand
beIN Sports Connect
Canada
fubo TV Canada
beIN Sports Canada
Cayman Islands
ESPN2 Carribean
ESPNPlay Carribean
Chad
beIN Sports HD 2
beIN SPORTS CONNECT
Chile
ESPN Sur
Star+
China
PPTV Sport China
Migu
QQ Sports Live
Colombia
ESPN Sur
ESPN2 Colombia
Star+
Croatia
Arena Sport 1
Cuba
ESPN2 Carribean
ESPNPlay Carribean
Czech Republic
Nova Sport 1
Eurosport 2 Czech
DIGI GO
Djibouti
beIN Sports HD 2
beIN SPORTS CONNECT
Dominican Republic
ESPN2 Carribean
ESPNPlay Carribean
Ecuador
ESPN Sur
Star+
Egypt
beIN Sports HD 2
beIN SPORTS CONNECT
Estonia
Setanta Sport 1
France
Amazon Prime Video
Georgia
Setanta Sports 1
Gambia
SuperSport MaXimo 1
DStv Now
SuperSport Football Plus ROA
Germany
DAZN
Grenada
ESPN2 Carribean
ESPNPlay Carribean
Guadeloupe
ESPN2 Carribean
ESPNPlay Carribean
Haiti
ESPN2 Carribean
ESPNPlay Carribean
Honduras
ESPN2 Carribean
ESPNPlay Carribean
Hong Kong
Now Player
beIN Sports 2 Hong Kong
beIN Sports Connect Hong Kong
Hungary
Digi Sport 2
Indonesia
RCTI+
beIN Sports Connect Indonesia
beIN Sports 1 Indonesia
Iran
beIN Sports HD 2
beIN SPORTS CONNECT
Iraq
beIN Sports HD 2
beIN SPORTS CONNECT
Italy
20
Mediaset Infinity
Jamaica
ESPN2 Carribean
ESPNPlay Carribean
Jordan
beIN Sports HD 2
beIN SPORTS CONNECT
Kazakhstan
Setanta Sport 1
Kosovo
IPKO TVim
Arena Sport 3 Serbia
Kuwait
beIN Sports HD 2
beIN SPORTS CONNECT
Kyrgyzstan
Setanta Sport 1
Laos
beIN Sports 1 Thailand
beIN Sports Connect
Latvia
Setanta Sports 1
Lebanon
beIN Sports HD 2
beIN SPORTS CONNECT
Libya
beIN Sports HD 2
beIN SPORTS CONNECT
Lithuania
Setanta Sports 1
Luxembourg
Eleven Sports 1 Belgium
Martinique
ESPN2 Carribean
ESPNPlay Carribean
Moldova
Setanata Sports 1
Monteneggro
Arena Sport 3 Serbia
Monstserrat
ESPN2 Carribean
ESPNPlay Carribean
Morocco
beIN Sports HD 2
beIN SPORTS CONNECT
Netherlands Antilles
ESPN2 Carribean
North Macedonia
Arena Sport 3 Serbia
MaxTV Go
Oman
beIN Sports HD 2
beIN SPORTS CONNECT
Palestinian Territory
beIN Sports HD 2
beIN SPORTS CONNECT
Paraguay
ESPN Sur
Star+
Peru
ESPN Sur
Star+
Philippines
RCTI+
beIN Sports 1 HD
Puerto Rico
beIN SPORTS
ESPN2 Carribean
ESPNPlay Carribean
Qatar
beIN Sports HD 2
beIN SPORTS CONNECT
Romania
Digi Sport 3 Romania
Digi Online
Russia
Sportbox.ru
Match! Football 2
matchtv.ru
Serbia
Arena Sport 3 Serbia
Singapore
beIN Sports Singapore
beIN SPORTS CONNECT Singapore
Slovakia
Nova Sport 1
DIGI GO
Slovenia
Arena Sport 2 Slovenia
Somalia
beIN Sports HD 2
beIN SPORTS CONNECT
South Sudan
beIN Sports HD 2
beIN SPORTS CONNECT
Syria
beIN Sports HD 2
beIN SPORTS CONNECT
Tajikistan
Setanta Sport 1
Thailand
beIN Sports 1 Thailand
beIN Sports Connect
AIS PLAY
Trinidad and Trobago
ESPNPlay Carribean
Tunisia
beIN Sports HD 2
beIN SPORTS CONNECT
Turkey
beIN CONNECT Turkey
Turkmenistan
Setanta Sports 1
US Virgin Islands
ESPN2 Carribean
ESPNPlay Carribean
United States
fuboTV
Fanatiz USA
beIN Sports
beIN SPORTS CONNECT
Uruguay
ESPN Sur
Star+
Uzbekistan
Setanta Sports 1
Venezuela
ESPN Sur
Star+
Vietnam
ON Sports Premium
VTVcab ON
Yemen
beIN Sports HD 2
beIN SPORTS CONNECT
Also Read: Pedri set to sign a bumper contract with FC Barcelona