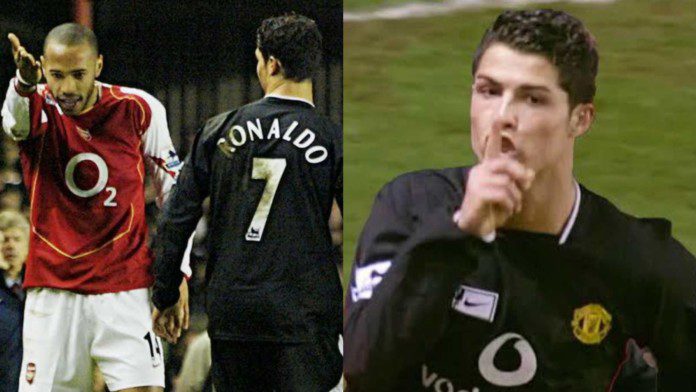 The iconic fixture between Arsenal and Manchester United was full of heated moments. It was a classic Premier League game between the two great sides at that time.
It was a head-to-head clash between so many iconic names that even hearing about them gives literal chills for the OG fans of English Football.
Some of the clashes go like this-  Sir Alex Ferguson v/s Arsene Wenger, Roy Keane v/s Patrick Viera, and the most iconic one Cristiano Ronaldo v/s Thierry Henry.
Throwback to the year 2005
This was the fixture everybody was eagerly waiting for because of the clash between the best player at the moment and the future best player of the Premier League i.e. Thierry Henry and Cristiano Ronaldo respectively.
A young Cristiano Ronaldo introduced himself to the English Premier League with an absolute masterclass. It was well and truly his night because he was the one man even the great Arsene Wenger was worried about.
It was a match that is well embedded in the minds and hearts of the die-hard English Football fans also because of the legendary clash between Patrick Viera and Roy Keane in the tunnel even before the kick-off.
Read More: How can Jadon Sancho become a superstar for Manchester United?
A New Villain for the Gunners
Cristiano Ronaldo was literally the public enemy number one at Highbury, as he literally showed everyone that why Sir Alex Ferguson bought him in the first place at Old Trafford.
He even had the balls to clash with Thierry Henry due to which the whole home crowd exploded and started booing him for the entire course of the match.
A Memorable Brace
It was a memorable brace by Ronaldo. A one that the Gunners fans didn't forget to this date. After that clash with Henry, Ronaldo replied by beating Jens Lehmann twice in the course of four second-half minutes.
This legendary brace was followed by an iconic gesture which was that he literally silenced the crowd by his goals as well as his celebration making him the perfect heel for the Gunners.
The game ended up 4-2, Where The Red Devils got the better of their arch-nemesis i.e.The Gunners.
It was really a nostalgic moment for every die-hard Manchester United fan because one of their own really introduced himself against the arch-rivals.
But the Arsenal fans were the ones who remembered this fixture the most.
The legendary movie quote from The Godfather perfectly sums up the situation which goes like this – " Keep your friends close but your enemies closer".
A Perfect Ending for the Perfect Night at the Highbury for all the Manchester United fans by the legs of one and only CRISTIANO RONALDO.
Read More: Timo Werner to Manchester United: Why Red Devils are interested in Timo Werner when he flopped at Chelsea?