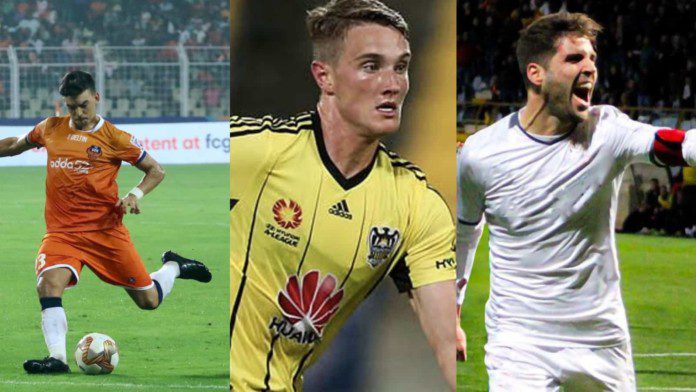 The Indian Super League (ISL) 2021/22 has already begun and fans are witnessing some really great matches in the tournament. Interestingly, FC Goa will begin their campaign on November 22, 2021 against the defending champions, Mumbai City FC.
FC Goa is one of the strongest teams in the ISL. Since the last season didn't turn out to be great for them, they have done quite a few changes in there squad this year. Here is the list of all the foreign players that will be representing FC Goa in the 2021/22 season-
1. Ivan Gonzalez  
A Real Madrid academy's graduate, Gonzalez has been brilliant for FC Goa since his arrival last year. The centre back has pivoted his role in the side and has laid out a strong wall that is hard to breach for any attacker. The Spaniard will look forward to delivering some amazing performances for the club this year as well.
2. Jorge Ortiz  
Ortiz has been a phenomenal forward for FC Goa and impressed a lot of fans last year with his incredible skills. The Spaniard scored 6 important goals for the Gaurs last season and will add experience to the young side this year.
3. Dylan Fox
Having played for Wellington Phoenix and the Central Coast Mariners in the past, Fox, is a new signing for FC Goa. The Centre back is coming from ATK Mohun Bagan even though he played a huge role in their defense last year. It will be intriguing to see what value does the Australian add to the club.
4. Edu Bedia
Who can forget the famous Bedia! He was the one who scored the winner that helped the Gaurs to win their first-ever Durand Cup last year. He has been there in the club since 2017 and plays the significant role of the central defensive mid-fielder. Interestingly, just like last year, he will be leading the side in the 2021/22 season as well.
5. Airam Cabrera
Cabrere is yet another new arrival in FC Goa this season. The 34-year-old is a phenomenal striker who will like to fill the vacancy of a goal scorer for the Guars- an area that they have been trying to work on for quite some time now.
6. Alberto Noguera
The former Atletico Madrid mid-fielder has one year of his contract left with FC Goa. He made 20 appearances for the club last year and there are reports that he will sign a new contract soon.
Thus, these are the six players that are there in the foreign lot of FC Goa. Will they, along with the other players, be able to guide the Gaurs to their first-ever ISL title this year?
Also Read: ISL 2021-22: Who are Jamshedpur FC's foreign players?