Former Cameroonian star Samuel Eto'o attacked a fan trying to record the player amongst other people attempting to take a selfie with the star. Brazil beat the South Koreans with a huge margin of 4-1. After the defeat, the former player moved out of the stadium when the horrendous incident occurred. The former football player was seen attacking a fan and ridiculously kicking him on his shoulders when the fan fell. The reasons for the attack are still unknown.
Many fans try to indulge in activities that tend to bother the players around them but losing your cool, that too, to such an extent, is never going to be appreciated by anyone. Samuel Eto'o has gathered much criticism from social media citizens and the rest of the world who have witnessed the incident. The footage shows that the fan was trying to hide and get away from the player while the former star was getting on his face to confront him.
People around the former footballer surrounded him from harming the fan, but the man couldn't control his anger. It can't be a situation where the star was deliberately attacking the fan, as the whole fault can not be drawn upon the player; the fan must have done something to make the player so angry that he wouldn't stop even after four people were forcing him to. These incidents are a shame and must not happen on the territories where football is associated.
READ MORE: PSG's Lionel Messi breaks the long-standing record of Brazil icon Pele in last night's Champions League masterclass
Brazil's domination against South Korea in the Round of 16 of the 2022 FIFA World Cup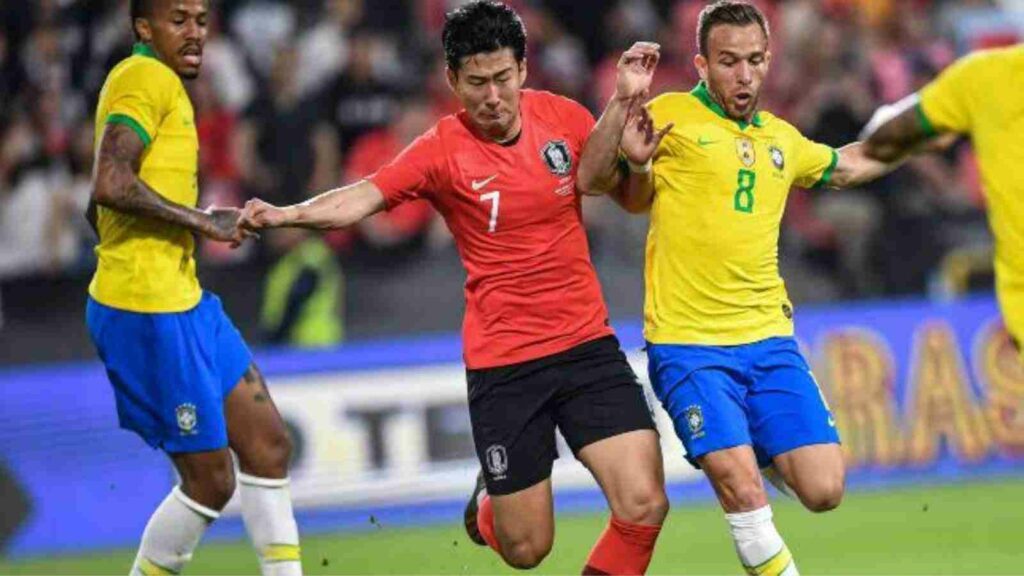 Brazil triumphed to a 4-1 win over South Korea, riding on goals from Vinicius Junior, Neymar, Richarlison, and Lucas Paqueta in the first half of the game. South Korean player Seung Ho Paik scored a scorcher outside the penalty box as a consolation. After this win, Brazil progressed to the quarterfinal of the FIFA World Cup 2022. The Selecao will take on Croatia in the last eight after the Croatian side, led by Luka Modric, edged past Japan on penalties just a day prior.
After returning to action after injuring his ankle in the opener a few matches ago and missing two games, Neymar got in on the scoring just a few minutes later and gave an assist. Richarlison was fouled in the box, and the Brazilians turned to their second-all-time leading scorer to launch the penalty kick. After scoring in the 13th minute, Neymar now has 76 career goals for Brazil, only one behind the great Pele for Brazil's record.
ALSO READ: "Not soccer, not football, it's called Futebol"- Fans react as Brazil slam 4 against South Korea to seal 2022 FIFA World Cup quarter-final spot
ALSO READ: WATCH: Jude Bellingham's cheeky response when asked to move to Real Madrid after the 2022 FIFA World Cup