Things got heated between Argentina and the Netherlands in the second match of the quarter-finals at the 2022 FIFA World Cup. Argentina and the Netherlands are in a tight battle and emotions are spilling over.
Argentine midfielder Leandro Paredes threw down Nathan Ake with a harsh side tackle and went ahead to kick the ball into the Netherlands bench. Well, the Dutch side did respond with the whole bench coming over the touchline to fight with the South American men.
During the fight, Van Dijk throws Paredes to the ground and gets fortunate to not revive a red card. The tackle and kicking of the ball toward the Dutch sidelines got Paredes a yellow card. But, no card was shown to the Netherlands raising eyebrows at the officiating.
Also Read: "Everyone should show more respect to one of the greatest athletes," Mesut Ozil criticizes media for continuous onslaught of Cristiano Ronaldo
Fans react to Argentina-Netherlands fight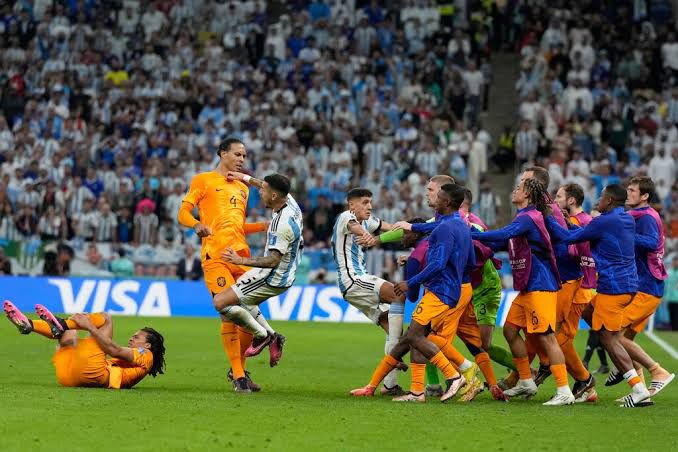 Fans raised questions on the referring with no cards shown to the Dutch bench for taking over the sidelines to fight with Argentina players apart from Paredes for his tackle. "How the heck was that a single yellow?", "This ref is done for the World Cup. Horrible." – Fans complained after not being impressed by the referring.
While other fans quickly noted that a fight has to occur when a South American team is playing. "Average south American game," said a fan. The foul of Van Dijk on Paredes deserved a red card as per a lot of fans.
Also Read: Manchester United Board of Directors refuses to give The Glazers the semi-annual dividends amidst the owners' decision to sell the club
Twitter reactions to Argentina – Netherlands fight at the 2022 FIFA World Cup
Read More: "A Hero; Using cheat code"- Fans hail Croatian goalkeeper Dominik Livakovic after his brilliant saves against Brazil at 2022 FIFA World Cup quarterfinals
Read More: "Samba dancing out of the competition" – Twitter reacts as Brazil crumble against Croatia on penalties at 2022 FIFA World Cup quarterfinals