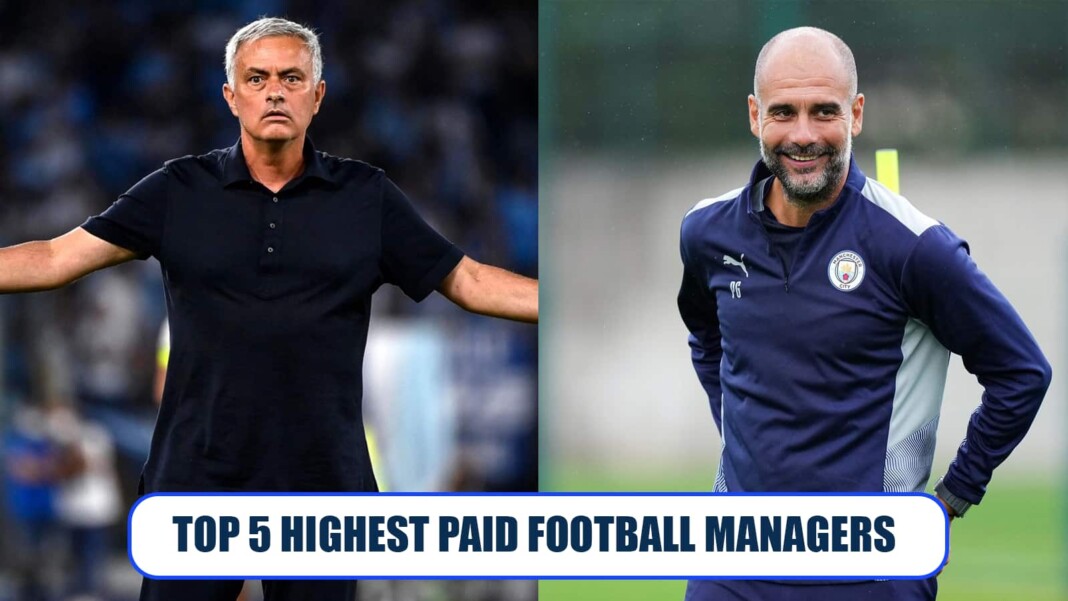 In the footballing world, it is common for a person to focus on how much money players are earning while overlooking the reality that football managers are paid handsomely as well. Top managers like as Jose Mourinho, Pep Guardiola, and others are renowned to make huge sums of cash. Their income is not just derived from coaching as they also assist brands in advertising and are paid to analyze matches.
Paying a manager has a lot of other factors rather than paying a transfer fee, unlike the players. Julian Nagelsmann's switch from Leipzig to Bayern was the only instance from recent times when a club paid another club to free a manager off his duties, and the switch was believed to be made for €25m.
But what wages the manager receives, is just a tiny fraction of what the top players earn. However, the sign-on fees for the managers are believed to be something that enlarges the pockets of the managers. But how much do they earn?
Let us find out the Top 5 highest earning coaches in the world right now.
5. Jurgen Klopp
Jurgen Klopp, who is known for his high-pressing playing style and passionate celebrations, is surprisingly low down on the list, despite recently being named the Best FIFA Men's Coach in 2019 and being one of the best football managers of recent times.
Klopp has always had taken over clubs at low points and have taken them to the summit. With Dortmund, Klopp broke the Bayern dominance with two consecutive league titles and a UCL final, and then went on to win the UCL with Liverpool and the Premier League the following year. Klopp is currently pocketing €11m every year in his Liverpool days.
4. Fabio Cannavaro
Cannavaro, maybe the lone outsider on this ranking, has benefited from the enormous money in Chinese football and makes €12 million each year. The 2006 Ballon d'Or recipient is considered as one of the finest centre-backs of his age, peaking with Italy when they won the World Cup in 2006.
He has spent his entire management career in Asia, with the exception of a four-month tenure at Al Nassr in the Middle East. After winning promotion to the Chinese Super League with Tianjin Quanjian, he has been the manager of Guangzhou Evergrande since 2017, winning the Super League championship in 2019.
3. Diego Simeone
By being with Atletico Madrid since December 2011, the unconventional Argentinian has the status of being the list's longest-serving active manager as he earns a massive €15m per year. As a player, he became an icon with the club after guiding them win the La Liga and Copa del Rey double in 1995-96.
Simeone returned to Atletico Madrid after successful managerial stints at Estudiantes and River Plate, and he lifted the Europa League in his debut campaign. Atletico are known for their strong defensive approach, having kept the most clean sheets in four of the previous five seasons.
2. Jose Mourinho
The Special One, who manages to grab silverware wherever he goes, is unsurprising to find on this list. Jose was never a particularly good player, appearing in only a few top-flight games before turning to managing. Mourinho began his coaching career as a translator for different clubs, including Barcelona, and had his first taste of success as a head coach in his home Portugal.
Mourinho won Champions League with Porto and Inter, and league titles in all the countries he has set foot on. Currently, he is in AS Roma, earning €17m per year making him the second highest paid football managers currently.
1. Pep Guardiola
No surprise, therefore, that the team with the gigantic pockets, Manchester City splashed all out to get probably the finest manager in all of football right now, putting him at the pinnacle of the list of highest paid football managers as he earns a whopping €23m every year.
Pep won back-to-back Premier League titles after a difficult first season and Manchester City were the first Premier League centurions in the 2017/18 season. But what would disturb Guardiola from within would be the fact that he has not won a Champions League with a club other than Barcelona.
Also read: Top 3 players that made international football debut last month