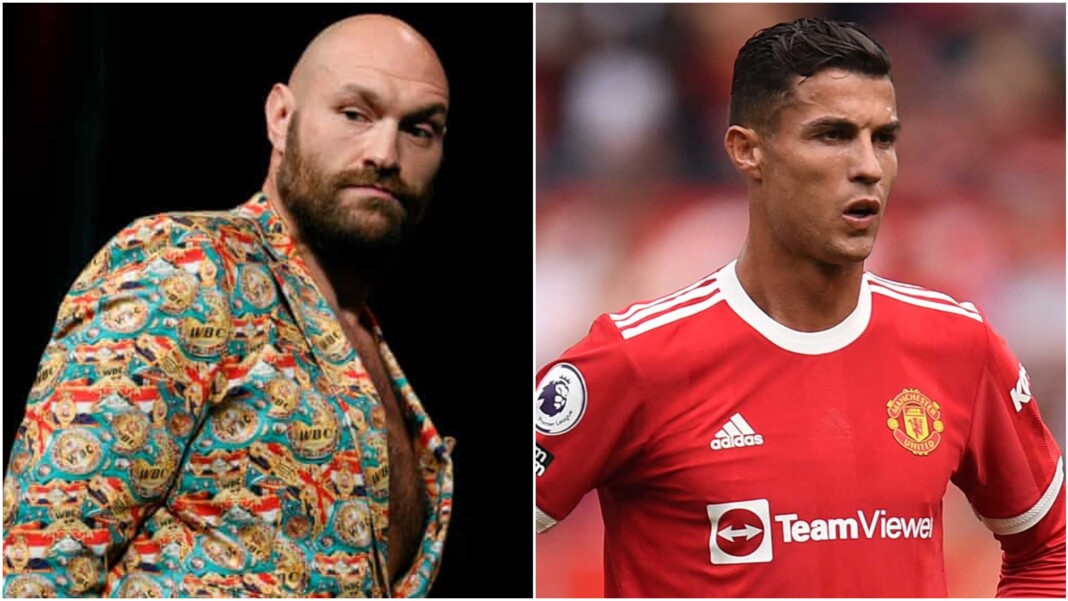 Cristiano Ronaldo is back at Old Trafford, and it's already been more than a month. The star footballer has already won the Premier League Player of the Month in his very first month at Manchester United since 2009. Scoring 3 goals in as many matches, CR7 looks primed for yet another stellar season.
Elsewhere, Mancunian, Tyson Fury has been killing it in the Boxing ring. The heavyweight boxer recently defeated Deontay Wilder in a trilogy bout to put an end to a three-year old rivalry. 'The Gypsy King' is still undefeated in 32 fights, racking up 31 wins, going alongside 1 draw.
In a recent interview with the Sun, Fury spoke about his dream to fight a title fight at the 'Theater of Dreams' – Old Trafford ,before expressing his happiness at Cristiano Ronaldo being back at Old Trafford. He then jokingly stated that it would be a problem if he lived in the heart of Manchester.
"I'm an hour up the motorway in Morecambe" – Tyson Fury on Cristiano Ronaldo having plenty of distance
Fury was quoted as saying, "I'm really happy Ronaldo's back at Old Trafford – but this town ain't big enough for the both of us! If I lived in Manchester it would be a problem. But I'm an hour up the motorway in Morecambe so he's got plenty of distance."
Tyson Fury and Cristiano Ronaldo are arguably the greatest sports stars in their respective fields. Scoring umpteen goals year in and year out, Ronaldo has shown no signs of stopping anytime soon. On the other hand is Fury who has been untouchable throughout his career, especially after a recovered from his mental ailment.
Ronaldo has got a busy schedule coming up. Manu will be gearing up for some of the toughest run of fixtures, starting with Leicester City on the 16th of October. Meanwhile, Fury will be looking ahead to getting hold of all the available belts in the heavyweight division.
Also Read: UFC Vegas 39: Dern vs Rodriguez prelims results
Also Read: Throwback to when Tyson Fury mocked Deontay Wilder ahead of their rematch weigh-in in 2020