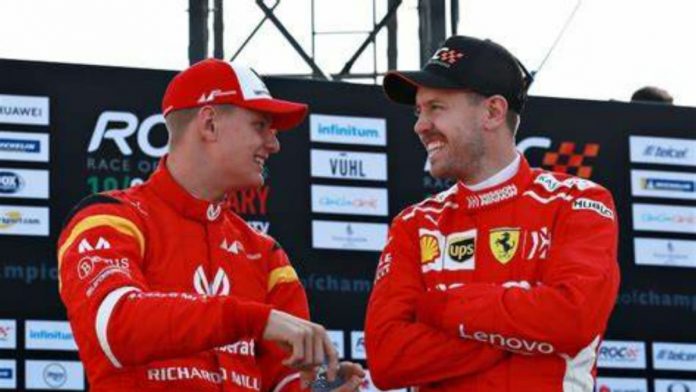 When Michael Schumacher returned to Formula 1 in 2010, he was a mentor to Sebastian Vettel who was in his 20s. The latter has always appreciated Michael Schumacher's effort to improve his each of his mistake during his 4-world championship reign. Vettel stated that he wanted to return this favor to Michael's son, Mick Schumacher, now that he has joined the grid in his rookie days.
So far in the Formula 2021 season, it seems like Mick Schumacher and Sebastian Vettel have formed a good friendship. Schumacher's team, Haas, have the worst car on the grid this year and it will stay that way as they have chosen not to develop in it to focus on 2022 instead. Yet, he's enjoying his time there and says that the supportive atmosphere within the team is helping him develop. 
What did Mick Schumacher say about his friendship with Sebastian Vettel?
"There is loads of advice Sebastian Vettel has given me. Most of them are secret because they are from a competition sport," the German said, quoted by GPFans. 
Mick Schumacher added, "But I have huge respect for him and I think we can call that a friendship, which is very nice for me. He has got so much experience and [there is] so much I can learn from him. The biggest advice is really to never forget why I am here, because we love the sport, and I guess once you lose that, you are in the wrong place. 
"I am enjoying my life, I am doing the best thing in the world so I think it is great to have someone like him to give me advice."
Furthermore talking about his team, Mick stated, "I withdraw that confidence from the team that they are giving me, they have a huge trust in us drivers. I have a huge trust in my team and that is that bond that is building at a very steep level now. 
"That is going to make those fine differences at the end of the timing sheet because you have such a strong connection to the team." 
Also Read: "Should not write off Fernando Alonso so soon": Paul di Resta
Also Read: Formula 1 Drivers have become more 'Rude' than before: Kimi Raikkonen