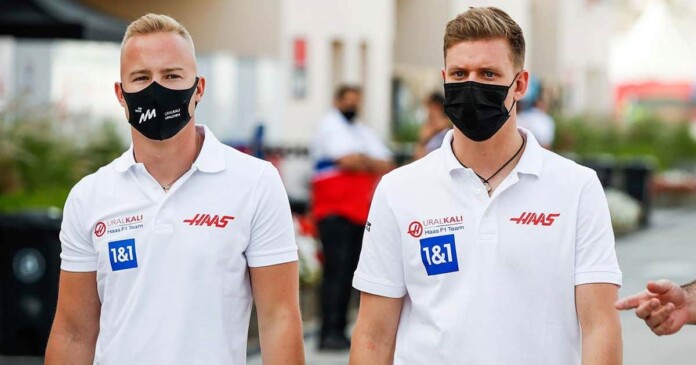 The 2021 season was dramatic, chaotic and controversial but was also the most entertaining and interesting Formula 1 season in the recent history. The 2021 season saw Red Bull's Max Verstappen Ending Mercedes's Lewis Hamilton's years of dominance in hybrid car era by overtaking and subsequently beating him in the season finisher in Abu Dhabi GP.
The 2021 season also so some Rookies entering the F1 track and some young gun's showing their skills. AlphaTauri's Yuki Tsunoda and Haas duo Nikita Mazepin and Mick Schumacher debuted in F1 in 2021 and made interesting impacts.
Nikita Mazepin is a Russian Formula 1 racer who is dubbed as one of the 'Pay drivers' of formula 1 who came to the F1 scene without quite making a ground breaking impact in F2 as Rookies tend to do. Nikita Mazepin haven't had a good season with Hass where both the car and his misfortunes in track didn't help him.
Nikita Mazepin finished p21 in drivers' championship right at the bottom below his teammate Mick Schumacher who often got the upper hand on him where we saw the partners fighting for the bottom places. Nikita Mazepin had his highest finishing at p17 and Mick Schumacher at p 14 in the 2021 season.
Find out what Nikita Mazepin said
Nikita Mazepin said that he had few good battles in 2021 and he felt more comfortable with Hass's 2022 challenger. Nikita Mazepin said he feel he is 100% ready and he has the confidence and awareness about his car's proportions, a well-balanced and predictable car such as he has now will make it easier to drive.
"Of course, I am. I feel 100% ready," Nikita Mazepin said.
"I had a few good battles this year with some faster cars and I felt comfortable," Nikita Mazepin stated.
"For me, mainly fighting with people, I need to know exactly where my rear wing ends and where the front wing ends, so I know exactly how to position my car next to them,"
"I feel like I have that confidence. I remember it was very scary in the first race in Bahrain because the cars are very long and wide. But now I'm in a good place, so driving a more balanced car and more predictable car should make it easier and more enjoyable," Nikita Mazepin explained.
Nikita Mazepin went on to say he wasn't satisfied even by a good weekend, as per Hass car's standard, finishing in front of my teammate Mick Schumacher , P19 and he craved for having a race where he influenced the final result. Nikita Mazepin said he sees 2021 season as positive and confidence boosting.
"Ultimately for me, when I turn up to a racetrack, it's about going through that purpose of myself and going through racing and actually feeling like you can influence the result. But [in 2021] even if it is a good weekend finishing in front of my teammate, P19, it is a bit difficult to really go home satisfied," says Nikita Mazepin.
"I think overall it [the season] was positive. We made huge steps forward in my confidence and in my understanding from the point where we started," Nikita Mazepin added.
Nikita Mazepin also explained his roller-coaster of a season in 2021 and said he knew what he was going into and he is in right place to put things back together for his F1 career.
"I've had very good races in the beginning of the year, then some difficult ones and then some good ones as well and some difficult ones. So, you know, life in F1 isn't consistent to anyone. But we always knew what we were going into, and '22 is the year when we put things together. And I think I'm in a good place to do exactly that," Nikita Mazepin explained.
Also Read: Esteban Ocon willing to sacrifice his holidays for Max Verstappen-Lewis Hamilton title battle