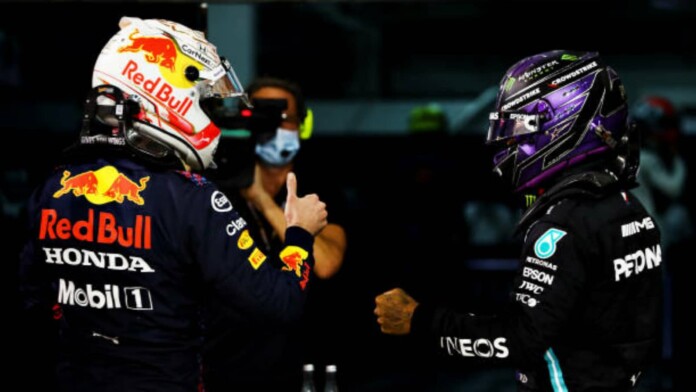 Max Verstappen suffered a late tyre failure at the Azerbaijan GP on Sunday, as he missed out on a chance to secure his second consecutive race win. Lewis Hamilton also made a late error, as the Briton finished outside the points, with Sergio Perez taking the P1 position.
As things stand, Max Verstappen leads the championship by four points, with 105 points from six races. Hamilton is placed second with 101 points. Verstappen believes that the pressure on the Mercedes driver is forcing him to make mistakes.
"Everyone makes mistakes under the pressure we are under. It has happened to me as well. Lewis is in a different situation now to the years before. Until now, his team-mate was his only opponent," said Max Verstappen.
"This season, for the first time, he is racing against drivers from other teams again. It's a completely different dimension," he added.
Need to keep putting new parts to the car: Max Verstappen
There will several changes taking place in Formula One from next season, with newer regulations in place. Many teams have already invested huge amounts of money to develop cars for the next season.
Max Verstappen believes that Red Bull have an opportunity to defeat Mercedes this season, and they will not throw it away in favor of the next season.
"If we want to beat Mercedes we can't let up, we have to keep putting new parts on the car," said Verstappen, quoted by Auto Motor und Sport.
"As long as the chance of winning the World Championship title is so great, we have to stay on the ball. It would be stupid to throw something away now just to look ahead to next year. Who gives you the guarantee that we will win next year if we concentrate fully on the new car now?," he added.
Also Read: Max Verstappen reveals off-track relation with Lewis Hamilton