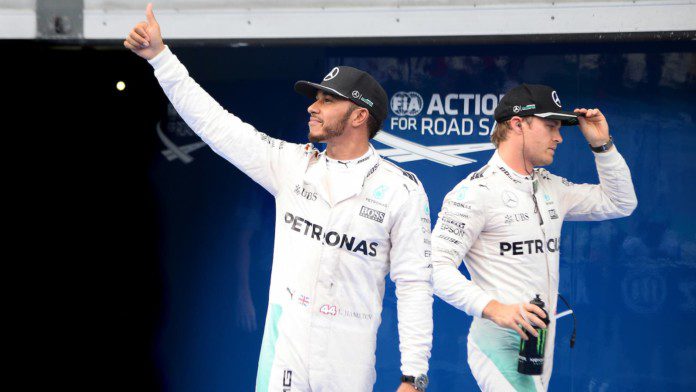 A championship battle going right down to the wire is a dream scenario for every single Formula One fan. It is only often that we get to witness an F1 championship being decided by the final race of the season. After over 20 races and a grueling calendar, it is just one circuit that decides as to which way the pendulum swings.
The current F1 season could not have got any more closer, as Max Verstappen and Lewis Hamilton are level on points before the season finale in Abu Dhabi. Abu Dhabi GP has been held as the final race of the season since quite a while, as the track has never failed to deliver.
2016 was the last year when the championship went right down to the wire. Since the past four years, Lewis Hamilton has been running away with the titles much before the final race of the season. Five years ago, it was an all-Mercedes battle for the drivers championship, as Nico Rosberg and Lewis Hamilton gave it their all out in the dessert city.
Nico Rosberg vs Lewis Hamilton- A classic battle that went down to the wire
Nico Rosberg and Lewis Hamilton were involved in a fascinating battle in the 2016 season. Things turned sour between the two championship contenders, which hindered their relationship off track. Although they had sealed the Constructors championship way earlier, there was personal agenda on offer in Abu Dhabi.
Nico Rosberg entered the Abu Dhabi GP 2016 with a lead of 12 points over Lewis Hamilton. All Rosberg needed to claim his first ever championship was to be on the podium. As for Lewis Hamilton, he required a podium finish at the least to remain in contention.
Lewis Hamilton earned a pole position in Saturday's qualifying, with Nico Rosberg starting alongside him on the front low. Hamilton led the race going into Turn 1, as Nico Rosberg was cautious and wanted to avoid any sort of contact with his Mercedes teammate.
Eventually, Lewis Hamilton brought his Mercedes home to secure a win, whereas, Nico Rosberg finished P2 to secure the title. Sebastian Vettel finished P3, and put Rosberg under tremendous pressure in the final laps of the race.
Red Bull had urged Max Verstappen to push harder on Sebastian Vettel, who was himself chasing Nico Rosberg. The Finnish driver could have lost the championship if he was overtaken by both Vettel and Verstappen.
In a shocking announcement, Nico Rosberg stated that he would hang up his helmet just one week after his first ever F1 title. Rosberg was the only driver except Max Verstappen who managed to push Hamilton to the very limit.
Also Read: "Max Verstappen needs to think about his driving standards," Martin Brundle unhappy with the Dutchman's conduct at Saudi Arabia GP