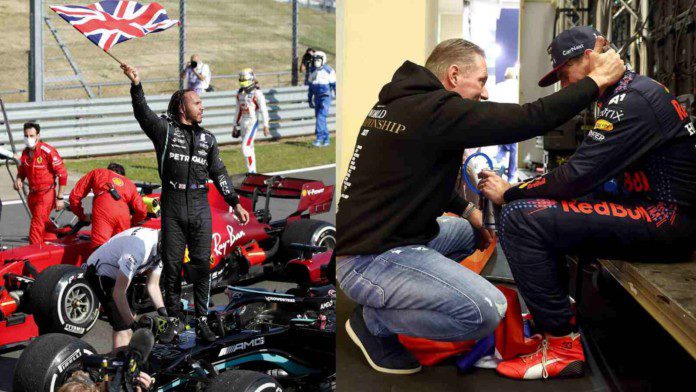 If there was one moment in the season, where things got ugly between the two sides, and you just knew that we were all set for an exciting battle, it was at the Silverstone GP in July. Max Verstappen and Lewis Hamilton had their first high intensity crash at Silverstone, where Verstappen went crashing into barriers, and thankfully, came out unscathed.
Lewis Hamilton went on to win the race, making the pass on Charles Leclerc towards the very end. It was a very emotional victory for Lewis Hamilton, with Silverstone being his home Grand Prix. Moreover, Red Bull and Max Verstappen were on the charge, as they had claimed three successive wins, as the Dutchman had established a 33 point lead over Hamilton.
Jos Verstappen in a conversation with David Coulthard recalled the moment, and how he was unhappy with the way Mercedes celebrated after winning the British GP, whilst Max Verstappen was recovering from the crash in the hospital.
Also Read: Max Verstappen picks the driver whom he admires the most for his 'fighting spirit'
Mercedes celebrated like they had won the championship: Jos Verstappen
Jos Verstappen was shocked with the Silverstone GP crash, and his top priority was to make sure that his son was safe. Giving his own point of view in the interview, Jos Verstappen stated that it was reckless on the part of Mercedes to celebrate like they did after winning the British GP.
"After the race, they were celebrating like they won the championship, Toto and Lewis Hamilton. And I was sitting in the hospital with him (Max Verstappen) to see if everything is all right. As a dad, I do not like it. You said someone to the hospital and celebrate like crazy. For me that was a very difficult time," said Jos Verstappen.
Things started getting heated up from the Silverstone GP, as Max Verstappen and Lewis Hamilton pushed other till the absolute limits. Lewis Hamilton made his point very clear, as the Briton would no longer back out in battles with Max. Verstappen realized that he would be up against an absolute warrior in Lewis Hamilton if he is to win his first title.
Also Read: "That's in his DNA," proud father Jos Verstappen applauds the fighting spirit of Max Verstappen after being crowned F1 champion