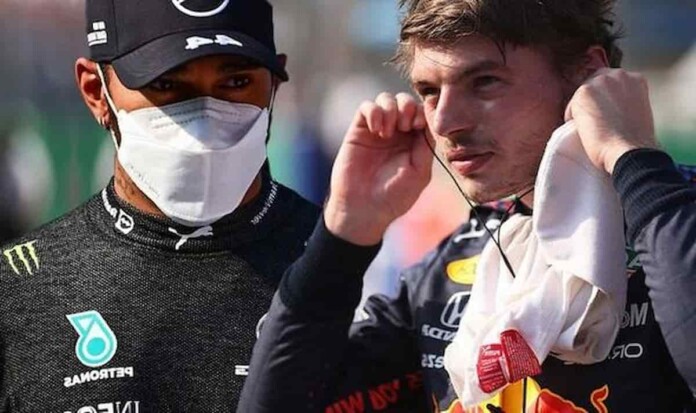 Max Verstappen and Lewis Hamilton put on a show in the first ever Saudi Arabian GP last weekend. The race was eventually won by Lewis Hamilton, as the championship moves to the deciding race in Abu Dhabi this weekend.
Max Verstappen was criticized by several fans and ex-drivers after his aggressive driving at Jeddah. Former F1 driver, Martin Brundle believes that the 24-year-old went over the line last weekend, and questioned his driving standards.
Max Verstappen and Lewis Hamilton were involved in several incidents throughout the race. Eventually, Verstappen was awarded two penalties for two separate incidents. A 15-second time penalty for the Dutchman did not change the results, as Verstappen was well clear of Valtteri Bottas who finished P3
"I think Verstappen has got to think about his driving standards," Brundle told Sky Sports, as quoted by RacingNews365. "They were too much today. There's aggressive, determined, feisty racing and then there's what we saw this evening, which was too much," he added.
Max Verstappen's legacy could be tarnished: Martin Brundle
Martin Brundle revealed that he is a huge fan of Max Verstappen's driving abilities. However, he fears that the youngster could very well tarnish his own legacy in F1 if he continues to race beyond the limits of what is permissible.
Brundle drew similarities between Hamilton-Verstappen rivalry and Ayrton Senna-Michael Schumacher rivalry, and believed that the latter duo made several mistakes which were a dent to their own legacy.
"I'm in awe of Verstappen's driving skills and racing nous, and have championed him since the Chinese Grand Prix of 2015 when he was in the Toro Rosso," Brundle revealed.
"His touch and control behind the wheel is something to behold, but it saddens me that he's resorting to such tactics, he's better than that. And for all his carefree attitude it will be such a shame if his legacy is to be labelled as an unfair driver," he continued.
"Ayrton Senna and Michael Schumacher had their faults too, and I was on the receiving end from both of them on occasions, but it's a sizeable dent on their immense reputations, not a positive," Brundle concluded.
Also Read: Johnny Herbert: Only Max Verstappen Would Cause Title Deciding Crash