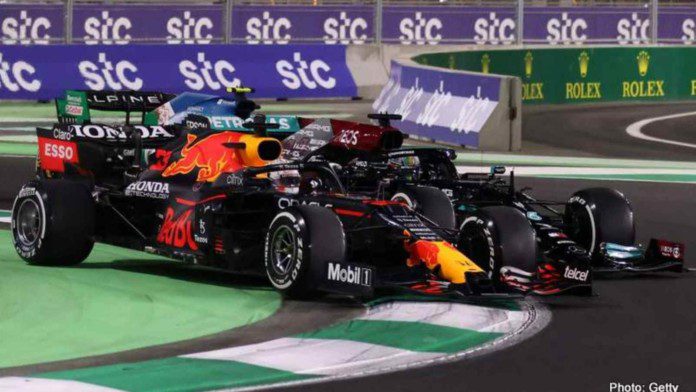 Max Verstappen and Lewis Hamilton have left no stone unturned when it comes to entertaining their fans throughout the season. What started out with a jaw-dropping race in Bahrain in April, ended with a blockbuster finale in Abu Dhabi last weekend.
Max Verstappen and Lewis Hamilton, the two championship contenders collided against each other three times this season. Only once did the crash result in a did not finish for both drivers involved. The particular incident occurred at the Temple of Speed in Monza, where Max Verstappen's car ended on top of Lewis Hamilton's car to give us an iconic image.
Both, Max Verstappen and Lewis Hamilton were caught up in the middle of the pack, due to slow pit-stops and their respective strategies. Eventually, Max Verstappen attempted to make a pass on the Briton, but his car ended up on top of the Briton's car, for which the Dutchman was handed a penalty in the next race.
It's going to be an iconic shot for sure: Max Verstappen on Monza GP crash with Lewis Hamilton
In an interview with former F1 driver, David Coulthard, Max Verstappen said that the crash was not ideal to watch, but it will go down as one of the most iconic pictures of all time.
"It was of course not great, that whole situation. I got a penalty for it, which I do not agree with. But I think it's gonna be an iconic shot for sure, and I hope everyone is going to save it as well," said Max.
Max Verstappen added that Lewis Hamilton and himself would have a laugh on this crash in the near future. David Coulthard suggested that the Dutchman should gift Hamilton a Christmas card with the iconic picture of the crash. Replying to the former driver's suggestion, Verstappen said, "Soon we can have a laugh about that for sure."
Also Read: Max Verstappen picks the driver whom he admires the most for his 'fighting spirit'