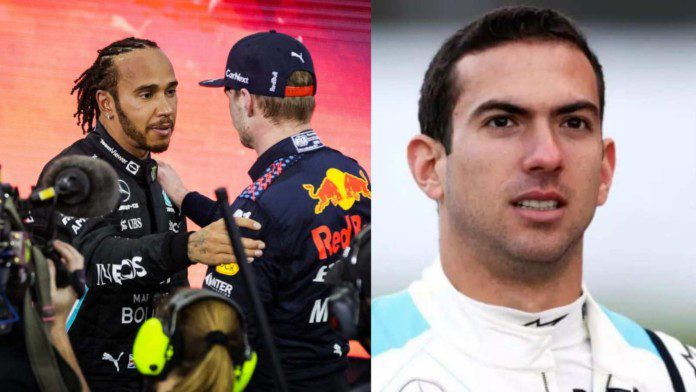 Nicholas Latifi was the driver all over the news after what had happened at the Abu Dhabi GP a couple of weeks ago. The stage was set for Lewis Hamilton to win his eighth title, as he was leading the race wit just five laps to go and 11 seconds ahead of Max Verstappen.
All of a sudden, Red Bull got what they asked for, a miracle in the form of a safety car. Nicholas Latifi had a crash after losing control which brought the race back within Max Verstappen's reach. Eventually, a controversial decision by FIA meant that Max Verstappen, running on a fresh set of tyres was able to overtake Lewis Hamilton on the final lap.
After deliberately staying away from social media for a few days, Nicholas Latifi put out a statement describing the hate he has received for his crash at the Yas Marina Circuit. The Canadian driver also added that fans went as far as giving him death threats as he prevented Lewis Hamilton to win his record eighth title.
"I'm no stranger to being talked about negatively online, I think every sports person who competes on the world stage knows they're under extreme scrutiny and this comes with the territory sometimes," Latifi wrote.
"But as we've seen time and time again, across all different sports, it only takes one incident at the wrong time to have things completely blown out of proportion and bring out the worst in people who are so-called 'fans' of the sport," he added.
"What shocked me was the extreme tone of the hate, abuse, and even the death threats I received," the Canadian driver revealed.
People spreading hate on social media is the new reality of the world: Nicholas Latifi
Nicholas Latifi stated that he was not shocked to receive the hate on social media, as this was reality of the world we are living in. But he believes that giving death threats was taking things a bit too far.
"Using social media as a channel to attack somebody with messages of hate, abuse and threats of violence is shocking – and something I am calling out. The ensuing hate, abuse, and threats on social media were not really a surprise to me as it's just the stark reality of the world we live in right now," said Latifi.
George Russell came out in support of his Williams teammate, Nicholas Latifi for speaking out against the threats he had received. "Huge respect to you for speaking up, Nicholas Latifi There's no place for this kind of hatred in our world," Russell had tweeted.
Nicholas Latifi would look to keep away from social media for a while longer, as his main aim would be to recharge his batteries prior to the 2022 winter testing. The Canadian will now drive alongside former Red Bull driver, Alex Albon as George Russell will make his move to Mercedes.
Also Read: George Russell and Lando Norris opinionate upon Nicholas Latifi's latest statement